200+ American and Canadian Firefighters Volunteer to Help Australia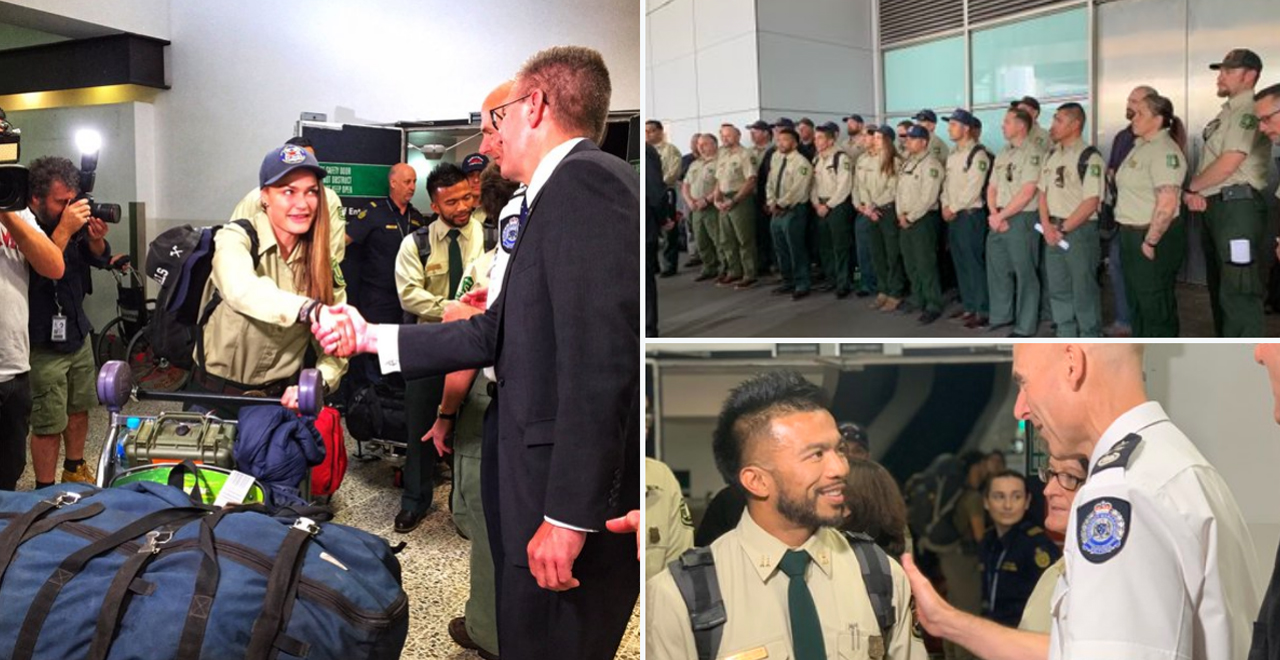 When California was suffering from massive fires in 2018, more than 100 firefighters from Australia flew to the U.S. to help combat the blaze. Now, the United States is returning the favor, as more than 200 firefighters from the U.S. and Canada have volunteered to help battle the massive bushfires devastating Australia.
The U.S. government has deployed more than 100 firefighters to help (for the first time in a decade) and dozens more volunteered to head there later this week.
To date, the U.S. has sent 159 wildfire & aviation mgmt personnel to Australia. Personnel include 87 @forestservice, 48 @BLMNational, 10 @NatlParkService, 7 @USIndianAffairs & 7 @USFWS. #AustrailiaFires #USwithAUS #NSWfires pic.twitter.com/PXmFigR75P

— National Interagency Fire Center (@NIFCfire) January 7, 2020
Great to welcome another group of US firefighters to #Sydney this morning. Ready to support @NSWRFS and NSW residents however they can. #NSWfires #USwithAUS pic.twitter.com/0lOeOBXkba

— US Consulate Sydney (@USConGenSydney) January 5, 2020
100+ #fire personnel from the #USA are now working w/#Australia's fire crews combating the devastating #fires. We send well-wishes of rain, lower temperatures & decreased winds. Thank you for your efforts! pic.twitter.com/nxVUf7Sc4d

— Forest Service NW (@ForestServiceNW) January 4, 2020
The situation on the ground in Australia is pretty bleak, as thousands have been evacuated from the series of fires raging across the nation. Millions of acres have burned and the fires have killed billions of animals, with some speculation that entire species could be wiped out by the blaze. Thousands of homes have been destroyed and 24 people have died as a result of the fires.
Canada has also sent dozens of firefighters to help battle back the bushfires, and the North American firefighters are some the best we have, with years of fire management experience.
"We're sending a contingent from several federal agencies that reflects decades of fire management experience," the U.S. Forest Service Fire Director Shawna Legarza said in a statement. "We face many of the same firefighting challenges in each country. We've utilized their expertise in the past and welcome the opportunity to reciprocate."
One of the worst droughts in decades and strong winds have exacerbated the situation in Australia, where new heroes are stepping up to help in any way they can. Bindi Irwin said her family's animal hospital has helped more than 90,000 animals and one daughter showed the human toll fighting these fires takes as she shared a photo of her exhausted firefighter dad.
Here are some ways you can help: