Tweet Roundup: The 16 Funniest Tweets About School Supplies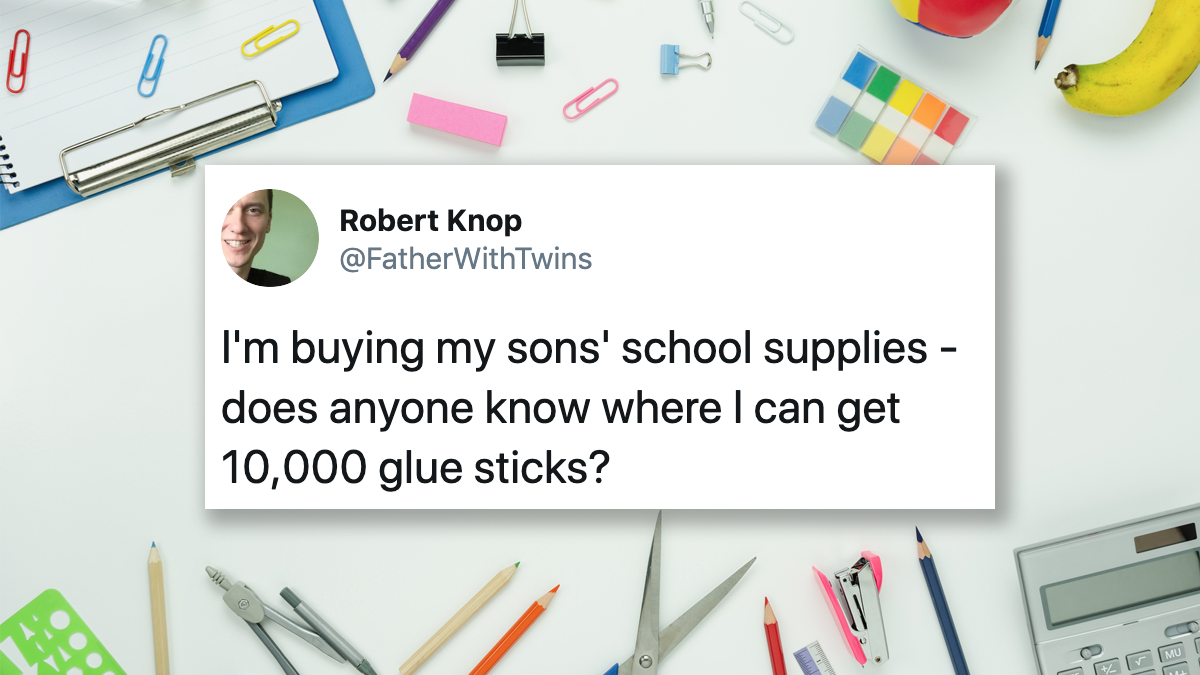 Summer is drawing to a close and you know what that means: supply lists are upon. So load up that minivan, empty that wallet, and enjoy these 16 hilarious tweets about back-to-school shopping.
Supply lists. The enemy.
We just received the school supplies list for fall, or as my wife likes to call it "the annual shakedown"

— Robert Knop (@FatherWithTwins) July 13, 2018
Brace yourselves; they're long.
My kids' school supply lists are so long, they're printed on CVS receipts.

— Eɾιɳҽɱ (@Mom_Overboard) August 29, 2018
Really long.
*rents U-Haul van to take all of my kids' back-to-school supplies with them on their first day*

— Andy H. (@AndyAsAdjective) August 1, 2018
And often confusing.
School supply lists like, "15 no. 2 pencils, must be carved from the bark of a 856 day-old palmito tree in the Amazon rainforest."

— Walking Outside In Slippers (@WalkingOutside) August 16, 2018
Seriously, what are they teaching these days?
School supply list when I was a kid:
*crayons
*glue
*ruler

School supply list now:
*Clorox wipes
*paper towels
*Ziploc baggies

Apparently they're teaching my kid to be a janitor or a drug dealer.

— Scrappy Momma (@scrappy_momma) July 25, 2018
Much easier when we were kids.
I really don't feel all that old.

*sees a Trapper Keeper in an antique store

Never mind.

— Wendy (@_wendyb07) January 21, 2018
Regardless, most of these supplies won't be used as intended.
Never underestimate a kid with a roll of tape and a pair of scissors.

— Jessie (@mommajessiec) July 10, 2018
Kids like to think outside the supply box.
At school my daughter took a sticker that said "Paint Supplies" off a box and put it on her shirt. Now she says her nickname is Paint Supplies.

She's just going through that normal insist-everyone-calls-her-Paint-Supplies phase all kids go through.

Haha classic Paint Supplies.

— Joel Willis (@TheJoelWillis) February 10, 2019
You'll need the classics. Pencils.
Be sure to buy your 7th grader mechanical pencils instead of wooden pencils or he will be a huge dork, never have any friends and never graduate from high school! (According to my 7th grade son.)

— Abe Yospe (@Cheeseboy22) August 20, 2018
Glue. Lots of glue.
I'm buying my sons' school supplies – does anyone know where I can get 10,000 glue sticks?

— Robert Knop (@FatherWithTwins) August 23, 2017
Don't forget to write your kids' names on everything!
Today: putting my son's name on all his school supplies.
Tomorrow: replacing my son's lost and stolen school supplies.

— Sarah del Rio (@sarahdelri0) August 20, 2017
This could take some time.
If anyone needs me, I'll be labeling school supplies from now until my kids graduate.

— Paige Kellerman (@PaigeKellerman) August 10, 2015
So ensure that you only gotta do it once.
I'm writing my son's name on all his school supplies in fake Halloween blood from last year so the other kids know not to mess with him.

— ∂ebraℓee (@darksidedeb) September 6, 2016
But don't worry, this'll all be over soon.
*makes celebratory snow angels on kitchen floor in piles of school supplies

— The 21st Century SAHM (@21stcenturysahm) August 6, 2018
Take pride in your accomplishment here.
*wears the Staples receipt for my kids' school supplies like a scarf

— Rock the Kasbah (@MarieLoerzel) August 16, 2017
And don't forget to grab some supplies of your own.
Can't. Gotta go buy school supplies. pic.twitter.com/zEngIY3yRa

— jordan (@jordan_stratton) August 17, 2015