3-Year-Old Fighting Rare Cancer Gets Sleeve "Tattoos" Like Daddy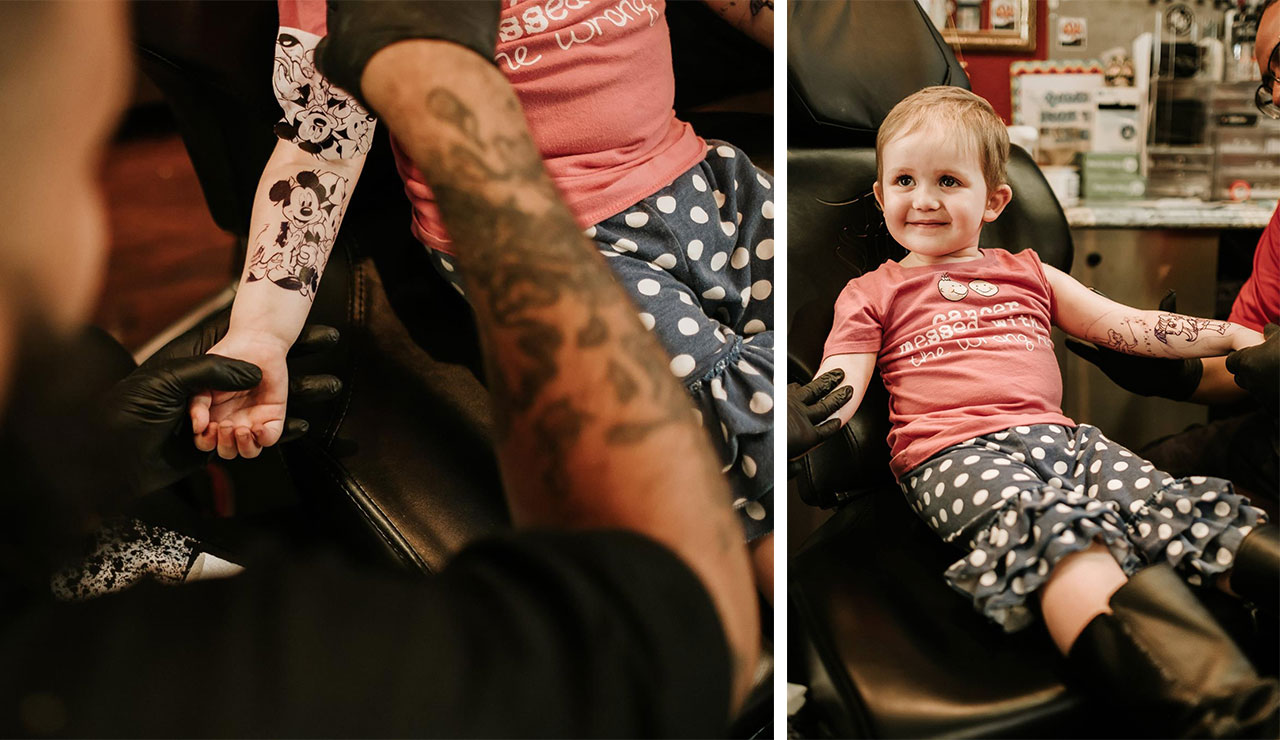 Trinity D'Autorio is one tough little girl.
How tough? Well besides fighting a rare form of cancer, a daunting task no matter your age, Trinity recently sat in a tattoo chair for several hours while professional artists inked up both her arms.
Alright, before you go writing letters, the tattoos aren't real.
Instead, Ink Wolves – a tattoo parlor located in Tampa, Florida, bought special markers to help Trinity and her family have what they called the "best day ever."
Trinity's mom, Skyla Zimmerman D'Autorio said she never imagined she'd be taking her toddler to a tattoo shop, but Trinity loves her dad's tattoos and wanted ones just like his, which prompted her to reach out with what she knew was a very odd request.
To the family's surprise, the tattoo parlor immediately agreed.
"Cancer has taken and continues to take so much from Trinity and our family, so we try to think outside of the box to come up with super fun, once in a lifetime things to do, see, or go to," D'Autorio wrote in a Facebook post.
Last month, Trinity and her family made one such adventure a reality.
"Ink Wolves took it upon themselves to get Tattoo markers, practice with them, have 2 artists come in on their day off, have snacks, and even jam out to Disney music for over 4 hours with a 3 year old who is fighting cancer, all while making sure Trinity had the BEST day!"
The special tattoo marker ink only lasts about six days, so the family hired a professional photographer to capture the entire experience so they will always have mementos of the occasion.
As for Trinity's reaction, the brave little fighter lived up to her tough reputation and was all smiles throughout.
Included in the sleeves were Tinkerbell, Mickey Mouse, Winnie the Pooh, Ariel from "The Little Mermaid" and everything else you'd expect a three year old to have inked if given the opportunity.
While her mom says her cancer has continued to spread, Trinity will continue fighting as she has since first being diagnosed last year.
Due to the location of the Neuroblastoma, a very rare type of cancerous tumor that almost always affects children, Trinity's doctors say it's inoperable. However, the family continues to search for a treatment plan that allows their daughter to be completely cancer-free.
Those looking for more on Trinity's story can visit the family's GoFundMe page for updates.