6-Yr-Old Requests Custom "I Will Be Your Friend" Tee for Back-to-School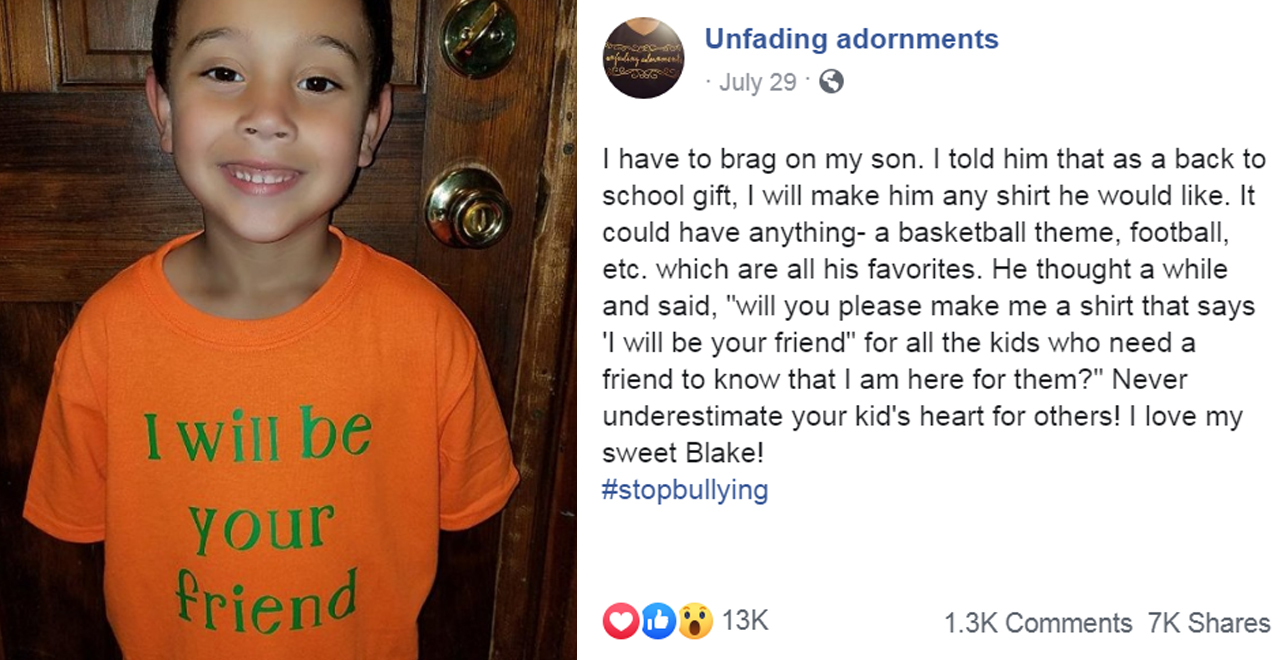 Going back to school can be a nerve-wracking experience for kids. There are new teachers to get used to, new buildings and new routines. And, for younger kids, getting used to dealing with new kids can be the most intimidating part. Which is why one Georgia 6-year-old, who has been bullied before, decided he wanted to make a statement on the first day of school.
His mom told him she'd make him any shirt he wanted to wear on his first day of school, and Blake Rajahn decided on one that simply said: "I will be your friend," so any shy kid would who needed a friend would know who to go to.
His mom, Nikki, began selling the t-shirt to others after her post went viral, with a portion of the proceeds benefitting a local charity. Blake was just glad to hear more people would have friends because of the shirts. His principal also reportedly wanted to get a photo with Blake in his shirt on Day 1 and when you're 6, principals are still cool.
As a parent, it's heartwarming when your kids show a level of compassion beyond their age. It makes you feel like you're doing something right, even when it likely has almost nothing to do with you (stop trying to be a glory hog, parents!).
I remember when my daughter briefly caught a snippet of a news story talking about a community that needed help after a hurricane. She immediately wanted to go to the store to buy things we could donate, and I'll never forget that (mainly because it was the day she was no longer allowed to watch the news because I can't afford to have her organizing a daily crisis response).
Props to Blake, and his big heart.