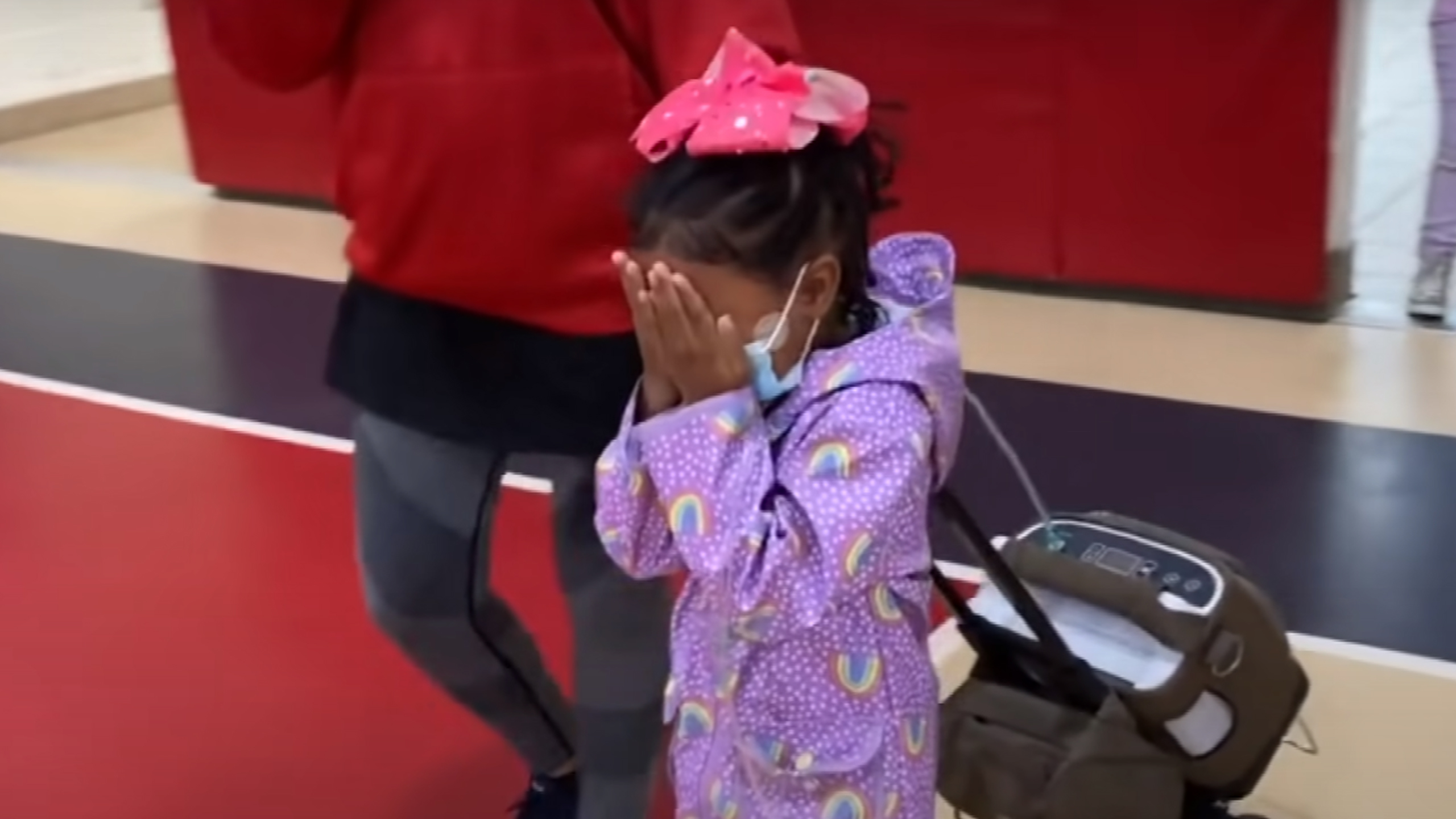 Credit: YouTube/Inside Edition
The past two school years have not been easy for children. Thanks to the pandemic, much of – if not all – of the past two years have had children attending school remotely, via computer. For the youngest kids, like my 5-year-old, he's been robbed of the fun and friendships, and general socialization that comes with preschool and kindergarten. It's been hard for him, and for many children.
But not as hard as it's been for Kyleigh Ward, a 6-year-old who is set to graduate from kindergarten this month. Unfortunately for Kyleigh, not only did she have the pandemic to contend with, but she also has a heart condition that has forced her to make constant visits to the hospital since the week she was born. She's had three open-heart surgeries and is awaiting a heart transplant, which will prevent her from attending her kindergarten graduation.
Thanks to the hospital staff and the teachers and students at her school, she got one just the same.
Milton Ray, the principal at Crossroads Elementary School, told Inside Edition how it came to be. "I got a phone call from one of my kindergarten teachers, telling me that one of her students was having heart surgery. And she would probably not make it to graduation," he said. "And she wanted to know if she could pick up her certificate. I said, 'We can do a little better than that.'"
When Kyleigh entered the school gym to pick up her certificate, she walked into a surprise graduation ceremony just for her.
Sweet little Kyleigh is 6-years-old and has undergone three heart surgeries since birth and currently waiting to be added to a #hearttransplant list. Her school surprised her with an early kindergarten graduation since she may miss scheduled one, depending on procedures @WLOX 💕 pic.twitter.com/Jxub9cBcYm

— Brandy Mcgill (@BrandyMcgillTV) May 11, 2021
"I have not received this much support since I first had her," said Kyleigh's mom Briancca Trammell. "That's because we just kept it small and within our family, but I did not expect that ceremony at all."
Kyleigh didn't either and cried at the sight. When asked why she cried, she responded "Because I was happy."
Awaiting a heart transplant meant that Kyleigh has been at home for her entire kindergarten year. There are no transplant hospitals nearby and her mom is constantly awaiting the phone call that will have them traveling to Alabama, Texas, or Arkansas to save their daughter's life.
"We try to explain it to her in ways that are easy for her to comprehend everything," Kyleigh's mom, Briancca, explained. "She knows that she's going to have to go back, but she's just like, 'Mommy, I don't even need a heart. My heart is fine.' But she just stays positive through it all. And that's what keeps us going. I just pray not only do we get the help that we get, but that people start actually reaching out to other families. And we just hope to inspire the other little kids who deal with heart transplants or any type of organ transplant."
There is now a GoFundMe to help Kyleigh and her family.
Watch her story: