7-Year-Old Speedster May Be the Next Usain Bolt [WATCH]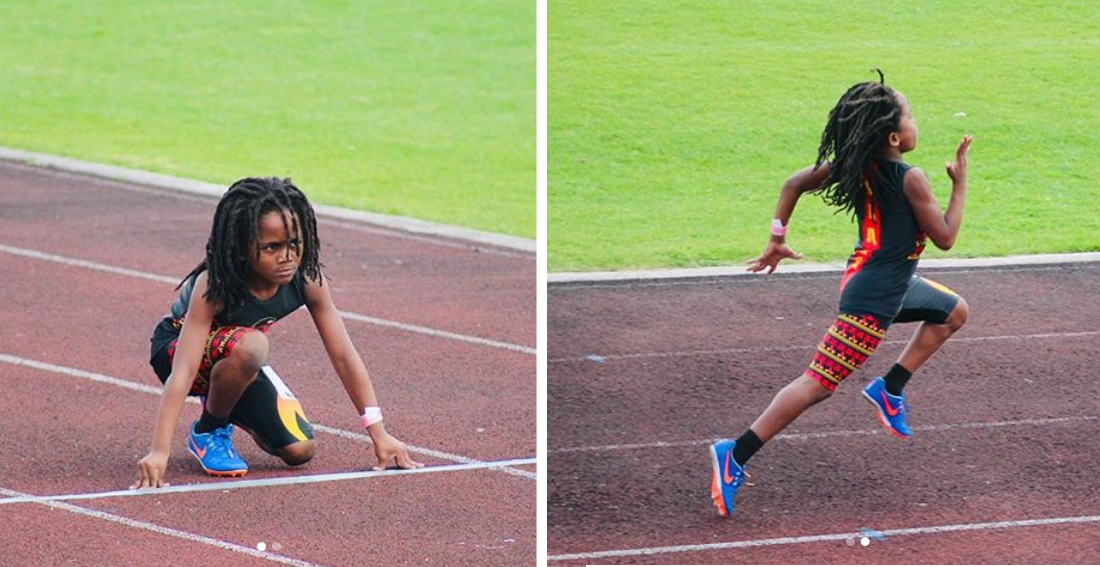 Excluding Minecraft, I am better than my kids at pretty much everything. My oldest is in third grade and I went to college. I destroy him when we play Jeopardy and I am also much better at spelling "jeopardy" than he is. I am also significantly stronger than him and his 3-year-old brother. They like to wrestle with me and it is so easy for me to manhandle them and throw them around that it makes me feel like a god.
It won't last forever, eventually, they won't be so little or so ignorant or so slow. My toddler is obsessed with racing me, demanding we run down the block, or to his bedroom, or up the stairs. He wins every time, but only because I let him. Someday, they'll be bigger and stronger and faster than me, probably sooner than I think.
Maybe a lot sooner, if this kid is any indication.
His name is Rudolph 'Blaze' Ingram and he can run the 100-meter dash in less than 14 seconds. 13.48, to be exact. And he's seven years old. The world record for 7-year-olds running that distance is 13:67, which Blaze handled easily if a few milliseconds faster qualifies as "easily."
The speedy phenom posted a recent race to his Instagram page after a 25-year-old challenged him. It doesn't seem that Blaze is lacking either speed or confidence, based on the caption that goes with the video: "While Training Yesterday This Man Said U Look Fast On Video Lets See If You Fast In Real Life ???????? He Was 25 ????????"
Rudolph's dad, a three-time Athletic Union winner, actually runs his Instagram account, which has over 460,000 followers and features motivational captions like "My Father Told Me That You Win Mentally Before You Win Physically I'm #1 Before The Race Start" alongside videos of the kid running 60 meters in under 9 seconds.
He has the right mindset and work ethic to keep it up too. Back in 2017, he told Youth1, "I work hard at practice to set the bar high for my teammates. I want to show them we need to give it all we've got. If they don't know how to do something, I show them how to do it. I always tell them 'You practice how you play.'"
IF that's not enough, he's a whiz in the classroom too! Dad posted a shot of Blaze's report card, full of As and high Bs.
Good to know that Blaze has a future beyond blazing speeds, should the kid they're calling "the next Usain Bolt" need one.