Aaron Paul Want Us to Watch This Breaking Bad Scene Before El Camino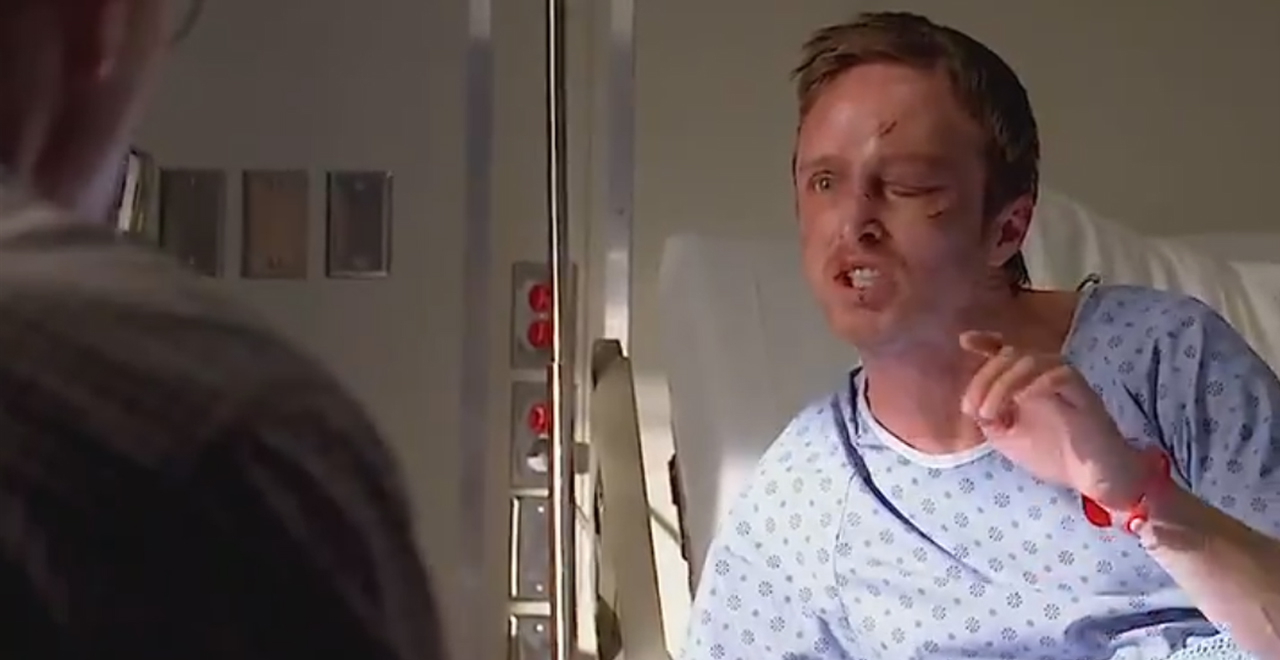 When it rains, it pours. And lately, when it comes to Breaking Bad news, there's been a monsoon.
After a slow, tantalizing drizzle of information, first about the existence of a potential movie, then about who would be in the movie and what it might be about, and finally a cryptic tweet featuring a photo of a pair of donkeys, the news about the Breaking Bad sequel movie has been relentless.
Last week we learned that filming had wrapped, having somehow been done in complete secrecy, then we got the title – El Camino: A Breaking Bad Movie – and an official synopsis: "In the wake of his dramatic escape from captivity, Jesse must come to terms with his past in order to forge some kind of future."
We also learned that the official release date, first on Netflix and then on AMC, was a lot sooner than expected (November!), and we even got a brief teaser trailer. It didn't offer much, but Skinny Pete discussing Jesse Pinkman was enough to whet our appetites.
Now Pinkman is here to further prepare us for what's to come.
On Monday, Aaron Paul posted a little something on Twitter to help fans understand where the movie might be going. He shared a picture of a script page, and a clip of a scene from the final season of the TV show, that apparently informs El Camino.
He added: "Cats out of the bag…and the bag is in the river. Here's a moment from Breaking Bad to slowly prepare you all for what's to come."
Cats out of the bag…and the bag is in the river. Here's a moment from Breaking Bad to slowly prepare you all for what's to come. #BreakingBad #Netflix #Elcomino ⚗️???????????? https://t.co/q3VdCCLxZe

— Aaron Paul (@aaronpaul_8) August 25, 2019
The scene itself, from the season 3, episode 7 episode "One Minute," features Pinkman saying these words to Walter White:
"Ever since I met you, everything I ever cared about is gone, ruined, turned to shit, dead," Pinkman tells him. "Ever since I hooked up with the great Heisenberg. I have never been more alone. I have nothing! No one. Alright? And it's all gone! Get it? No, why would you even care? As long as you get what you want, right? You don't give a shit about me."
It's a great scene that really showcases the anguish Paul brought to the show. But I'm not sure exactly what light this scene is supposed to shed. We know what's happened to Pinkman, largely at Walter White's hands, and we saw where he ended, escaping torture and slavery and driving out of the neo-Nazi compound all alone, with no one left to help him. We knew he was alone!
It was fun to watch the scene in anticipation of the movie, but we've been there done that. We're ready to know what's next.