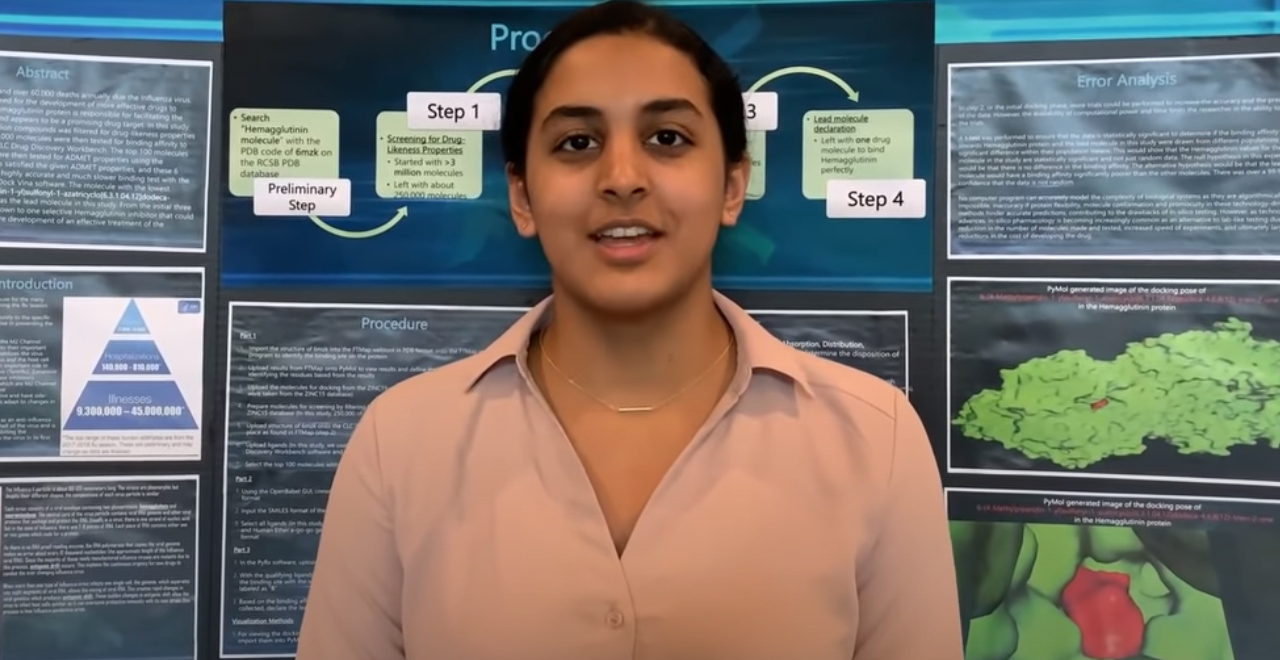 Credit: YouTube/Anika Chebrolu
As if 2020 weren't bad enough, now teenagers are outperforming us!
Thankfully, 14-year-old Anika Chebrolu's work should benefit all of us. Anika was recently named the 2020 winner of 3M's Young Scientist Challenge, and she did it for a project that couldn't be more important right now.
With her project, titled "Combating the COVID-19 Pandemic: In-Silico Molecular Docking Study of Spike Protein of SARS-CoV-2 virus to develop Novel Antiviral drug", Anika discovered a molecule that can *checks notes* selectively bind to the spike protein of the SARS-CoV-2 virus. And apparently, that's good news!
"The last two days, I saw that there is a lot of media hype about my project since it involves the SARS-CoV-2 virus and it reflects our collective hopes to end this pandemic as I, like everyone else, wish that we go back to our normal lives soon," Anika told CNN
The discovery netted Anika, an Indian American, a victory in the challenge, and $25,000 to go with it. And she won after switching gears midway through. Initially, her project, which she started when she was in 8th grade, had nothing to do with COVID-19.
"After spending so much time researching about pandemics, viruses and drug discovery, it was crazy to think that I was actually living through something like this," Anika said. "Because of the immense severity of the Covid-19 pandemic and the drastic impact it had made on the world in such a short time, I, with the help of my mentor, changed directions to target the SARS-CoV-2 virus."
And she's not done. She plans to continue her work and hopes to collaborate with other scientists to create an actual cure for the virus.
"My effort to find a lead compound to bind to the spike protein of the SARS-CoV-2 virus this summer may appear to be a drop in the ocean, but still adds to all these efforts," she said. "How I develop this molecule further with the help of virologists and drug development specialists will determine the success of these efforts."
You can learn more about Anika, and watch her entry video which details her project, on the 3M Young Scientist Lab website.