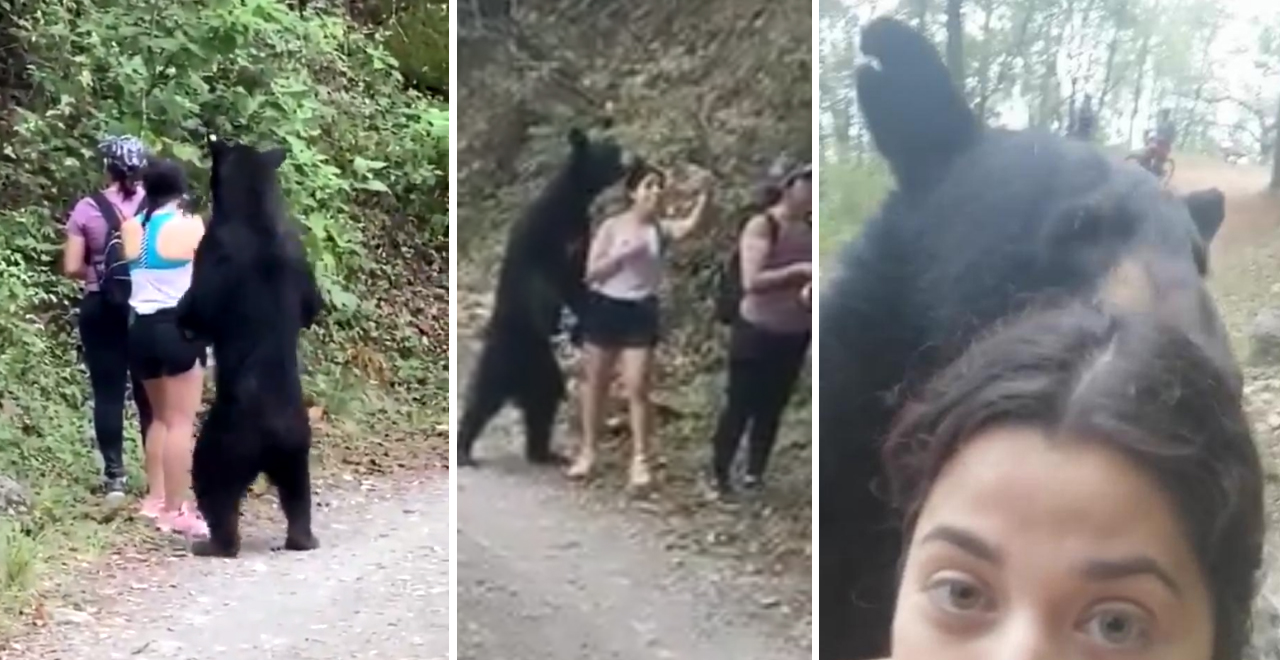 Credit: Twitter/ramseyboltin/RafaElorduy/CHELOFDZ
The conventional wisdom states that if you encounter a bear in the woods, you should play dead in the hopes that it loses interest. Don't run, don't try to fight it, and whatever you do, don't show off your gorgeous hair. Or maybe do. It may depend on the bear.
One woman is being praised for her ability to stay calm when a bear got curious and sniffed her hair. In a video that went viral, she can be seen standing deathly still while the bear got unbearably close, perhaps enthralled by her coconut-scented conditioner. God knows I have a hard time resisting that! (No joke: I would literally drink it out of the bottle!)
There are multiple videos of the encounter showing different vantage points as the bear approaches and the woman attempts to stand still as it sniffs her hair and body and prods at her legs.
Bravo to this woman👏 could you stand still? pic.twitter.com/xVRUWdwFO9

— Arlong (@ramseyboltin) July 19, 2020
In one video, you can see the woman attempting to take a selfie with the bear, so she's obviously a Millennial.
Here's another angle where you can see her taking the selfie. Hero. pic.twitter.com/uSWdLVrJPU

— Rafa (@RafaElorduy) July 19, 2020
Oh, did you want to see the resulting selfie?
— MARCELO FERNANDEZ (@CHELOFDZ) July 20, 2020
YIKES.
Kudos to this woman for somehow staying calm, but also WTF ARE YOU DOING TAKING A SELFIE WHILE A BEAR DECIDES IF IT WANTS TO SLICE OPEN YOUR BODY AND EAT YOUR ENTRAILS?
Anyway, it was all worth it, as the videos have been seen millions of times and she and the bear are now engaged to be married.