Before and After Photos of Dad as Son Attempts Game Winning Field Goal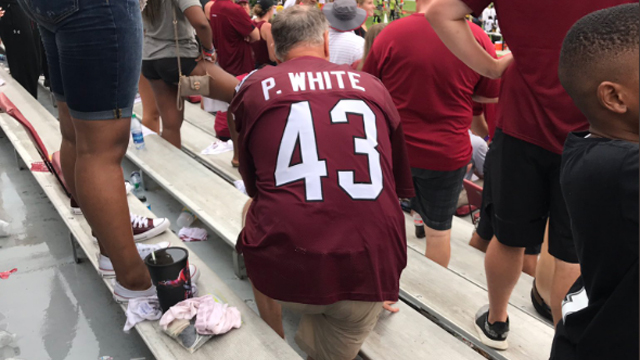 When you're a sports fan, it can sometimes be hard to watch the big moments, for fear that something will go wrong. And few situations are as fraught as a game-winning field goal kick.
Now imagine you're watching your team line up for such a kick, only your son is the kicker. Would you be able to watch?
One dad was faced with just that scenario, and a pair of photos posted on Twitter make it clear that his nerves got the best of him!
Last weekend, college football featured an exciting match-up between the Missouri Tigers and the South Carolina Gamecocks. The game was beset by all sorts of issues, from a downpour that made things a lot more difficult for both teams, to lightning strikes that caused two separate delays.
Eventually, the game came down to some last second heroics. South Carolina was down by one, 35-34, when kicker Parker White came out to attempt a game-winning 33-yard field goal. The fans were tense, but they had nothing on Parker's Dad, who was in the stands in his #43 P. White South Carolina game jersey.
Fellow Gamecock fan and twitter user @jmhellman1395 happened to be seated next to Mr. White, and captured the nervous dad's pre- and post-kick emotions.
In the before photo, Mr. White is past the point of being on the edge of his seat. He's down on his knees, perhaps praying, maybe he's biting his nails? Definitely not quite looking as his son's team snapped the ball.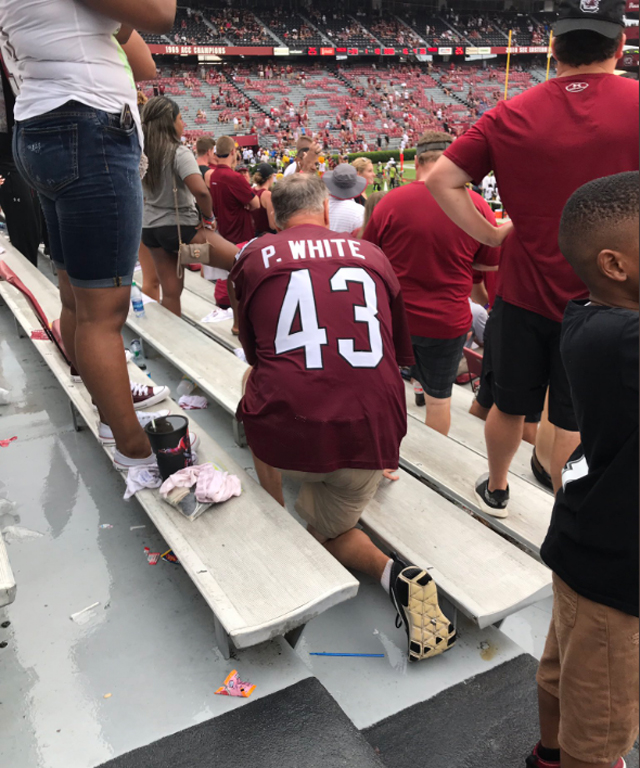 And when you see the after photo, you don't need to be told what happened, because Parker's dad's happiness, and the high-five he exchanges with another fan makes it clear that Parker game through and gave South Carolina a 37-35 victory.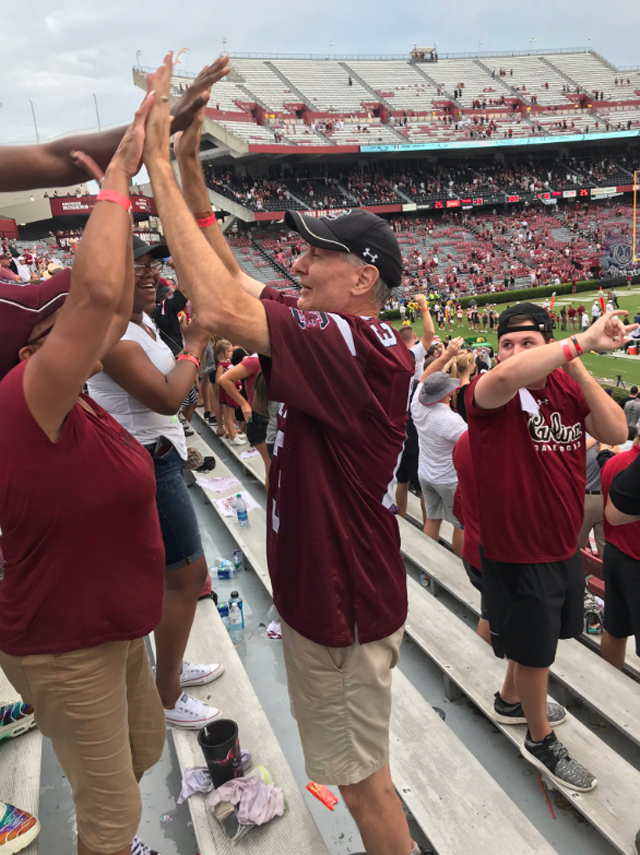 And you think you have a hard time watching your team play a close game. You've got nothing on the father of a field goal kicker!
Sitting next to Parker White's Dad. Pictures before and after the game winning field goal. pic.twitter.com/A1MQiZfzTa

— JM (@jmhellman1395) October 6, 2018