#BillboardDad Politely Replies to Birthday Prank by Renting Same Billboard [WATCH]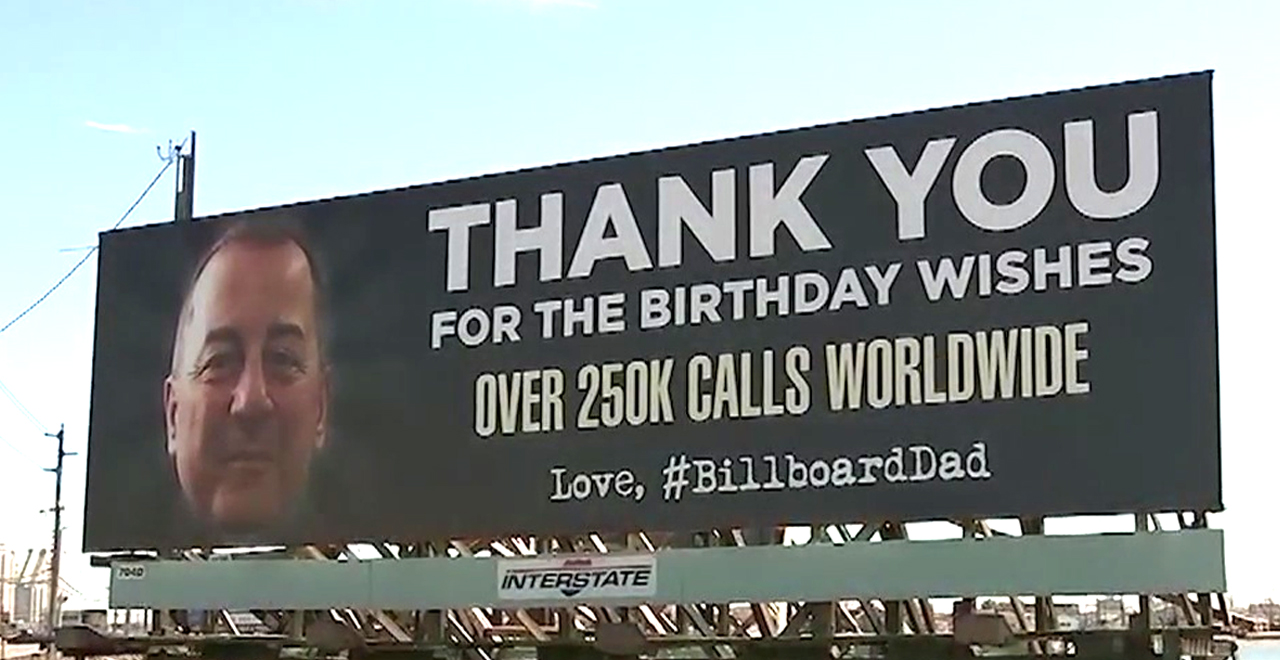 Often times, pranks can go too far and just end up coming across as stupid or mean. This is not a story about one of those pranks.
The Ferry brothers—Chris Jr and Mike—are lifelong pranksters, but of the wholesome variety. For years, they've loved to surprise their dad by telling restaurant servers it's his birthday (especially when it wasn't).
"It was always the greatest for us to see the expression on his face when they came out with a lighted birthday cake and singing happy birthday in front of all the other hockey dads," Chris Jr. wrote on Facebook.
This year, however, they decided to go all out.
In lieu of servers singing non-copyright versions of 'Happy Birthday,' the brothers rented out a billboard in Atlantic City that simply read, "WISH MY DAD HAPPY BIRTHDAY – Love, Your Sons," and included their dad's picture and phone number.
"We just wanted him to have a special birthday. That's it," Chris Jr. said.
Well, it turns out people definitely still pay attention to those big roadside signs because, according to NJ.com, Chris Sr. received an estimated 250,000 happy birthday phone calls and text messages from all around the world.
Overwhelmed—both emotionally and technologically—Chris Sr. decided the only proper response was a page straight out of his sons' playbook.
He rented the exact same billboard and replaced the birthday message his sons originally had with an enormous "Thank You."
In an interview with NBC New York 4, Chris Sr. said, "What I'm really trying to do is take the minute, that I have of fame here, to call attention that there's really much more good in the world than there is bad."
Powerful words considering how if any of us received even a fraction of that many text messages in a day, we'd undoubtedly want to chuck our phones into space.
Classy move, dad!