Boy Who Was Scared of Diving Into Pool Now Making a Splash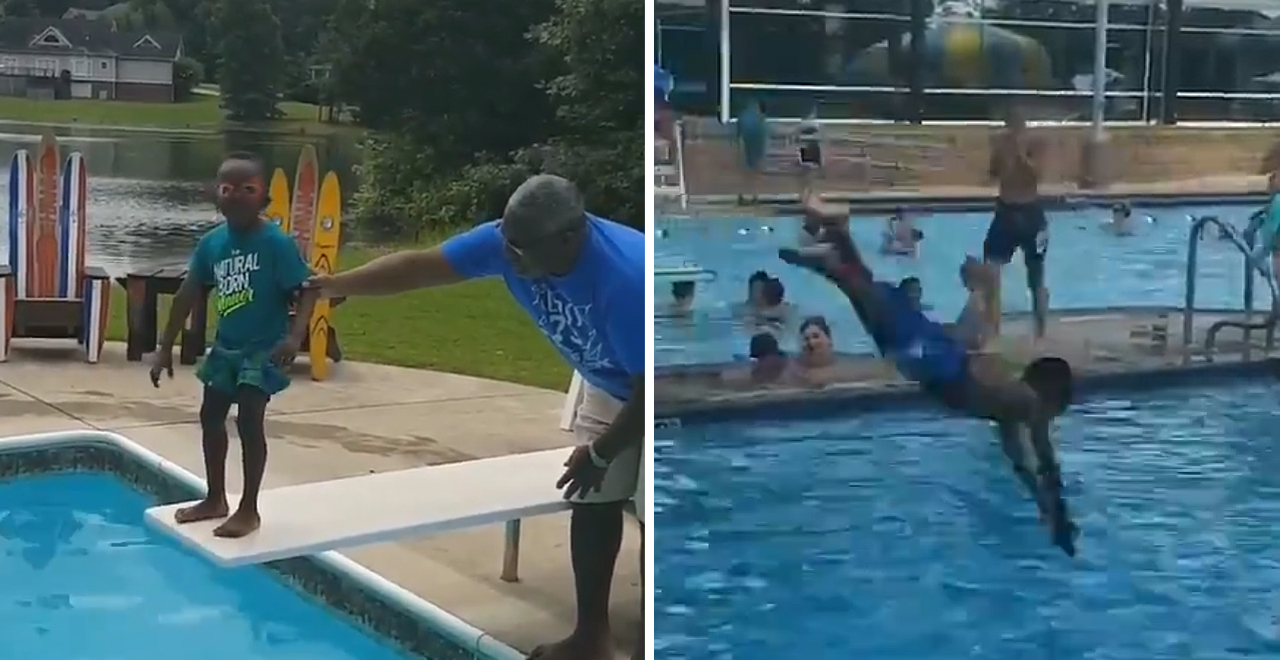 As a parent, there are few things more gratifying than watching one of your kids overcome their fear, especially if it's done with your encouragement. Raising kids is hard, and in the face of all the struggle and frustration, it's the rare wins that make it all worth it, and no win is more satisfying than one your child earns.
Just ask Ron Hampton, who, two years ago, shared a video of his young son shivering in fear as he attempted to negotiate the diving board at the public pool. The boy's fear and anxiety are palpable; jumping into the water from that height, from any height, for the first time, is no easy feat.
It took me a few years of cajoling to get my son to finally dunk his head under the water, followed by a full year of me forcing him to admit I was right, now that he's done it he would basically live at the bottom of the pool if he could. So I can completely relate to House Hampton's tweets.
On July 1st, House re-shared that initial tweet at the top of a thread showcasing his son's progression.
First, the abject fear, as RJ stands on the edge of the diving board shaking in fear, slowly crouching down and sitting on the edge and saying he doesn't have to jump, as is father and grandfather look on and encourage him, to no avail.
Remember this kid that went viral a while back?? (My son RJ) Check him out 2 years later. This is what overcoming fear looks like!! A thread. pic.twitter.com/SnW5RA0NXt

— House Hampton (@Hampsworld) July 2, 2019
Then, the second tweet, in which RJ is no longer terrified and makes his way off the diving board to his waiting father in the water.
— House Hampton (@Hampsworld) July 2, 2019
Then, the final step, in which RJ confidently strides across the plank, jumps in and swims to the edge of the pool like a boss.
— House Hampton (@Hampsworld) July 2, 2019
He did it! Excited and proud, House shared his son's triumph online, and Twitter is just as excited as he is. The thread has 95,000 likes and 22,000 retweets as people cheer RJ on.
I'm so proud of him and I don't even know him ???? literally a leap of faith

— keeks ✨ (@captaain_krunch) July 2, 2019
There was some praise for the parenting on display as well.
I love the support and patience in this video, esp. instead of pushing him. "I don't want to do it." "You don't have to." ???????? I'm so proud of his growth too. ????????

— slim kimmy???? (@kiaasymonee) July 2, 2019
House explained his approach:
???????????????? I wasn't gonna keep him from trying. And I wasn't gonna MAKE him go. This was ALL him!????????

— House Hampton (@Hampsworld) July 2, 2019
"I was very, very proud of him," Ron Hampton told ABC News. "I'm of the mindset that you let your children face their fear, and once they get to the other side of fear, there's an infinite amount of success or possibilities on the other side."
Excuse me for a moment while I go take notes.