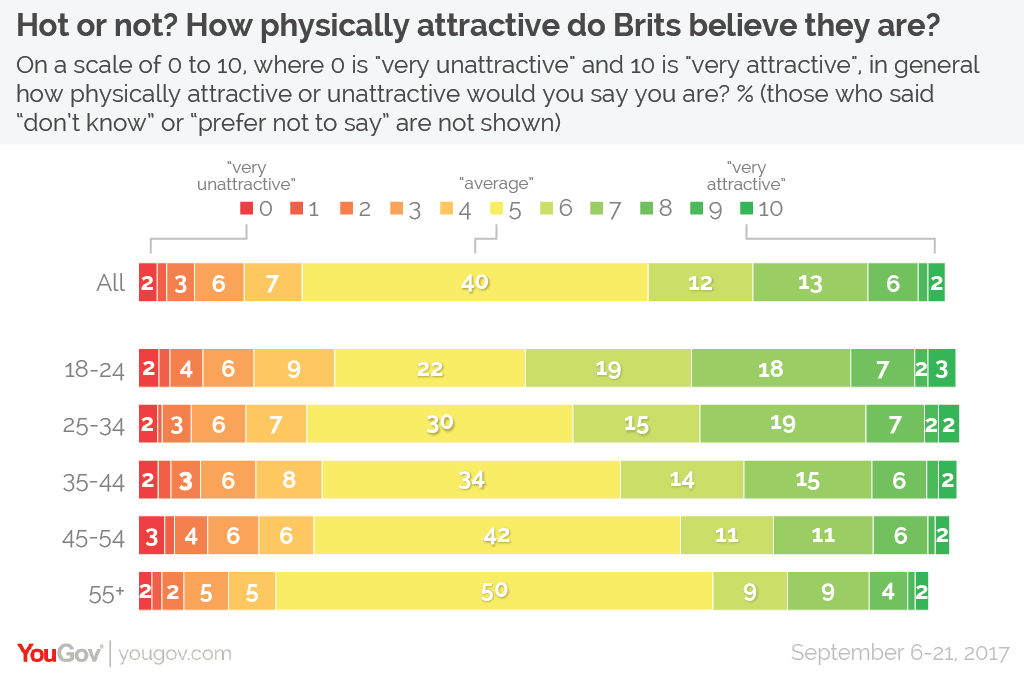 Survey says British people have a modest view of their own attractiveness
Not really. And, according to a new survey, I'm not alone. When it comes to finding each other attractive, British people aren't really all that high on British people.
The survey was conducted by You Gov Omnibus and seems to indicate that most Brits think of themselves as fairly so-so when it comes to their looks. The EU abandoning citizenry was asked to rate themselves on a scale of 1-10, and a full 40% gave themselves a five.
I didn't expect such modesty from the country that gave us the Gallagher brothers. Then again, Liam and Noel were likely two of the 2.2% who rated themselves a perfect 10, along with Simon Cowell, probably, that blowhard! Only 34% consider themselves above average, leaving a solid 23% or so scraping the bottom of the barrel.
Don't worry, though. Because while many of our friends across the pond don't consider themselves premier league material, they don't seem to have any trouble singing their partners praises.
56% of our selfless, humble, delightfully accented allies rated their partners/spouses higher than they rated themselves. Which, to me, speaks more to self-preservation than actual appreciation. Especially for the men taking the poll.
There isn't a single man in a relationship that hasn't learned to kiss his wife or girlfriend's ass in order to save his own.
To quote one sexy motherfucking Brit, I think they doth protest too much.
This poll speaks less to how British people view themselves and more to their general politeness. The aforementioned Gallagher brothers notwithstanding, most of them likely consider it tacky to kiss their own asses in a hot-or-not poll.
Can you imagine such a poll in the U.S.? We would somehow manage to poll at 110% above-average, with a solid 30% or more considering themselves absolute tens (mostly frat boys, rappers, and New Jersey). You don't elect Donald Trump without having some major delusions.
No, it's not realistic to expect every British citizen you meet to look like David Beckham or Kate Middleton, but most Americans would probably agree that the accent alone bumps most average-looking chaps and dames up a point or two.
I suspect the country is feeling a bit down as Brexit nears, and I can hardly blame them, to which I say: chin up! You may be leaving the EU, but you still have James Bond, Adele, and Tyrell's crisps! (Seriously, I love me some potato chips and those things are a straight 10/10.)