Canadian Dads Form All-Men Synchronized Swimming Team [WATCH]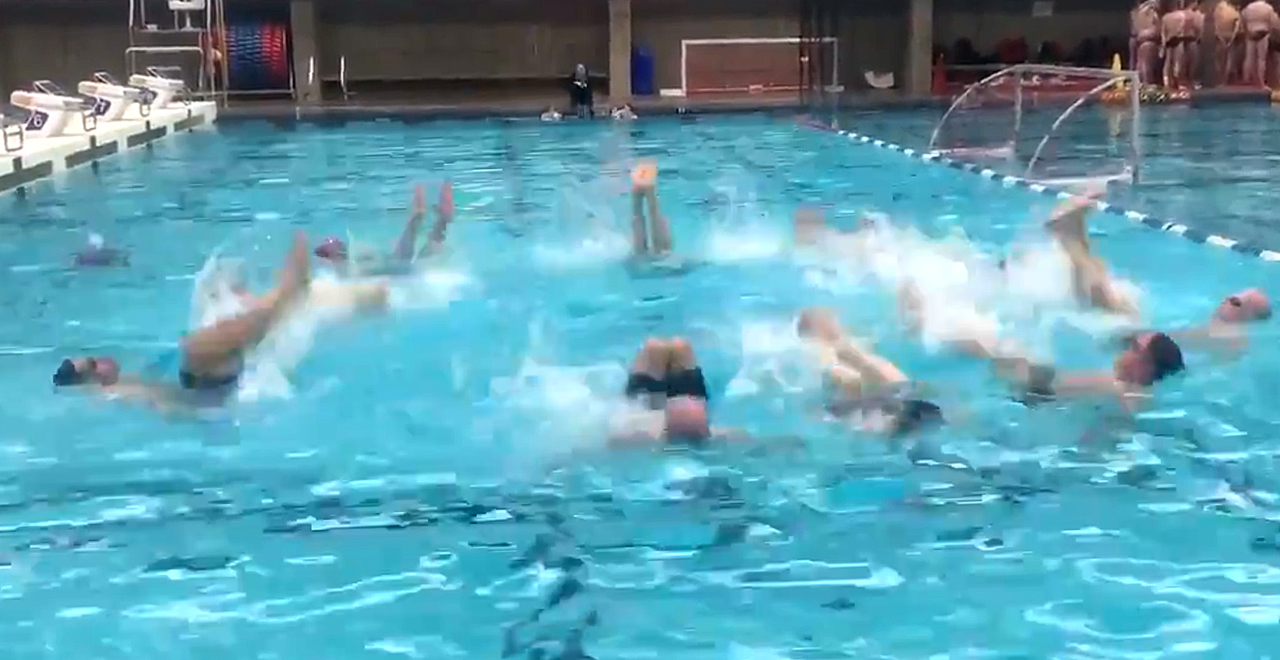 What I'm about to say may shock you: synchronized swimming is still a thing.
What I'm going to follow that up with may shock you even further: there is a men's team.
I'm joking, of course. While you may not have known that synchronized swimming still exists, it's been a mainstay of the Olympics for decades (since 1984). And in 2019, there is certainly no reason men can't participate, even if the sport has mostly been performed by women.
One team in Canada, led by Christian Gosselin, whose two daughters are synchronized swimmers, is trying to change that. He recruited ten other men – two of home don't have kids but have wives involved in the sport – in an effort to support his daughters, and to raise funds for the Aquatica Synchro Club, where they swim, and which is celebrating its 10th anniversary this year.
"It was an idea that came up for the 10th anniversary of the club, trying to get boys into the sport and trying to support my daughters, so this checked all the boxes," Gosselin told the Winnipeg Free Press.
The goal is to perform at Aquatica's year-end water show on May 25. The men gathered for weekly practices of an hour each, to prepare for their 90-second performance. It hasn't exactly been easy.
"The hardest part is when you're upside down," says Trevor Wilcox, a team member whose daughter goes to Aquatica too. "I can't figure out which way to come up. You don't know which way to turn, and you get completely disoriented in the water and you have no idea where you're supposed to be."
A bunch of dads whose daughters are in synchronized swimming got together to start Manitoba's only men's synchronized swimming team, and it may be the most perfect sports story I've ever covered pic.twitter.com/xVnPcAHjPc

— Melissa Martin (@DoubleEmMartin) April 6, 2019
Aquatica head coach Holly Hjartarson has seen men perform her sport before, but mostly on parent-child days. She's clearly getting a kick out of it and is enjoying watching the men learn exactly how challenging synchronized swimming is.
"It's been really fun, and a big learning curve. It's much different coaching adult men than it is coaching kids… They all realized by day one that it was a lot harder than they thought it was going to be."
The dads are realistic, and are aiming, hilariously, for a routine that's "fairly synchronized."
"It's a really very challenging sport," Gosselin said. "I guess that the best comparison I've heard is that it's like running 400 metres while holding your breath."
P.S. You're also going to want to check out the 18 dads who surprised their cheerleading daughters with a routine.