Cashier Warms Internet's Heart When He Helps Little Girl Bag Groceries [WATCH]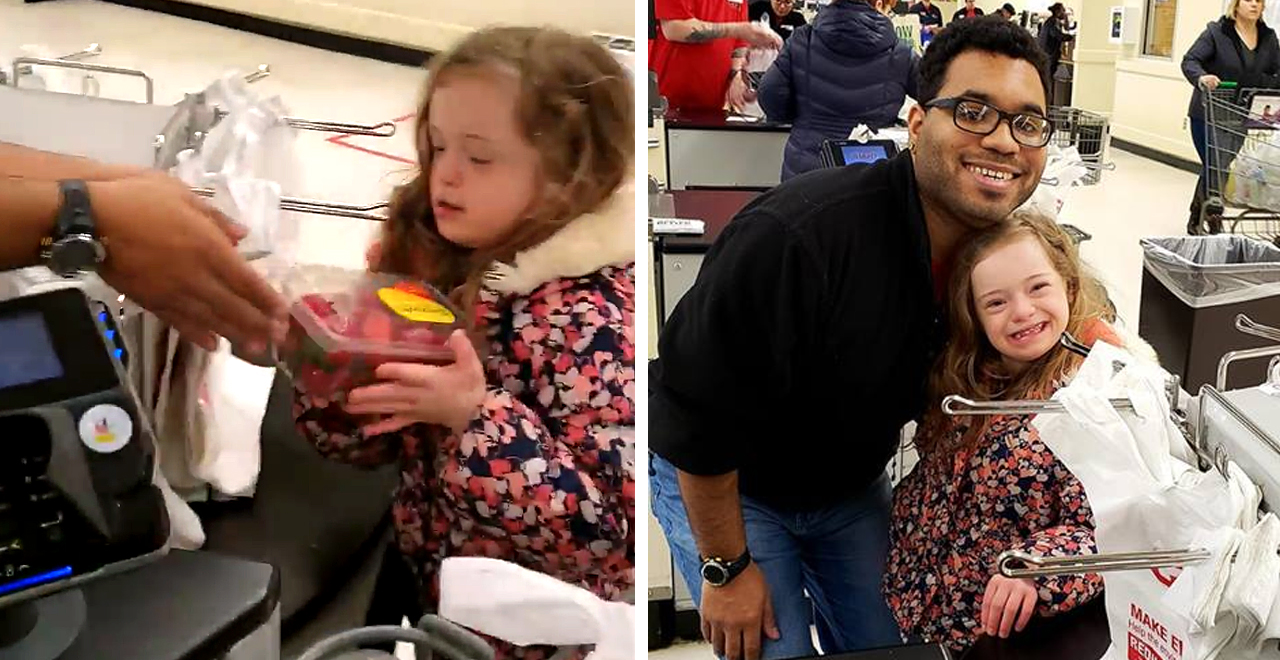 Nothing gets social media buzzing like a random act of kindness. Except maybe cat videos. But this story is a perfect example of the thirst we have for witnessing the good in people.
Lilly Teach has special needs, and she and her mom were shopping at a Giant Food store in Harrisburg, Pennsylvania, when they arrived at one of Lilly's favorite places: the checkout line.
While the 9-year-old dreams of one day being a doctor or a teacher, she also loves the thought of bagging groceries!
"My daughter, Lilly, loves to watch the 'bagging process' at the grocery store. She likes watching how everything fits into the grocery bags, kind of like the game tetris. I believe its sort of therapeutic for her in a way. She has many dreams, one of them is to work at a grocery store and bag people's groceries," Lilly's mother wrote in a Facebook post.
So when the duo reached the cashier, ready to pay, Lilly reached over and started prepping a bag. The cashier, a young man named Isaac, clearly noticed the little girl's enthusiasm.
"We've never met Isaac before, but as he watched Lilly approaching the bagging area, she started to get the first bag ready. Isaac, in a moment I'll never forget, asked Lilly if she would like to help him and bag the groceries."
Lilly's mom, Lisa, credits Isaac not only with his friendliness and kindness but with his awareness that participating in the bagging process was something that meant a lot to the little girl.
"Lilly was thrilled and so happy to have this opportunity. I don't know how Isaac knew how meaningful this would be to her, but somehow, he did."
In her Facebook post that has nearly 2000 likes and over 800 shares, Lisa Teach recounts the special interaction Lilly and Isaac had.
"He took his time with her and let her bag each item. She independently bagged all our groceries and told Isaac, 'I love you.' She doesn't say this to everyone, but in the moment, I believe this was her way of saying thank you for seeing me and for letting me help, I love you."
Thanks to the Facebook post and the accompanying video, Isaac has received some attention and told local news outlet WXIA what inspired him to be so kind to Lilly.
"To be honest, I also have a disability. So I kind of figured since … no one had given me that opportunity when I was younger I thought, 'well, why not?'" Isaac told WXIA. "It doesn't matter if you have a disability. It just warms my heart to, you know, make this little girl's dream come true."
When Lilly and her mom returned to the store to give Isaac a thank you card, the manager offered Lilly a job – when she turned 16. She happily accepted.