9 Hilariously Cheesy 2018 April Fools Pranks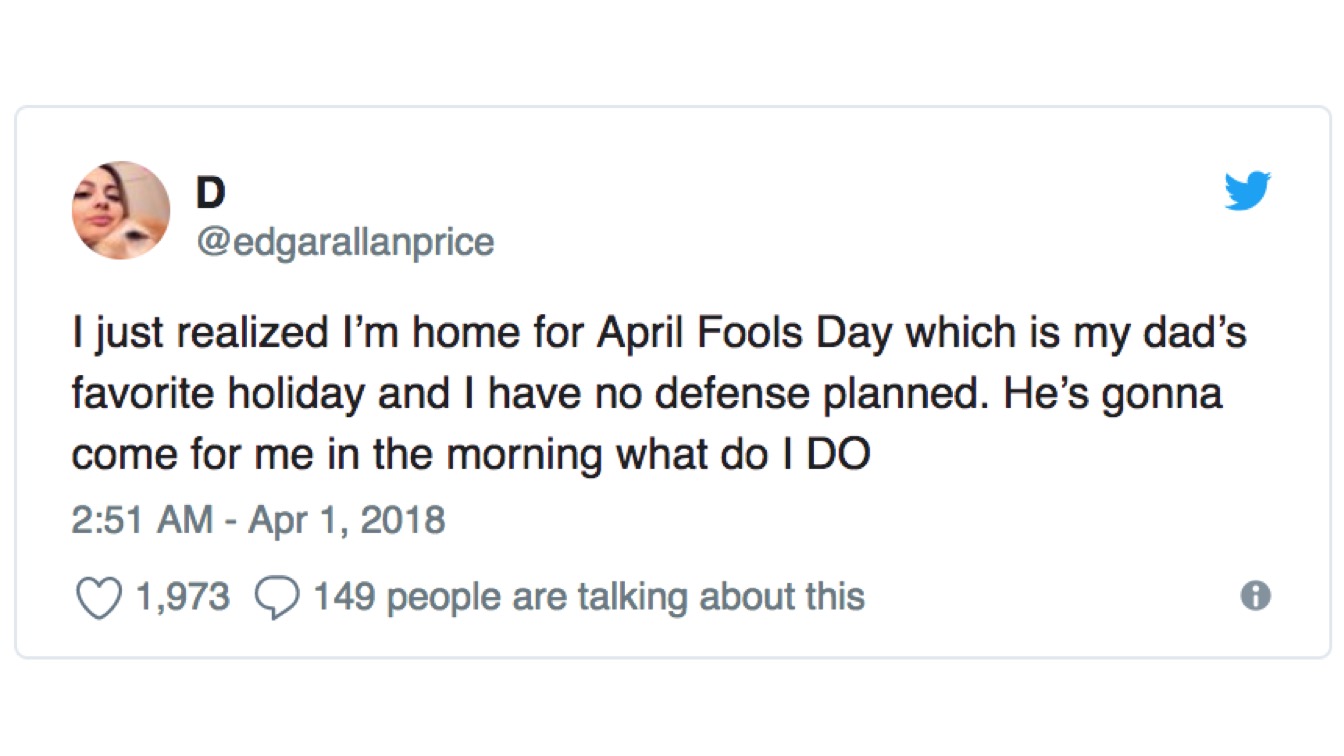 Keep your friends close and your family closer. Or maybe it's keep your enemies closer? Either way, when it comes to getting savagely pranked on April Fools, watch your back. Your dad, mom, son, daughter, brother, and/or sister are coming for you, and it's going to be lame. Prepare to cringe while they giggle uncontrollably at their own "brilliance."
1. At least it's not Toby.
For April Fools this year I replaced my dad in every family photo with pictures of Michael Scott pic.twitter.com/jqn6V6zV38

— Ashtyn Dykstra (@kisssss_my_ash) April 1, 2018
2. She looks so proud.
My mom made cake pops with Brussels sprouts happy April fools day pic.twitter.com/UyUQreyHBA

— Alex Davis (@alexxdavis65) April 1, 2018
3. April Fools + vegetable pun = ????????????????
Totally forgot it was April fools my mum isn't even funny pic.twitter.com/HsCutbLNWN

— Chloe (@chloemackay__) April 1, 2018
4. Classic Micki.
If anyone was curious whether or not my mom goes hard for April Fools Day…Micki does not play around pic.twitter.com/INiUyz0fGG

— Graceeeee (@GraceE823) April 1, 2018
5. As long as she didn't wrap roses around the axle.
My mom slashed my dad's tires. Happy April Fool's Day pic.twitter.com/HVq9Me2b2t

— Fitzy Mo Peña (@FitzyMoPena) April 1, 2018
6. "The biggest insult to little kids…"
Pretty solid April Fools joke that my brother and sister-in-law played on their kids this morning: Easter baskets filled with diapers, pacifiers, etc.

Or as they put it: "The biggest insult to little kids… baby stuff." The things parents do to amuse ourselves… pic.twitter.com/y4LFpCpNP1

— Jeff Darlington (@JeffDarlington) April 1, 2018
7. Guessing those Snickers wrappers were empty to begin with.
a picture of all the things my mom hid in my brothers eggs this year #AprilFools pic.twitter.com/8Rpiuij0QP

— mary (@91marys) April 1, 2018
8. The best pranks take a lot of effort.
Every morning for the last twenty years my dad has sat at the kitchen table and ate mini wheats for breakfast. In his routine he flips every piece of cereal over so the sugar is on top???????? for April fools day my mom grated the sugar off of every piece of cereal in the box pic.twitter.com/39sWX29yyV

— Morgs (@morganrosztoczy) March 26, 2018
9. Got eeeeeeem.
#AprilFoolsDay #aprilfools
I cut out paper into the shape of a roach and taped it inside my brother's lamp and it looks terrifying.
April Fools! pic.twitter.com/kKkBxIEdYi

— game on (@ytho74) April 1, 2018