Classy Golden State Warriors Take Out Full-Page Ad Congratulating Raptors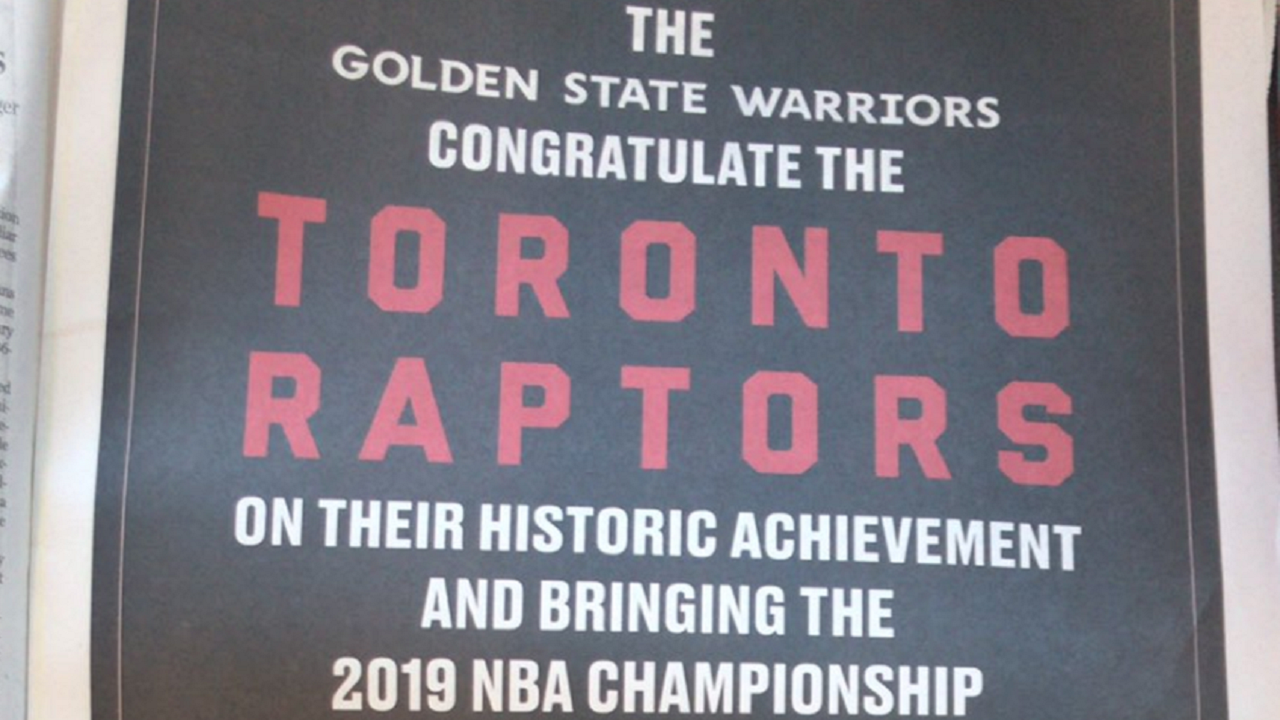 Yesterday, every single person who has ever stepped foot in Canada showed up at the Toronto Raptors victory parade. At least, that's what it looked like in the photos. Our neighbors to the great white north (take off!) sure were excited aboot their NBA team's first ever championship, and rightly so.
Led by Raptor mainstay Kyle Lowery and one-year-rental (?) and Finals MVP Kawhi "Apple Time" Leonard, the surprising Raptors dethroned the Golden State Warriors, the closest thing the NBA has had to a dynasty this decade.
The Warriors suffered through a variety of killer injuries, including multiple issues for superstar Kevin Durant, whose future with the Warriors was in doubt even before he tore his ACL and will miss a year, and Klay Thompson, who looked primed to lead his team to an improbable Game 6 win before he too was sidelined with a major injury that will take the better part of a year to rehab.
But the Warriors, winners of three of the previous four championships, weren't making excuses for their loss in the Finals. In fact, they may have relinquished the Larry O'Brien trophy, but they won the championship of graciousness in defeat. On Monday, while the Raptors were celebrating on the streets of Toronto, the Warriors put out a full-page ad in the Toronto Star, congratulating their opponents for their hard-fought, and well-earned victory.
Full page ad in today's @StarSports section. Classy move by the Golden State Warriors. pic.twitter.com/XtkYCtDAKq

— Alex Ballingall (@aballinga) June 17, 2019
The ad congratulates the Raptors for their "historic achievement," presumably referring to the fact that the Raptors had never won the title before.
Most on Twitter appreciate the Warriors' gesture as an example of how to behave after a tough loss.
This shows true sportsmanship.

— Jane ???????????????????????? (@CanuckCatLady) June 17, 2019
A classy response … reminding us all to be as gracious in losing as in winning. https://t.co/1NxZvX2otc

— SMCDSB Faith Matters (@SMCDSB_Faith) June 17, 2019
I love a good rivalry where teams/players hate each other, but this is actually awesome https://t.co/Kj6yrcZYUE

— Danny Karliak (@DannyKarliak) June 17, 2019
Of course, this being the internet, and sports, many people (read: bitter Warriors fans) have spent some time griping about the fact that their team was so depleted by injury, which leads to a few displays of sour grapes.
Classy move by the #Warriors to take out a full-page ad in the Toronto Star to congratulate the #Raptors. A half-page ad for beating half a team would've been more appropriate though! pic.twitter.com/AuMwpfRUSe

— Brian Noe (@TheNoeShow) June 17, 2019
But we won't let a few bad apples spoil Kawhi's bunch. Anyone who watched the series saw that Toronto had an answer for everything Golden State could muster, which was a lot, despite their injuries. The Raptors deserve all the credit in the world for toppling the team of the decade, and good on Golden State for admitting as much with their classy gesture.