Coach Miles Takes a Tumble, Kids Are Key to Winning NCAA Pools & More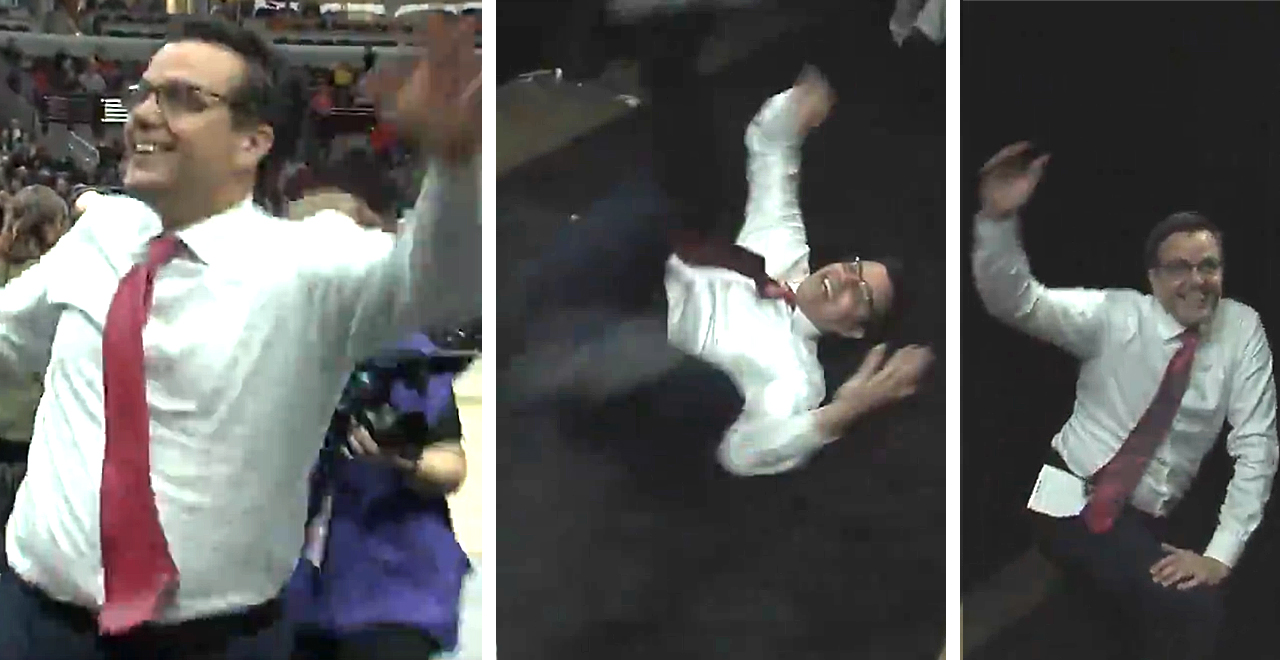 I was in second grade the first time I filled out an NCAA bracket. I was a sports nerd and carefully cut one out of the sports section of the newspaper (a sentence that makes me feel 95 years old) and hung my picks up on the fridge, in lieu of art. Unbeknownst to me, my dad copied those picks and entered them into his office pool. I rode a hot first-weekend into a cool second place overall finish, giving me enough money to buy candy cigarettes for months. And thus my love affair with gambling was born.
The important thing to take away from this is that it's a savvy dad move. The NCAA tournament is one time you should feel OK about making money off your kids. I would never advocate locking your kids in a room with a camera and sacks of toys until he/she became an unboxing-phenom and god help any parent of an Instagram "influencer". Stage parents, pageant moms and alcoholic little leaguer dads all move through the world with a nostalgic sadness and desperation that does its share of damage to kids. But using your kid's bracket to win some beer money is harmless, and is one of the perks of having a kid.
Everyone has been bounced out of an NCAA tournament pool by someone's kid. It's frustrating, but it's also a lot harder to be mad at some precocious kid than it is to hate the new guy who eats tuna every day and picked his bracket based off mascots. And kids do seem to have a necessary ignorance of college basketball that wins pools. It's not the person trusting ESPN analysts or new-fangled algorithms (stop trying to use math to cheat, it's too much like homework!) that usually win these things, it's someone's kid or an elderly administrative assistant.
Kids are also an excellent excuse to get out of work to watch games. There's not a boss alive who would believe you scheduled a conveniently timed dentist appointment for Thursday afternoon, but that boss won't raise an eye at anything involving a kid (an appointment/after-school function/post bail/etc.). Skipping out on work and watching four basketball games at once at a sports bar while drinking beer and eating wings is one of the purest joys as a sports fan. I think more sporting events should be played during work hours.
We already have our first major college basketball tournament highlight, when Nebraska coach Tim Miles had a comically-beautiful fall walking off the court. Five stars, highly recommend.
"SAFE!" @CoachMiles takes a tumble running off the floor after Nebraska basketball's Big Ten tournament win over Rutgers. Full post game reaction tonight on @Channel8ABC! For now, WATCH: pic.twitter.com/NOABVQes4A

— Jared Koller (@JKollerKLKN) March 14, 2019
The tournament comes at a great time for the college sports world, in light of the college admission bribery scandal that's been dominating the news coverage. After reading about parents paying hundreds of thousands of dollars to get their kids into college, I was left feeling two things. First, shocked that the "photoshopping a head onto the body of an athlete" plan worked. That's the same level of careful planning I used to fake my 9th-grade report card, I could've been using those skills to earn real money.
But, overall, I mostly feel like I'm not doing enough for my kids. Parents are out here dropping half a million for their kids to get into college and I'm over here feeling like a hero when I drop $14 at Chick-Fil-A.
The Cleveland Browns…are going to be good? The Browns made a blockbuster move when they acquired Odell Beckjham Jr. and Cleveland is starting to look like a real playoff contender. The Cleveland Browns. The same team that will bring a coach that went 1-15 back for another season. Even in a universe where the Cubs won the World Series, I thought we'd always have the Cleveland Browns to make fun of. But here we are, as they continue to make competent football moves and have an actually talented roster. They should win the AFC North, which still feels weird to type. I'm not ready for a sports world where the Washington Generals become a winning franchise.
Finally, Washington Post sports columnist Sally Jenkins has a terrific tribute to her father, the iconic sports writer Dan Jenkins.