Community Learns Sign Language so They Can Befriend Deaf Toddler [WATCH]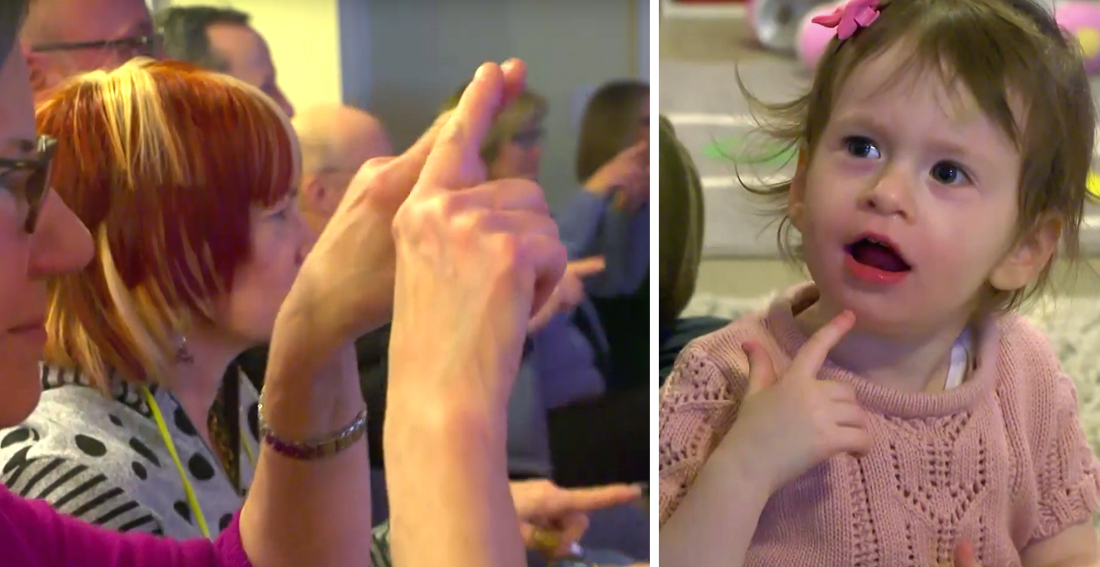 Little kids love to talk. TO A FAULT. Seriously, if you have a toddler or a kindergartner, odds are you can't get them to shut up half of the time, whether they're babbling about Paw Patrol or trains or tea parties or whatever. Their energy at bedtime is matched, if not exceeded, but their ability to talk nonstop the rest of the time.
2-year-old Samantha Savitz is no different, except in one specific way. She's deaf, and she talks via sign language. And talks. And talks.
This friendly little girl lives in Newton, Massachusetts, and is beloved by the people in her neighborhood for her friendly, gregarious personality.
Her father, Raphael, says, "She's super-engaging. She wants to chat up with anybody."
"Her whole personality changes the minute someone who can communicate with her," mom Glenda agrees.
Unfortunately, not everyone knows sign language. And that makes Sam sad. She often tries to be friendly with people in her community, but they're unable to do so. This is frustrating to both the two-year-old and the people in her neighborhood who adore the little girl and want to chat with her and be her friend.
So the members of Samantha's community took it upon themselves to find a way to do just that. By hiring an instructor and learning sign language.
CBS Evening News ran a story about the heartwarming efforts of the people in Samantha's neighborhood to learn sign language, all so they could talk to a little girl and make her feel like a part of the community.
Even their instructor is impressed, admitting that sometimes even the parents of deaf children don't bother to learn American Sign Language. "But here, Sam, has a full community that's signing and communicating with her and her family, and it's a beautiful story, says teacher Reese McGovern.
Her parents agree and are almost at a loss for words themselves when they consider what the community is doing for their daughter, who is bound to become happier and more well-adjusted thanks to the sense of inclusion her neighbors are fighting to provide for her.
Watch the full video: