Community Rallies Around Homeless Dad Who Was Shamed on Social Media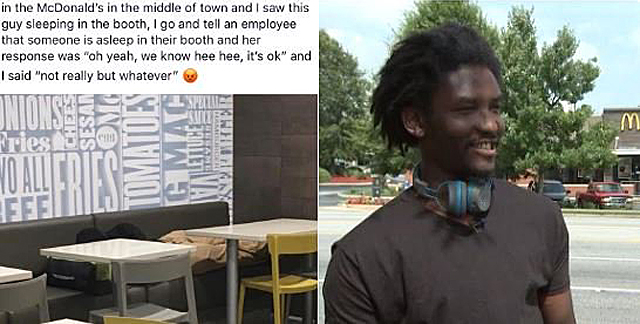 It's easy to pass judgment on other people, we all do it. It's human nature. But sometimes, most of the time, we don't have the full story.
One woman in Georgia certainly didn't have all the information when she snapped a picture of a man sleeping in a McDonald's. Thankfully, those details came out, and so do support for his plight.
A woman posted a photo of a man sleeping at a booth inside a Fayetteville, Georgia McDonald's and posted it in her private Facebook group. In her post, she haughtily explains that she complained to an employee, who dismissed her concerns. It turns out that the man worked there, and was catching a nap between shifts because he had nowhere else to go.
Simon Childs is a homeless father of a 2-year-old boy, and he's been struggling to deal with the recent passing of his mother. Learning that he was being shamed on social media didn't help matters. Not at first.
"I've been going through a hard time with my mom passing," he told Atlanta's WSB-TV. "It kind of hurt to see my picture up there, you know? I thought it was something negative and nobody would care about it."
People did care, for his plight. After his photo got attention, Simon returned to work only to discover that people in the community had donated supplies, including diapers and clothes for his son. In addition, Chefs Xavier and Theo Thomas, who owns a local restaurant, Fusion Chefs Eatery, let him borrow their car to seek out better job opportunities.
"It just touched our heart," Xavier Thomas said.
When Simon's story aired on WSB-TV, he received even more compassionate assistance from his community, including a free haircut and a stay at a hotel while he looked for permanent housing.
Compassion > Criticism! A woman shamed a man on Facebook for sleeping at McDonald's… but instead of making fun of him, people are helping that hard-working dad! https://t.co/UoWVoMYNz6 ???? pic.twitter.com/B9hCqGYBm6

— WSB-TV (@wsbtv) June 25, 2019
Someone even started a GoFundMe campaign that has since raised over double of its $5000 goal.
As for the woman who posted the photo of Simon sleeping, he is turning the other cheek.
"I'm not homeless, not now, thanks to her," he said. "I didn't think the community would even care enough to do that, but they care."