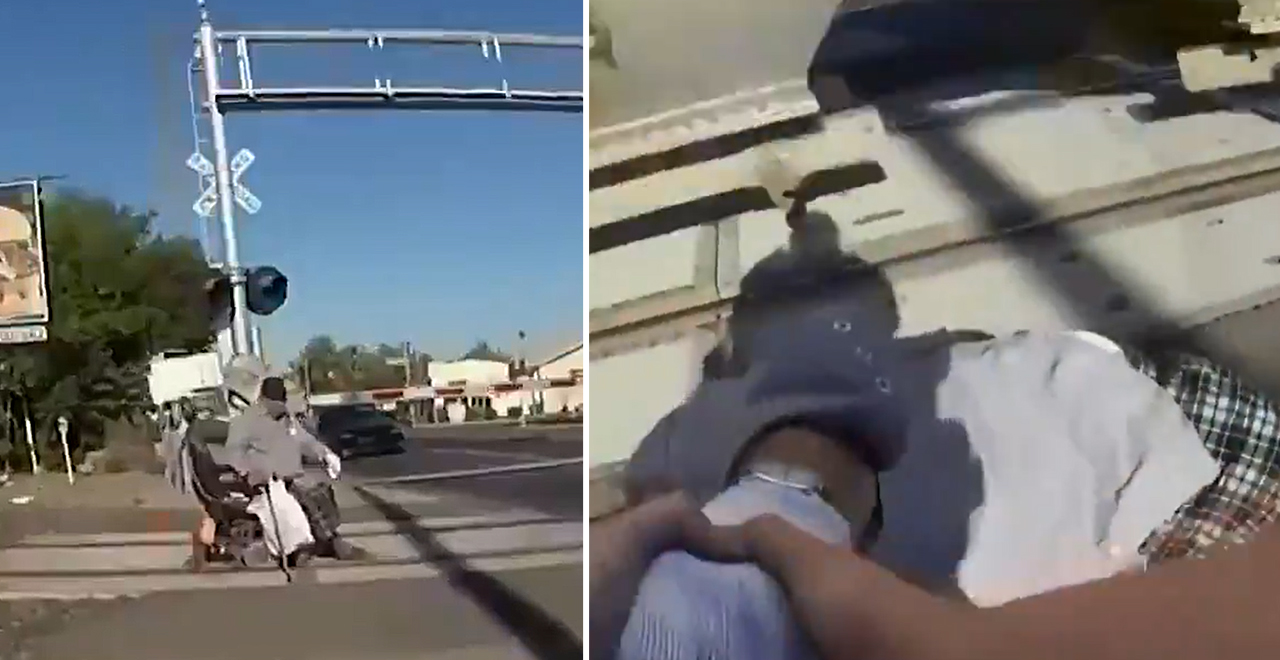 Credit: Twitter/ABC
This is the most dramatic video you'll see all week. A cop in California was driving near train tracks when she spotted a man in a wheelchair who got stuck trying to cross the tracks. The disabled man was unable to free the chair, and the officer's body-cam captured her dramatic attempt to rescue the man as the train comes bearing down.
The bodycam footage shows Lodi, California police officer Erika Urrea jump out of her squad car and run to the man as the oncoming train relentlessly hits its horn. She pulls him out of the chair and they both fall to the ground just milliseconds before the speeding locomotive destroys the wheelchair.
TO THE RESCUE: Bodycam footage released by police in California captures the moment Officer Erika Urrea saved a man in a wheelchair who got stuck on train tracks.

The 66-year old man suffered a leg injury and was transported to the hospital, police say. https://t.co/83T4XjQphA pic.twitter.com/mmINs8awAo

— ABC News (@ABC) August 13, 2020
It does not get any more dramatic than that. The man, in his mid-60s, suffered a leg injury but was spared from certain death thanks to the rescue. He is now in stable condition at a local hospital.
In a statement released to the media, Lodi police praised Erika's heroic act.
"Officer urea risker her own life to save another, and her actions prevented a tragedy. We are extremely proud of Officer Urrea and her heroism."
Rescuing someone stuck in train tracks feels very 1880s, but hey, it's 2020, so of course, there's going to be something as heart-stopping as this save. There is no denying the officer is a bonafide hero.