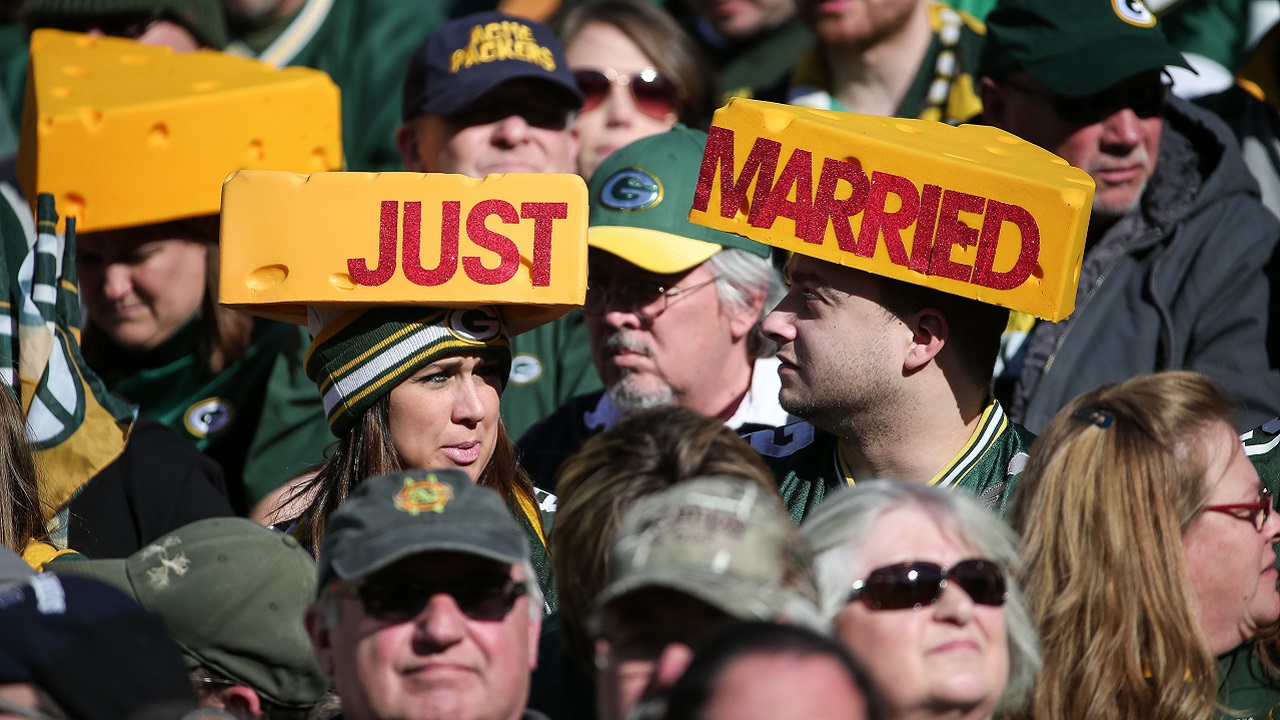 Credit: Getty Images/Jonathan Daniel /
Just what every girl dreams of
Plenty of girls like football. You don't get to be a billion dollar business without having fans in just about every demographic. But I don't care how into the Colts your lady is, the odds that she wants to get married at on the field before a football game are probably pretty slim.
Until you tell her the team's mascot will be officiating. Then the odds are probably zero. Unless you're the happy couple that got married in Lucas Oil Stadium before kickoff of the Colts/Broncos game on Thursday Night Football a couple weeks ago!
That's right, the new Mr. and Mrs. Swain got married in the endzone before the game, and Twitter has opinions!
Mr. and Mrs. Swaim tied the knot in the end zone and got free tickets to honeymoon at the SUPER BOWL! 😱 https://t.co/J09wBHcNTw

— The Checkdown (@thecheckdown) December 15, 2017
After the ceremony, the newlyweds received some quality gifts from their favorite team (I assume it's their favorite team, otherwise this makes even less sense than it initially appears) and a cameo from a blimp!
The couple that got married at Lucas Oil Stadium just now also got Super Bowl tickets, a joy right in the Colts' cart and — AND! — a mini blimp floating above their ceremony. Top. That.

— Nicki Jhabvala (@NickiJhabvala) December 15, 2017
The Colts mascot, Blue, a literal horse (just kidding: just a person in a horse costume) officiated the ceremony, in case you were wondering, and I doubt you were, because whether or not a man in an animal costume was present at let alone presided over someone's nuptials is probably not something you wonder about very often. But in case you were, Blue held up placards with the vows and instructions on them ("You may now perform an elaborate end zone celebration with the bride!" was not included, unfortunately), obviously.
Nothing like a pre-game wedding pic.twitter.com/VE9uxxiR5s

— SB Nation NFL (@SBNationNFL) December 15, 2017
Because horses can't speak, and if the people involved in this ceremony are worried about anything, it's verisimilitude.
The Twitterverse was conflicted.
Some swooned:
A couple just got married at the Indianapolis Colts stadium and got Super Bowl 52 tickets… THAT IS THE MOST ROMANTIC THING IVE EVER SEEN IN MY LIFE

— danae ⁷ 🧈 (@cactussjacks) December 15, 2017
Others had some specific issues:
Getting married in a dome before a game between 3-9 and 4-10 teams is very romantic.

— Matt Clapp (@Matt2Clapp) December 15, 2017
This woman is clearly jealous, and inspired!
Apparently if you want Super Bowl tickets all you have to do is arrange to be married on the field before a game. I'll keep that in mind and hope the same applies to the Word Series. #WrigleyWedding

— bébé it's cold outside (@staceynrockwell) December 15, 2017
She'd better be careful, though, because it seems sports teams don't roll out the red carpet for every couple that sacrifices propriety just to see the Patriots win again in person:
.@NFL Hey! @Pattrick11 and I got married at @FEStadium before the @ChicagoBears v @Browns game last year and we didn't get Super Bowl tickets! 😥#ThursdayNightFootball #justkeepbarking pic.twitter.com/Gkwc0z1Tbv

— Suze Magooze (@suze_magooze) December 15, 2017