Steph and Ayesha Curry's Foundation Donated Over 15 Million Meals During COVID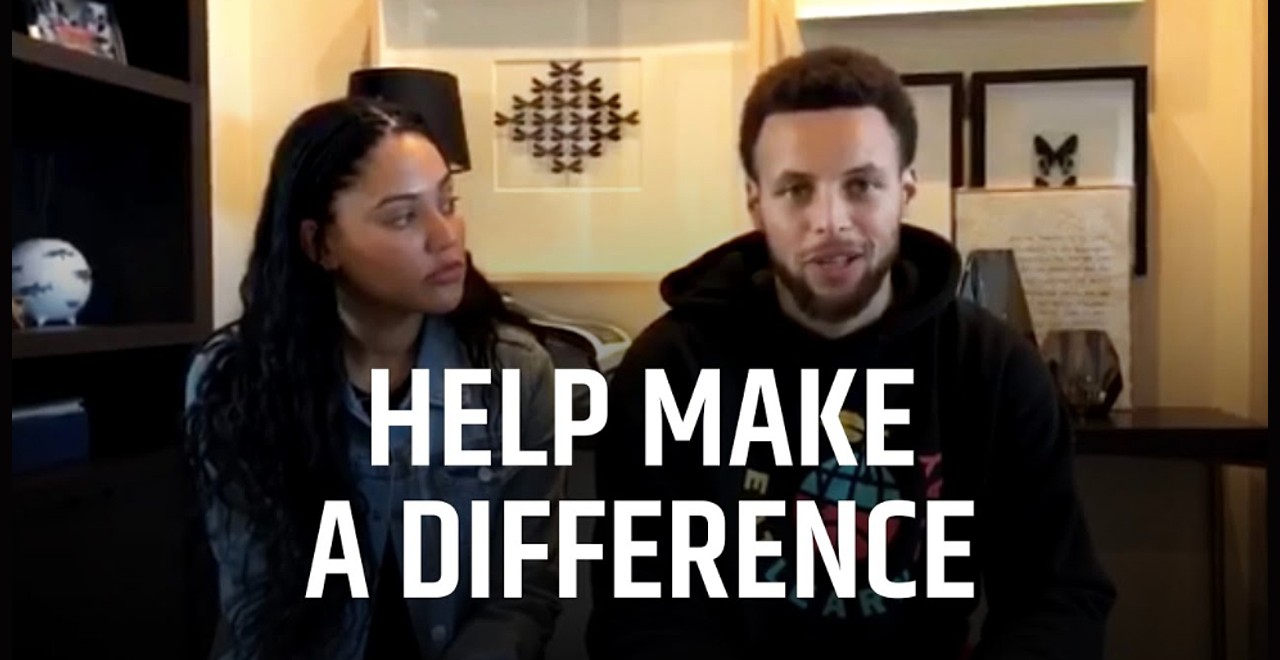 The past year has been challenging, to say the least. But as Mr. Rogers reminded us, it's important to look for the helpers during otherwise difficult times. Mr. Rogers explained that even in the direst of situations, there would always be helpers – and COVID showed us firsthand just how true that was.
Some celebrities make a sort of spectacle out of their charity work – honestly, we're not complaining. Doing good, helpful work publicly is still a net positive, even if some of the motivation is good publicity. The work gets done, and it may even encourage others to hop on the helping train as well. But other celebrities are quiet about their good deeds, doing massive amounts of good without drawing attention to themselves. Steph and Ayesha Curry are in the latter category, making an enormous impact in the Bay Area just for the sake of helping.
According to its website, The Curry's Eat.Learn.Play. Foundation "is committed to unlocking the amazing potential of every child by fighting to end childhood hunger, ensuring students have access to a quality education and providing safe places for all children to play and be active."
In normal times, childhood hunger is a massive issue. But due to job loss from COVID-19 as well as schools shutting down (many kids relied on school lunches for their one real meal each day), access to food for struggling families is at an all-time low. For East Bay families, however, the Eat.Learn.Play. Foundation is a beacon of hope.
The #EatLearnPlay team has been reflecting on the work we did in 2020. Despite being unusual and challenging, we had a major impact in Oakland thanks to great support from our donors, supporters, partners, and community members. pic.twitter.com/qa6wXms2qE

— Eat. Learn. Play. Foundation (@eatlearnplay) January 6, 2021
Early on in the COVID-19 pandemic, the Curry's Foundation began donating over 300,000 meals a week to East Bay families who desperately needed them. The support the Currys give to their community is two-fold – the foundation pays local (and often struggling) restaurants to prepare the meals, and those meals are then donated back to the community.
On Twitter, the foundation recently shared an incredible update. Throughout the pandemic, they've continued to support local restaurants and struggling families. As of early January, the Curry's Eat.Learn.Play. Foundation reached over 15 million donated meals.
Together, we were able to place community at the heart of our work and serve well over 15 million meals.

Here are some of #EatLearnPlay's favorite moments from 2020. Comment down below with your favorite #EatLearnPlay moment! pic.twitter.com/AkI2qmM4cz

— Eat. Learn. Play. Foundation (@eatlearnplay) January 6, 2021
"The biggest thing for us is to be able to be educated and understand the problems and the numbers so we can continue to make a meaningful impact in our community," Steph said on the Foundation's website. "We need to deal with the realities that are in our community, especially in our backyard, and determine how we can start to empower our amazing community partners to make significant changes."