Dad Avoids Overweight Baggage Fee by Unpacking and Wearing 15 Shirts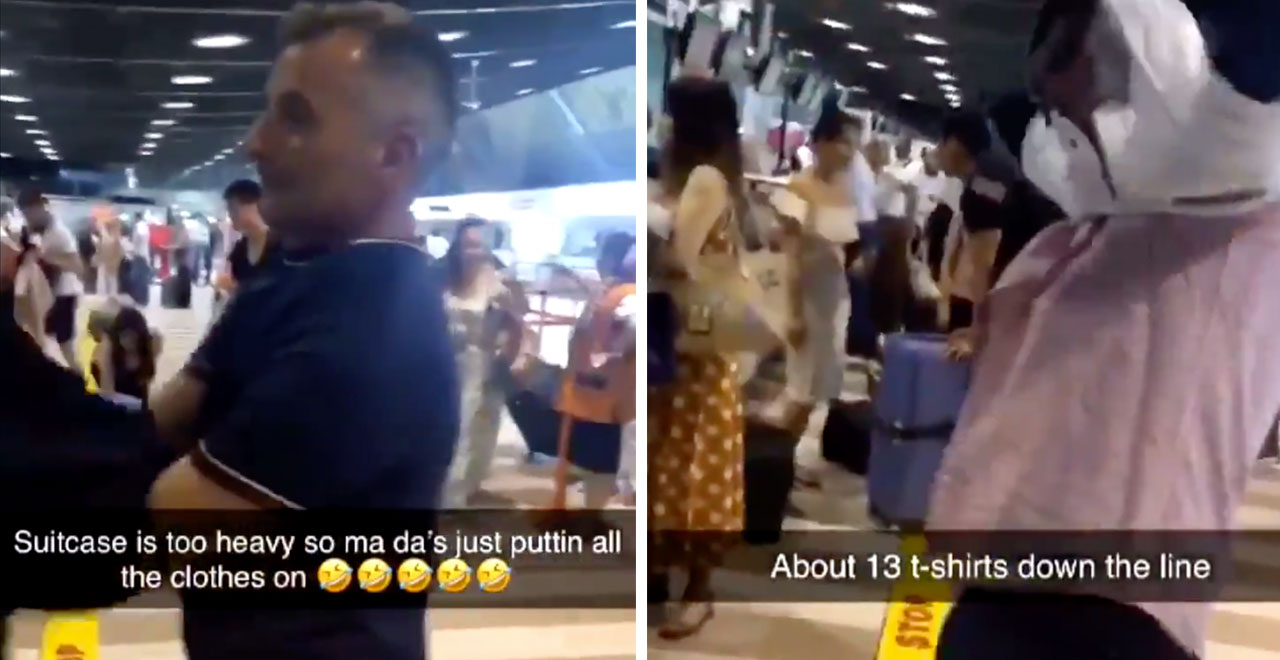 We all know flying on a plane can be a pain in the ass. From layovers and delays, to cramped seats, the endless onslaught of hassles that come with air travel are enough to infuriate even the most seasoned globetrotters.
One of the most infuriating scenarios plays out when upon arrival, airline employees inform you that your carefully packed suitcase is unfortunately either oversize or overweight. This was the case for John Irvine and his family on their return trip to Glasgow recently. However, when Irvine was told his bag was 8kgs over the airline's limit and would cost him an additional surcharge, the Bearsden native smiled and told the airline employee: "Hen, watch this."
The 46-year-old frugal father proceeded to unload over a dozen articles of clothing, placing each one over the previous, in a brilliant attempt to beat the extra weight fee assigned by the carrier. His 17-year-old son, Josh, captured the entire ordeal, posting the video that is now making its way around the web.
Suitcase was over the weight limit in the airport so ma Da whipped oot aboot 15 shirts n wacked every one a them on to make the weight????????????????????cunt wis sweatin pic.twitter.com/7h7FBgrt03

— Josh Irvine (@joshirvine7) July 6, 2019
"He zipped open the suitcase and quickly flung on about 15 jumpers to help cut down the weight," Josh told the Scottish Sun. "The staff were in stitches but trying to get through security was a struggle because they thought he was trying to smuggle something under all his clothes.
Although the ordeal cost them a few extra minutes in security, the family, including the precariously puffed up papa, eventually made it through and were able to board their flight home.
The best news, perhaps, is that the extra fee was never charged – meaning this diligent dad likely saved tens of dollars, something all fathers can all appreciate and admire. Cheers, John!