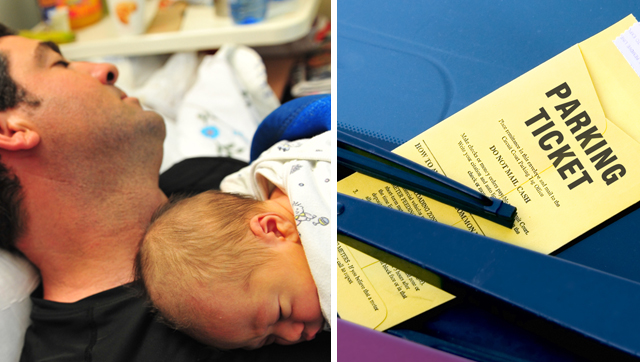 Credit: Getty/chameleonseye/cosmonaut
Nothing puts a damper on a good day like getting a parking ticket. But when it happens on one of your best days, like the day your son is born? Not cool.
Just ask Brian Leo, who was stuck with a $65 fine from New York City for failing to move his car during alternate-side parking the morning his wife gave birth.
With his wife in labor in the middle of the night, Leo used Uber for a 2am ride to New York Presbyterian hopsital, rather than deal with the stress of bringing a car along.
"I wouldn't have been able to be with her if I had to deal with the car," the new father told the New York Post. "I couldn't drop her off and look for parking and then meet up with her somewhere in the hospital. I definitely wanted to be with her the whole time, so Uber worked out."
The birth of his son, Max, later that morning went off without a hitch – "I cut the umbilical cord," Leo recalled. "I didn't start bawling, but it was just like joy. It was like being overwhelmed — more than happiness. You fall in love with the kid as soon as he comes out."
Meanwhile, back home, his car had been ticketed for a parking infraction.
After his wife fainted post-delivery, going home wasn't an option; Brian stayed by her side all day, neglecting to run home to deal with his car. "I even joked later that day, like, 'Max, you owe me money for that parking ticket,'" he joked. After receiving the ticket, he sent in a not guilty plea, complete with hospital paperwork, but was rejected.
"The summons was issued at 11:15 a.m., approximately two hours after the baby was born," the verdict said. "This is not a persuasive medical emergency defense, as there is no persuasive testimony or evidence of a sudden, unexpected medical emergency at the time the summons was issued."
But Brian appealed that ridiculous decision, and thankfully, three months later, the $65 fine was rescinded. "One of the three judges said 'congratulations' for the baby on my way out," Leo said after his August appeals hearing.
Beating a parking ticket is always awesome. But beating a parking ticket issued while your son was being born? Priceless.