Dad Completely Unravels After Losing Daughter's Hamster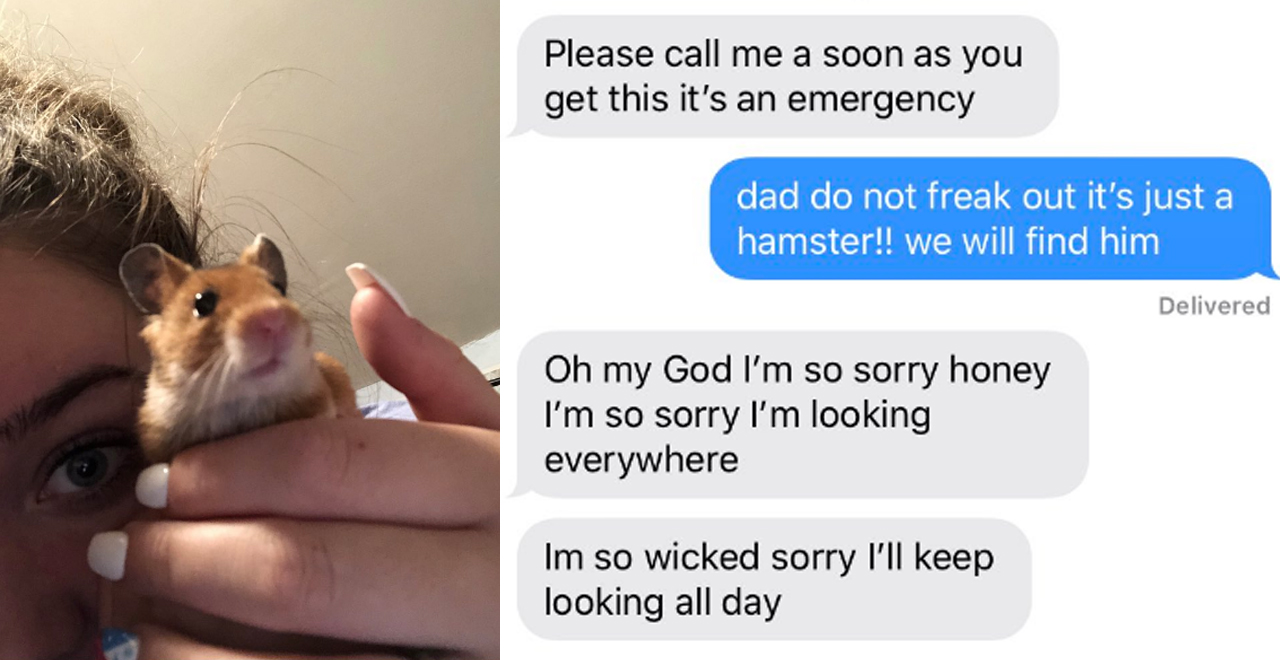 When his daughter went off to college, a single dad became the sole caregiver to her hamster. He didn't think much of the 'rodent' at first, but he quickly grew to love and dote on little "Chester." And one of his most traumatic days came when he had to call his daughter and break the news that Chester had escaped from his cage.
His daughter revealed her dad's struggle through a series of sceenshotted text messages she posted on Twitter. It's a roller coaster of emotion that reveals just how much this dad loved his hamster, and what it meant to his daughter.
my dad took over my hamster once i went back to college and ended up getting really attached and today he escaped and this goes to prove how truly pure my father is pic.twitter.com/JmTJl6jFBI

— Steph Veerman (@stephyj725) November 25, 2019
It started with one of the most terrifying messages you can get from a parent, "Please call me as soon as you get this it's an emergency." He then explained the situation, and his daughter tried to calm him down. He then said, "Oh my god I'm so sorry honey I'm so sorry I'm looking everywhere." And then "I'm so wicked sorry I'll keep looking all day."
At one point, he says he's going to skip work the next day to look for Chester. His daughter responds "Dad you shouldn't skip work you are a lawyer and he is a hamster."
He pulled out all the stops to find him, including setting out some food with a ring of flour around it so he could try to follow the footsteps. Of course, you know how this ends. You wouldn't see it on The Dad if the conclusion was the hamster being lost and the family being shattered by the tragedy. The dad came through and was reunited with his furry buddy.
follow up: He did find him!!! pic.twitter.com/ObHSSmI4UU

— Steph Veerman (@stephyj725) November 26, 2019
"I'm an empty nester now. I don't have a lot to take care of, and I almost screwed up the one thing I have," he told TODAY Parents. He said the only thing he could think as he walked around on his hands and knees with a flashlight looking was how he was going to explain it to his daughter.
"I had a meltdown," he told BuzzFeed News. "I was having a freaking heart attack."
And now that he's reunited with his little pal, he's going out of his way to spoil him.
"I went to Petco and cleaned the place out," he said. "He's going to look like Santa Claus just in time for Christmas."