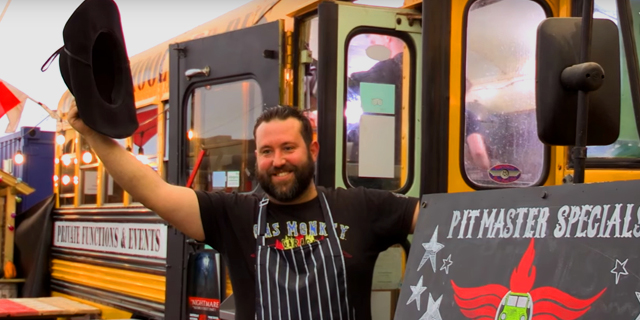 Credit: YouTube/TheSun
Everyone has a dream. Not everyone realizes it. And not everyone who realizes theirs sees it come through in spades! But it did for one dad who took a big gamble on a big idea.
Mark Fairley was a steelworker in Oldham, England, but he had a different idea of what he wanted to do with his career.
"Some people like to play football to relax on Sundays," Mark told The Sun. "For me the best way to make the most of my day is to get a barbecue on the go. I find it very peaceful and it's always been a passion of mine. At some point I was very unhappy at work, doing long shifts through the night and it felt like the moment to take the leap."
He converted that passion – and an old American school bus – into a thriving BBQ restaurant that takes in over 400,000 pounds a year.
He bought the bus in 2016 and initially The Old School Bus was a mobile kitchen, aka food truck, but so many people were hungry for his take on tradition Southern BBQ that he eventually opened a restaurant that seats 100 people. The bus is still a part of it but Mark also built a pit area to prepare the food.
Menu items include six-hour smoked Texas-style ribs and slow-smoked chicken , and guests can imbibe moonshine, bourbon, and more. Some of Mark's recipes were even included in a Manchester cookbook.
All his success requires some trade-offs, the dad of one admits.
"I have to wake up as early as 4am to start cooking, so my family time is reduced. Between my family, my team and my customers it's hard to keep everyone happy sometimes. I can't remember the last time I had a proper break."