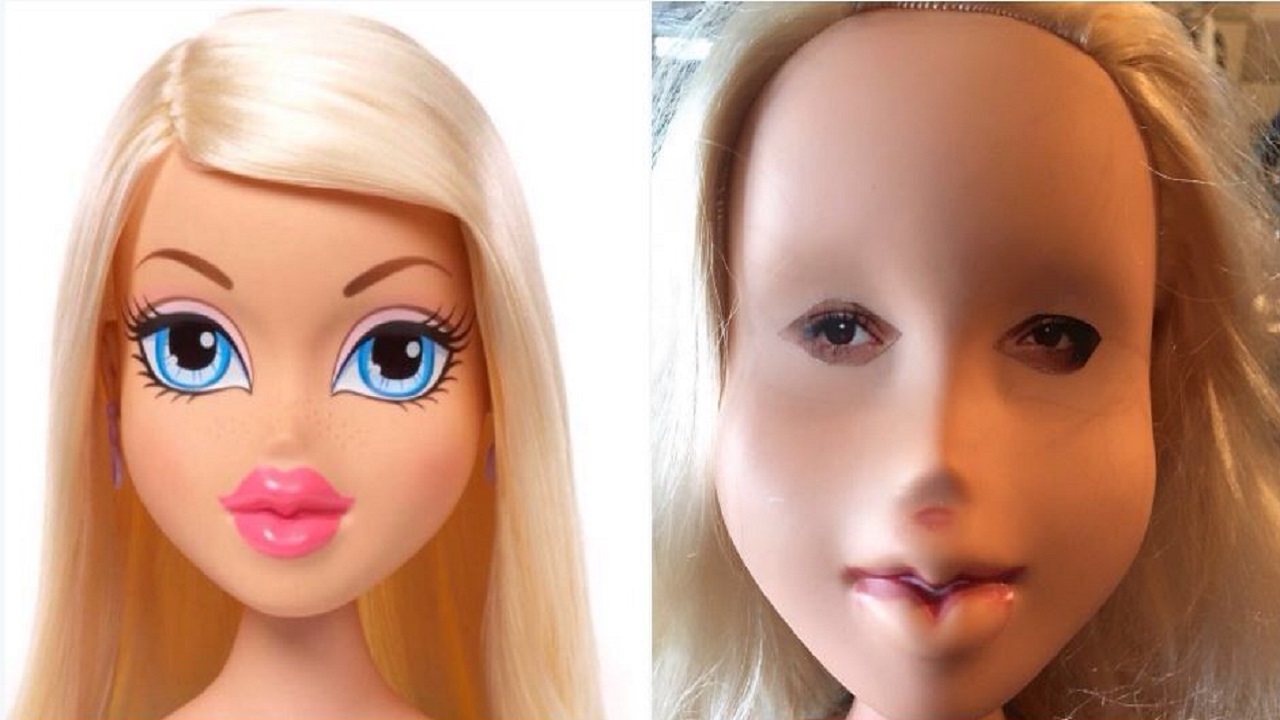 Credit: Twitter/@Tash3P51
When good intentions go awry
Dads mean well. We do. But sometimes there are some things that are simply beyond our ken.
I'd love to help my 7-year-old with his craft project but I'm simply no good at it. You'd love too braid your daughters hair but it might as well be like reading braille.
Our inability to help doesn't mean we stop trying. But based on this dad's efforts to clean his little girl's doll, maybe we should?
Twitter user Tashy McTashface (We keep telling you these names aren't our fault!) shared a picture of what happened when her father tried to clean her daughter's doll, and the results aren't pretty… unless you're Guillermo Del Toro?
When your dad tries to clean up your daughters Girls World with white spirit, but it completely takes the eyes out so he sticks some on from a magazine.

Before & after. pic.twitter.com/VsVhTomrXL

— Tashy McTashface (@TashP351) November 14, 2017
Apparently – and forgive me, Canadian readers, but I had no idea – White Spirit is a cleaning solvent used as a paint thinner and to degrease machinery. Unfortunately, Tashy's dad used it to degrease her doll's entire face, and off it went. No worries though, we can rebuild her.
Or so he thought.
To his credit, he didn't grab a magic marker and create some bizarre Joker-looking creature, but to the opposite of his credit, HE CUT EYES FROM A MAGAZINE.
Look at it again. LOOK AT IT!
As you can imagine, Twitter has been having a field day.
One user compared it to this classic makeover:
— North Ages (@NorthAges) November 14, 2017
Others giffed up their terrified reactions:
God it looks like a real person is trapped inside pic.twitter.com/hIACjYuZyQ

— Kat Stratford 2020 (@RageOnThePage) November 15, 2017
Even cartoons are freaked out.
https://twitter.com/jetpack/status/930888425414127616
For this tweeter, it brought something specific to mind:
November 15, 2017
Some chose, wisely, to simply hide…
November 14, 2017
User Rammi pointed out one of the creepiest aspects of the new doll:
The lack of brows are super creeping me out right now.

— Rammi ✨ (@Rammi) November 14, 2017
While Tashy is incredulous at how her father managed to completely disfigure the poor doll's entire visage:
He's even fucked up the hair and lips!

— Tashy McTashface (@TashP351) November 14, 2017
She's right. Somehow the doll not only lost her eyes, eyebrows, and makeup, but her hairline has receded into SNL territory, and her lip, well, she's gonna need surgery.
Yes he made some mistakes, but kudos to this dad for giving it a shot. He could have just left the doll there, faceless but for her Red Dragon harelip. Instead he's given the internet a gift, and, though she may not know it yet, he's given his granddaughter one too.
Because when Tashy Jr. gets home, once they get her out of the fetal position and stop the screaming, she's going to have a great story to tell.
IF THE DOLL LETS HER TELL IT.