Dad Repeatedly Duped by Daughter's Chocolate Brussels Sprouts Prank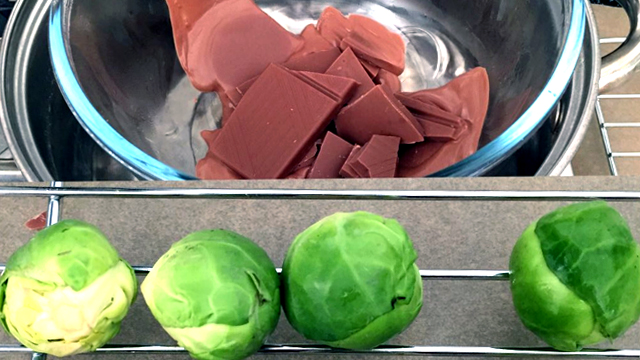 Pranks are fun, especially good-natured pranks, especially good-natured pranks that prey on unsuspecting parents, and especially good-natured pranks that prey on unsuspecting parents around the holidays. Most people are in a good mood around the holidays, and a well-intended prank is less likely to provoke wrath when it's followed up with a heartfelt gift. Or at least a hearty toast.
Scottish singer Judy Brown knows exactly what I mean.
She has created something of a tradition in her house, one that revolves around pranking her father on Christmas. The singer, who goes by @mcjude on Twitter, enjoys sharing her exploits on the social media platform, and this year was her second time pulling a fast one on her dad. So committed is she to the gambit, she actually skipped 2017 after pranking him the year before. It was a smart move to, as she called it, "play the long game," since her father had been spooked by her 2016 prank, which, like 2018, revolved around Ferrero Rocher chocolates.
She conveyed the whole story of "her favourite holiday pastime" on Twitter.
Some of you out there may recall that in 2016 I played an excellent Christmas prank on my long-suffering Dad. It worked a treat. pic.twitter.com/srfaVgLF2J

— Judy Brown (@mcjude) December 25, 2018
She explained why she took 2017 off…
Last year I decided to play the long game & didn't tamper with the confectionary: spooked by the year before, he would not touch a single Ferrero Rocher (which was great because he usually inhales them at 750mph) so there were Ferreros aplenty for the rest of us. I bided my time.

— Judy Brown (@mcjude) December 25, 2018
And then described her method for 2018's "most audacious sprout prank yet…"
While he was out I dipped the sprouts in chocolate, rolled them in chopped hazelnuts, and did all I could to replicate the iconic Ferrerro. pic.twitter.com/UgvLOXeXWJ

— Judy Brown (@mcjude) December 25, 2018
That's right. She camouflaged brussels sprouts as the popular Ferrero Rocher chocolates, painstakingly coating them in chocolate and hazelnut. Then she sat back and waited.
I re-wrapped and (this is crucial) re-sealed the box with its original tape and a tiny dab of glue. Then secreted it amongst a bag of tasty gifts from my Aunt and retired to watch from afar pic.twitter.com/hkIThpvByI

— Judy Brown (@mcjude) December 25, 2018
Despite her dad's rightful suspicion, he eventually took the bait!
And Lo! He opened. He EXAMINED. He unwrapped. He examined FURTHER. Fears allayed, he popped the whole thing in his mouth. His face played a symphony of emotions: satisfaction, triumph, smugness, consternation, confusion, realisation, horror, disgust.

— Judy Brown (@mcjude) December 25, 2018
The evil genius, as she's been branded by Twitter, had won the day again!
I am still chuckling. I will all day long. I know his retribution will be swift and terrible, but no Christmas gift could be greater than this: seeing my Dad, despite his efforts to avoid it, unwittingly eat a raw sprout. Merry Christmas, one and all. pic.twitter.com/RYV6pvYqbe

— Judy Brown (@mcjude) December 25, 2018
Judging by the Twitterverse's reaction, it was her best one yet, her story receiving over 180,000 likes and more than 60,000 retweets.