Dad Goes to Bat for Son When He's Shamed for Painting His Nails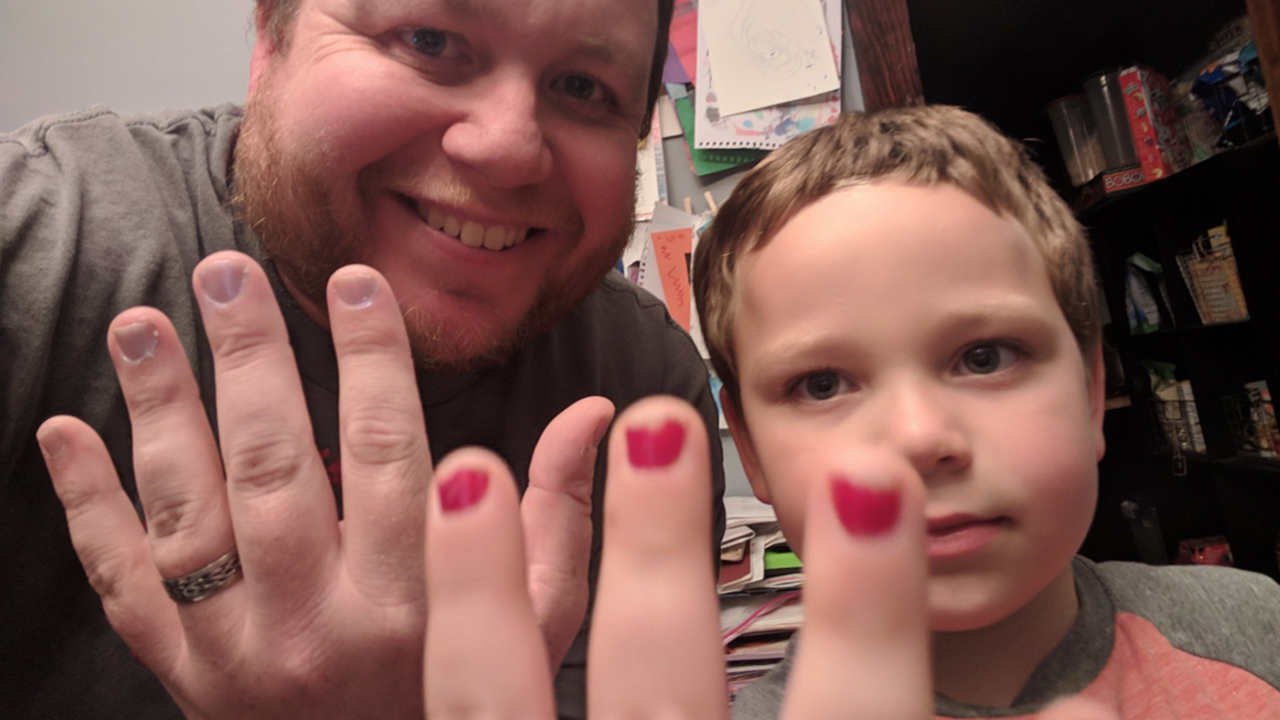 One of the most important aspects of being a parent is instilling self-esteem in your kids, and letting them know that it's okay to be different. Unfortunately, the world isn't always the most tolerant place, and sometimes being a little different can cause a stir.
One little boy recently found that out, but he's doing just fine. Not only does his proud dad have his back, so does the Internet. (And if things go his way, Rob Gronkowski just might too.)
5-year-old Sam Gouveia loves sports, loves fishing, and also happens to love painting his nails. Despite all the progress we've made with letting our kids be themselves still many boys and young men to deny their feelings and adhere to outdated ideas of what makes someone a man. The other day, Sam came home from kindergarten in tears, after his classmates made fun of him for his brightly-colored fingernails.
His dad, Aaron Gouveia, who blogs as The Daddy Files, took to Twitter to excoriate those classmates' parents for propagating the negative stereotypes that got his son bullied, and to show support for his son's freedom to be whomever he wants to be.
This is my son, Sam. He's 5. And today he learned how shitty and harmful #ToxicMasculinity is. My rage meter is spiking right now so excuse me if this is a little raw but there are some things I want to say about BS #gender norms (a thread) pic.twitter.com/NtoE2VHKsU

— Daddy Files (@DaddyFiles) October 23, 2018
"Sam is my middle child & he's a terror. A "boy's boy" as so many (not me) would say. He's rough and tumble, he's loud, he's always dirty, loves trucks, plays sports and knee drops me from the couch. But he also loves a lot of "girl" things."
The sad but defiant dad elaborated in a series of tweets, each of which were liked and retweeted tons of times.
"So he proudly wore his red nail polish to kindergarten this morning because Sam has absolutely no concept of nail polish only being for girls or reason to think anyone would possibly have a problem with beautiful nails."
Little did Sam, or his dad, know, he made himself a target. Merely by being himself.
"But his classmates did have a problem. A big one. Sam was ridiculed for being a boy with nail polish. They called him names and told him to take it off. This lasted the entire day."
"When my wife picked him up from school he collapsed into her arms and cried uncontrollably. He was devastated at how other kids turned on him, even his friends. He asked them to stop but that just made it worse. Only 1 kid stood up for him."
"He called me at work, his words barely decipherable through the sobs, and I told him nothing those kids say matters. That his nails are BADASS! And the only thing that matters is whether he likes his nails. And then my heart broke…"
Dad was enraged at those who made his son cry, but he was even more upset that his son felt the need to hide the things that make him feel good because of pressure from intolerant kids.
"Daddy, I want mommy to take off the nail polish so they don't make fun of me."
"My son is far from perfect but he's got a huge heart and empathy for miles. He finds beauty in everything around him and for 5 years he's never been afraid to be different because different has never meant "bad." Until now."
He assured his son that there is no shame in being different, or in wearing nail polish, and even cited some famous "tough" guys who've been known to paint their own fingers and toes. And he may have fudged a bit when it comes to Sam's favorite football player…
"I told Sam he could take off the nail polish if he wanted but lots of guys wear it like Thor (@chrishemsworth) & Capt. Jack Sparrow. He asked if his fav football player @robgronkowski did. I'm not sure but I told him yes. Sorry, Gronk."
Then Sam, Sam's big brother, and Dad himself all painted their nails…
"After careful consideration, he's leaving it on. Because he likes it and it makes him feel good. Then Sam's 10-year-old brother painted HIS nails in solidarity with his sibling, at which point I nearly cried."
That moved me to paint MY nails. Sam picked out this color called "Main Squeeze" & I think it's understated but lovely. Sam is sticking with red because "it's pretty and good luck for the @patriots." #ItsOnlyWeirdIfItDoesntWork pic.twitter.com/KtuwldiEJw

— Daddy Files (@DaddyFiles) October 23, 2018
And then Dad posted one last brightly-colored message to the people who made his son cry.
Be brave and shine bright, my beautiful polished boy. Know that mom and dad always have your back and if the rest of the world has a problem with your nails, they can check out my nail polish! pic.twitter.com/fvjD2IZnNQ

— Daddy Files (@DaddyFiles) October 23, 2018
We reached out to Aaron in the aftermath of the viral explosion.
"The response on Twitter has been overwhelming – but in a good way. I'd say 90% of the responses have been supportive and uplifting, with people sending in pictures of men and boys wearing nail polish in support of Sam." he told The Dad.
Even famous people have been weighing in, which the newly Internet-famous dad admits is crazy.
"It's been noticed by celebrities like Martellus Bennett, Tara Strong, and Debra Messing which blows my mind."
He's clearly touched by the massive response, but mostly he hopes it helps shine a light on the broader issue, and help other kids to avoid what happened to his little Sam.
"I'm just happy this will continue the conversation and hopefully it'll get people that much more accustomed to seeing boys engage in traditionally feminine activities. Because there's nothing wrong with that."
There sure isn't, and based on Twitter's messages of solidarity, the Internet agrees.
From soccer players:
Tell Sam my son Brennan, 19, says Hey. Here's Bren on the left, playing university soccer, and here's his hand on the left, when he was on a high school trip 2 years ago. Sam rocks, and Bren and I want him to know he's going to be the kid everybody else wishes he could be. pic.twitter.com/vx4xDygmFC

— Derryl Murphy (@derrylm) October 23, 2018
To teachers:
For you and Sam. My students did this… Love them, look fabulous ☺️ pic.twitter.com/OJinFYC4Zn

— Aftab Singh Gujral (@aftabgujral) October 23, 2018
Hi Sam, this is my 30 year old husband. He's a teacher and wears his nails painted every day. I love it when he looks bright and pretty. He says "You do you. I'm proud of you for continuing to wear nail polish and you're brave for facing the bullies". pic.twitter.com/oJDwKPcBrS

— Saz ???? (@rainbowplethora) October 23, 2018
To pop stars:
You are amazing boy, all the glorious and amazing boys wears polish… See Harry did it too???? pic.twitter.com/uY4KvhTlks

— Nadine???? (@NadineE_82) October 23, 2018
And even strongmen:
Even on comp day… u need nice nails pic.twitter.com/aZseChP4ys

— John Charles (@Johncharlesart1) October 23, 2018
Now if only Gronk would weigh in…
I know it's a long shot, but if @RobGronkowski posted a pic with some nail polish tomorrow, I'm pretty sure it'd break the internet. Also, love to Sam and his awesome parents. https://t.co/XOpifD9L1S

— Ellen McGirt (@ellmcgirt) October 23, 2018