Dad Hands out Resumes at Busy Intersection, Goes Viral, Gets Hired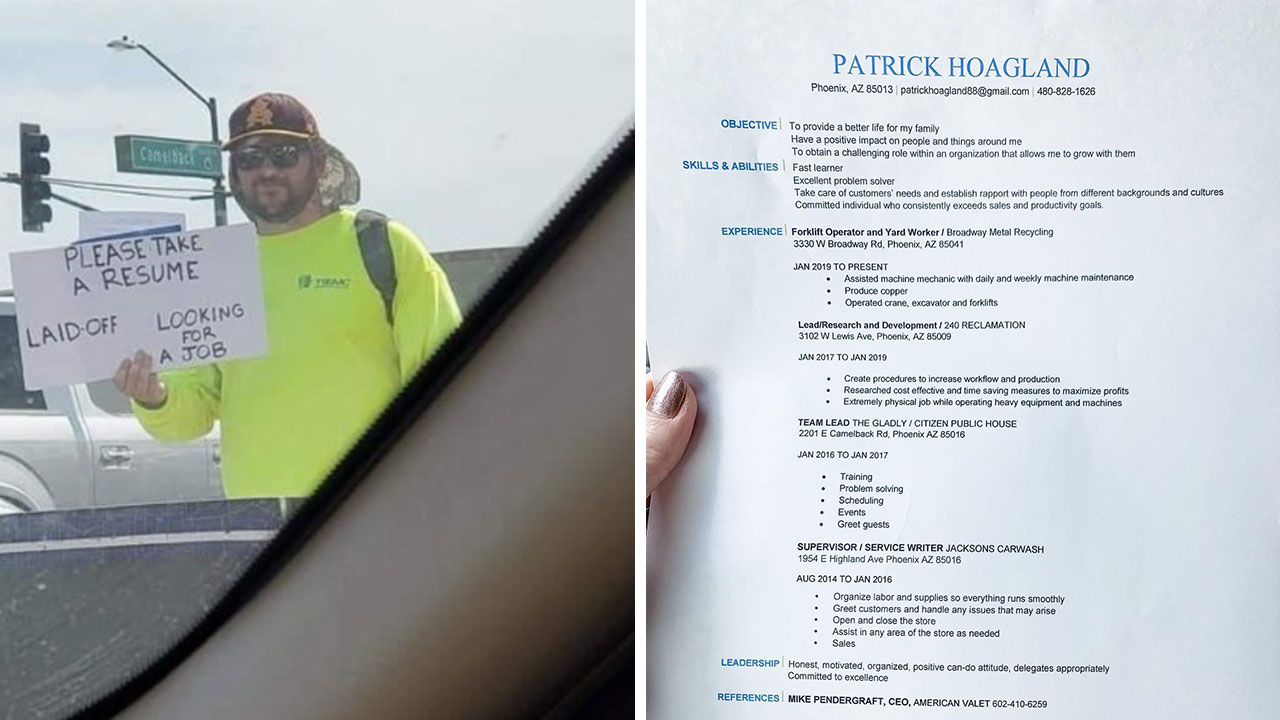 When Patrick Hoagland was laid off last month, the 30-year-old dad from Arizona wasted no time applying for a new job. Unfortunately, after submitting resumes to dozens of openings, Hoagland was still without work for weeks. "It caught me by surprise. And after that, I had some other stresses in life going on, and I really needed to get a job," Hoagland told Las Vegas affiliate KVVU.
In the ultimate act of self-promotion, Hoagland decided to do the only thing he could think of to get his name out there: He printed out copies of his resume and made a sign. Then, for several days last week where temperatures climbed above 110 degrees in Phoenix, Hoagland hit the pavement and posted up at a busy intersection during the daily commute. While many drivers took notice, it was one particular interaction that ended up leading to a lot of attention for the out of work father.
Melissa DiGianfilippo, one of the owners at a Phoenix marketing firm called Serendipit Consulting, saw Hoagland on the corner and gestured for him to come over. However, just as she grabbed his resume, the light changed and she was forced to continue on her way. But upon arrive at work, the PR pro posted the resume and details of the interaction on Twitter.
I was driving down Camelback Rd in Phx near my office and saw this guy on the side of the road with a smile in 110-degree heat, with a sign asking people to take his resume. I love that he was not asking for a handout, just for people to consider him for a job. #pleaseshare #job pic.twitter.com/5QAUpCkGWk

— MelissaDiGianfilippo (@MelissaPR) July 23, 2019
"I just thought, I have a wide network so I'll post it on social media and see what happens and it was crazy. It blew up," said DiGianfilippo. Hoagland says the post along, with his time spent in the scorching heat, garnered hundreds of job offers from employers from around the area. "It was crazy. It was hard to navigate my phone for a little bit," Hoagland said. "I received offers from companies that wouldn't hire you without experience, but because they saw my determination, they offered me a position without even an interview."
The enterprising endeavor has now landed Hoagland a new gig at a local concrete company where he started this week. He's thankful to Melissa and to all the people who reached out after seeing his sign. His story, a reminder to stay diligent and most importantly, to never be afraid to ask for help.