Dad Draws Fatherhood in Fast Forward and I'm Not Crying, You're Crying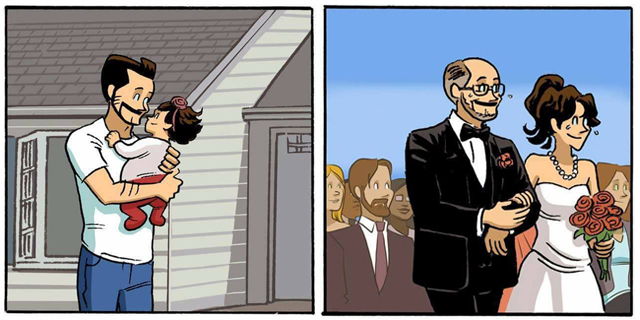 Time flies when you're having fun, but it moves even faster when you're parenting.
One of the biggest challenges of raising children is a marking milestones and surviving phases while taking the time to appreciate precious moments.
One dad brought that idea to tear-jerking life in his comic strip. Dan Dougherty created the comic strip "Beardo" in 2006, basing the characters and situations off of people and events in his life. Lately, the artist's mind has been on his 2-year-old daughter, and the fact that she wouldn't be two for long.
So he drew a strip reflecting that bittersweet aspect of parenting. And he was so happy with it, he decided it would be Beardo's last strip.
"Once I saw it, I knew it was my mic-drop moment for the book and the series," the artist told the Huffington Post.
The strip shows a couple taking their toddler for a stroll in the neighborhood, and as their walk progresses panel by panel, so does the passage of time. We see their toddler grow up as they age alongside her, through her graduation and her wedding, until she gives them a grandchild. Then the strip reverts back to the start, as the dad muses about how fast time moves.
It's gotten a huge response, with 24,000 shares off his Facebook page, and he's grateful. "What's been nice about it is that it seems to not only be relatable to people, but also something they use to communicate to people they love," Dougherty said. "If my comic can do that, I did something right."