Dad Invents Genius App That Forces Kids to Reply to Your Texts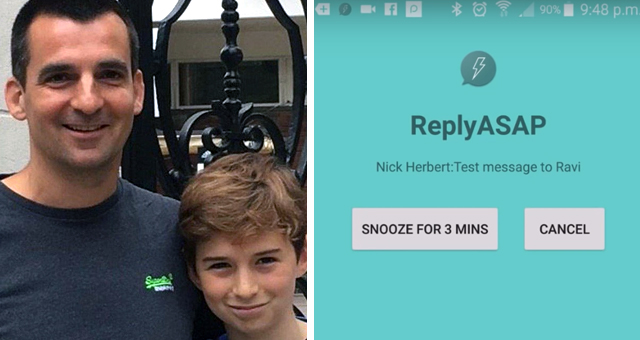 There are few things more annoying than sending someone a text message and not getting a response. It can even get insulting if you the classic "seen" or "read" notification pops up, so you know they've received your message, they just can't be bothered to reply.
For parents, the stakes are higher. Communicating with your kids is never exactly a walk in the park, and these days, chatting via text is often the best we can get them to manage. Especially when you're dealing with teenagers.
And when your kid doesn't respond to your text? Things can go from zero to sixty pretty quickly.
One dad has come up with an ingenious way to ensure that kids get back to mom or dad when they're sent a message, and it's one that hits them right where it hurts: their phones.
Nick Herbert devised and created the ReplyASAP app, available on Android but coming soon for iOS. The app works like this: when you send your kid – or someone else, but let's be honest – a text, the app straight-up freezes their phone until they respond, interrupting whatever is they're doing – snapping, Insta-ing, texting with someone cooler than you – and forcing them to respond in order to make their phone use-able again. And if their phone is on silent? It even sounds an alarm, alerting them to the presence of your text and making them step to it if they want to get back to putting dog ears on their selfies.
The app can be downloaded in the Google Play store (again, thus far it's for Android users only), and since it's arrival in August 2017, it has been installed some 75,000 times.
That's a lot of fed-up parents. Here's hoping using this app to message your kids prevents you from becoming one of them.