Dad Loses Rap Battle to Infant Son, Announces Epic Rematch [WATCH]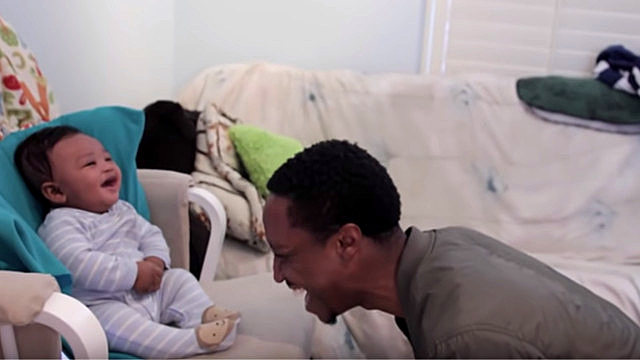 Every family learns how to settle conflict differently, and some better than others.
Recently, one unique father and son duo decided to finally settle what appears to be a lifelong feud with a head-to-head, no holds barred style rap battle. The tension in the room is almost palpable as dad (aka 'B-doe') steps up to his opponent and son, Quintin (aka 'San Quintin').
What follows is a ruthless competition of wits, rhymes, and insatiable laughter?
"He messin' with me," B-doe says, as Quintin laughs defiantly in his father's face.
Okay, so maybe this face-off isn't quite as brutal as I made it out to be, but rather a near-lethal injection of joy straight into our frickin' hearts. Quintin's laugh is so amazing and pure, and he's clearly thrilled to be getting all of this undivided attention from his fire-spitting father.
Even B-doe, who obviously has a background in the rap battle scene, couldn't keep his composure while being blasted by such unadulterated cuteness.
"He definitely got in my head lol," B-doe says in the comments. "I was trying to stay with it. I got bodied fam."
The video, posted on February 21, has garnered over 10 million views and been featured on countless morning and talk shows. People can't seem to get enough. It appears unanimous who took home the 'W,' though.
"The youngest MC to battle and win w/o saying a word," one viewer wrote, "You already lost when you stepped up to that adorableness!"
According to the recent video below, he and Quintin will be going head-to-head once again, but the stakes have been raised! Follow his his YouTube channel.
Hopefully, B-doe comes more prepared this time because when you step back into the ring with the champ*, you're likely to just get knocked out** again.
*adorable baby boy
**bowled over by cuteness