Heroic Police Officer Killed in Colorado Grocery Store Shooting Was Father of 7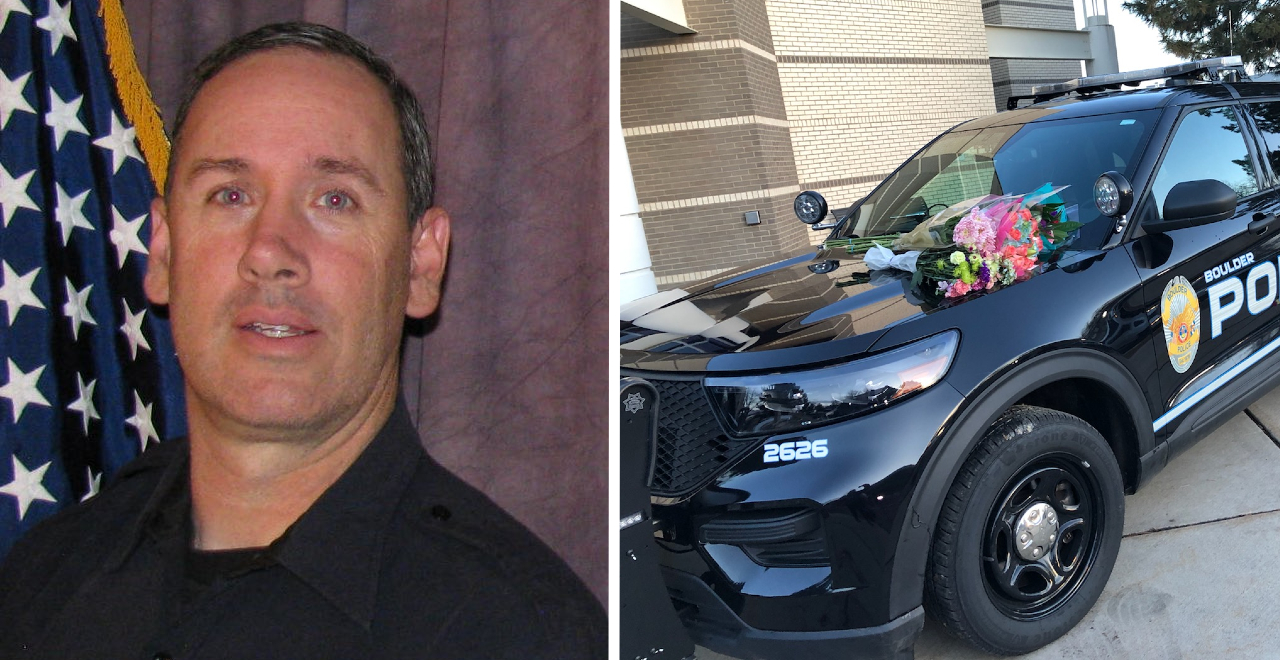 The mass shooting in Boulder, Colorado on Monday has rocked our nation – ten lives were lost in a senseless grocery store shooting. One of those tragic losses was a dad of 7, and a Boulder police officer, who acted heroically and gave his life helping others stay safe.
51-year-old Eric Talley was killed responding to the shooting at King Soopers grocery store, and the Boulder police chief praised his heroic actions on the scene. More than a police officer, he was a loving dad, as Talley had seven children, the youngest of which is only 7 years old.
Talley's father, Homer, said his son loved being a police officer, but he loved being a dad more. "He loved his kids and his family more than anything," his dad said. He added that his son had recently been training as a drone operator, so he wouldn't be serving on the front lines anymore.
President Biden called Talley an American hero. "When he pinned on that badge yesterday morning he didn't know what the day would bring…But when the moment to act came, officer Talley did not hesitate," he said.
"He loved this community and he's everything that policing deserves and needs," Boulder police Chief Maris Herold said of Officer Eric Talley.

Talley was among those killed in the Colorado shooting. https://t.co/Fzfco9568o

— Morning Edition (@MorningEdition) March 23, 2021
His police vehicle was parked outside the department and quickly became a memorial to the heroic officer.
Officer Eric Talley was killed heroically responding to the #BoulderShooting on Monday. His police vehicle is parked outside the @boulderpolice station at 1805 33rd St. in memory of Eric and his service. pic.twitter.com/7Cr2xNGcFR

— City of Boulder (@bouldercolorado) March 23, 2021
A memorial outside @boulderpolice department for Officer Eric Talley continues to grow. Members of the community place are placing flowers on a patrol car out of respect for the fallen officer and the 9 other victims of Monday's King Soopers shooting. #9NEWS #Boulder #Colorado pic.twitter.com/qASoVlw7tp

— Jon Glasgow (@Glasgow_Reports) March 23, 2021
On social media, some were reminiscing about other heroic actions from Officer Talley, including one woman who recounted how he protected her from an abusive ex.
TW: In 2013 I called 911 when my abusive HS/college ex boyfriend showed up uninvited pounding on my door threatening me outside my apartment in Boulder. One of the officers to respond & help that night was Officer Eric Talley. He stayed with me throughout the entire ordeal- pic.twitter.com/9Wm95CK9qQ

— Annabelle Marie (@NabbieBelle) March 23, 2021
A journalist shared a story about Talley rescuing ducklings on duty several years ago.
I was wondering why this article was suddenly getting traffic until I opened it and realized I have now written twice about #Boulder Officer Eric Talley. Once in 2013 when he rescued a bunch of ducklings. And today, when he was killed in the line of duty: https://t.co/VdprBIvjby pic.twitter.com/ATvBAa99Jy

— Mitchell Byars (@mitchellbyars) March 23, 2021
His sister shared a sweet photo of them as kids.
Officer Eric Talley is my big brother. He died today in the Boulder shooting. My heart is broken. I cannot explain how beautiful he was and what a devastating loss this is to so many. Fly high my sweet brother. You always wanted to be a pilot (damn color blindness). Soar. pic.twitter.com/tgt2DxPsqz

— Kirstin (@Roozersmom) March 23, 2021
There's no question Officer Talley was, in the words of the President of the United States, "An American Hero." While there's still so much more to mourn and learn in the aftermath of the shooting, it's important to remember and honor those who lost their lives more than any shooter. Officer Talley was a hero, yes, but he was also a dad.