Dad Performs Adorable Lion King Scene Starring Baby Daughter [WATCH]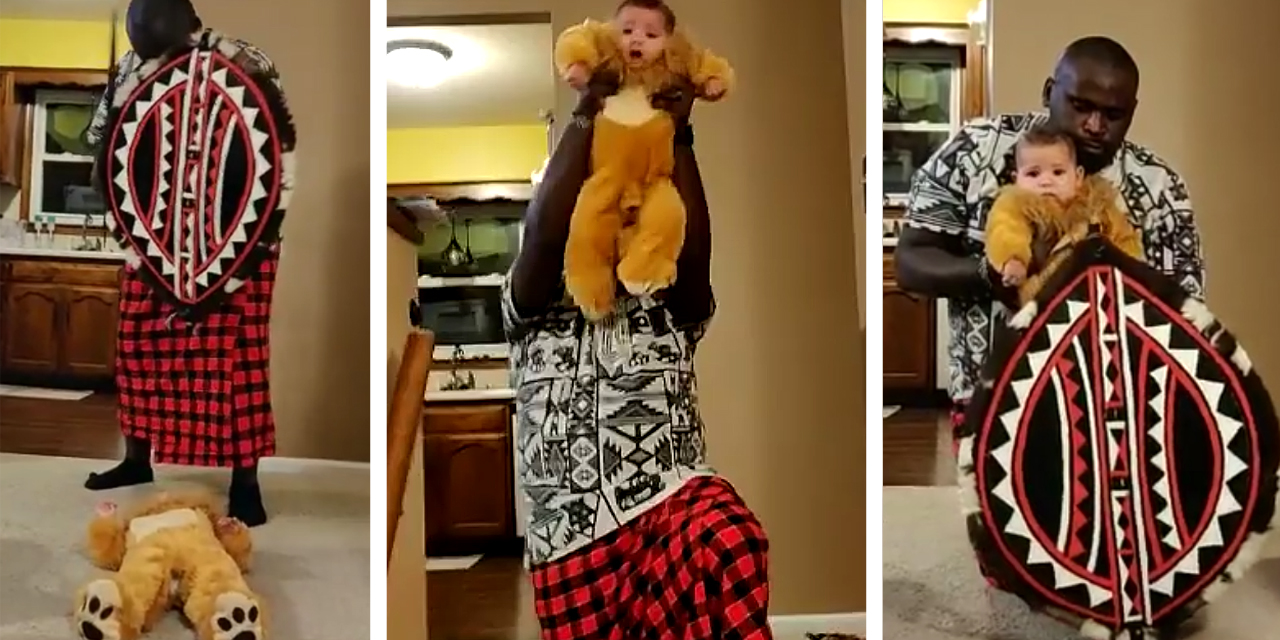 The only memory I have that includes both my father and an Elton John song was when I was five-years-old and my dad scream-sang the wrong words to "Bennie & the Jets" while driving our tan '87 Oldsmobile sedan
Was it dramatic? Yes.
Was it good? No.
Was it cool? Not even in the ballpark.
Let's not blame the music, though. Another dad recently checked all three of these boxes with his interpretation of another Elton John classic.
Kevin Wachira of Kansas City staged his version of The Circle of Life from Disney's The Lion King and included his baby daughter, Cecelia, as a star performer.
It is dramatic as hell. It is so damn good. And, frankly, it might be too cool.
Transforming his hallway into his own personal Serengeti, Kevin dons authentic Kenyan garb along with a traditional shield and spear and dances for his daughter who is lying in front of him, cooing with delight.
The real treat, though, is when the music crescendos and Kevin hoists Cecelia up, revealing her illustrious lion onesie in all its glory.
Kevin moved to Kansas City from Kenya years ago to work as a nurse, which is where he inevitably met his wife, Elizabeth.
"With my work, I usually leave work late and when I get home my daughter is asleep," Wachira told Mirror. "But on this particular day, I managed to leave early. My wife wanted to get a picture of me with my daughter dressed in her lion onesie. Since I'm from Kenya, I had the crazy idea of going one better and dressing up and creating The Lion King scene!"
Well done, Kev. Not only is this a great and timeless song choice, but it's never too early to start celebrating one's family heritage with their kids.
Maybe steer clear of other Elton John tunes, though. Take it from me—they aren't all meant to be performed for younger audiences.