Dads Are a Bunch of Bumbling Idiots According to These Stock Photos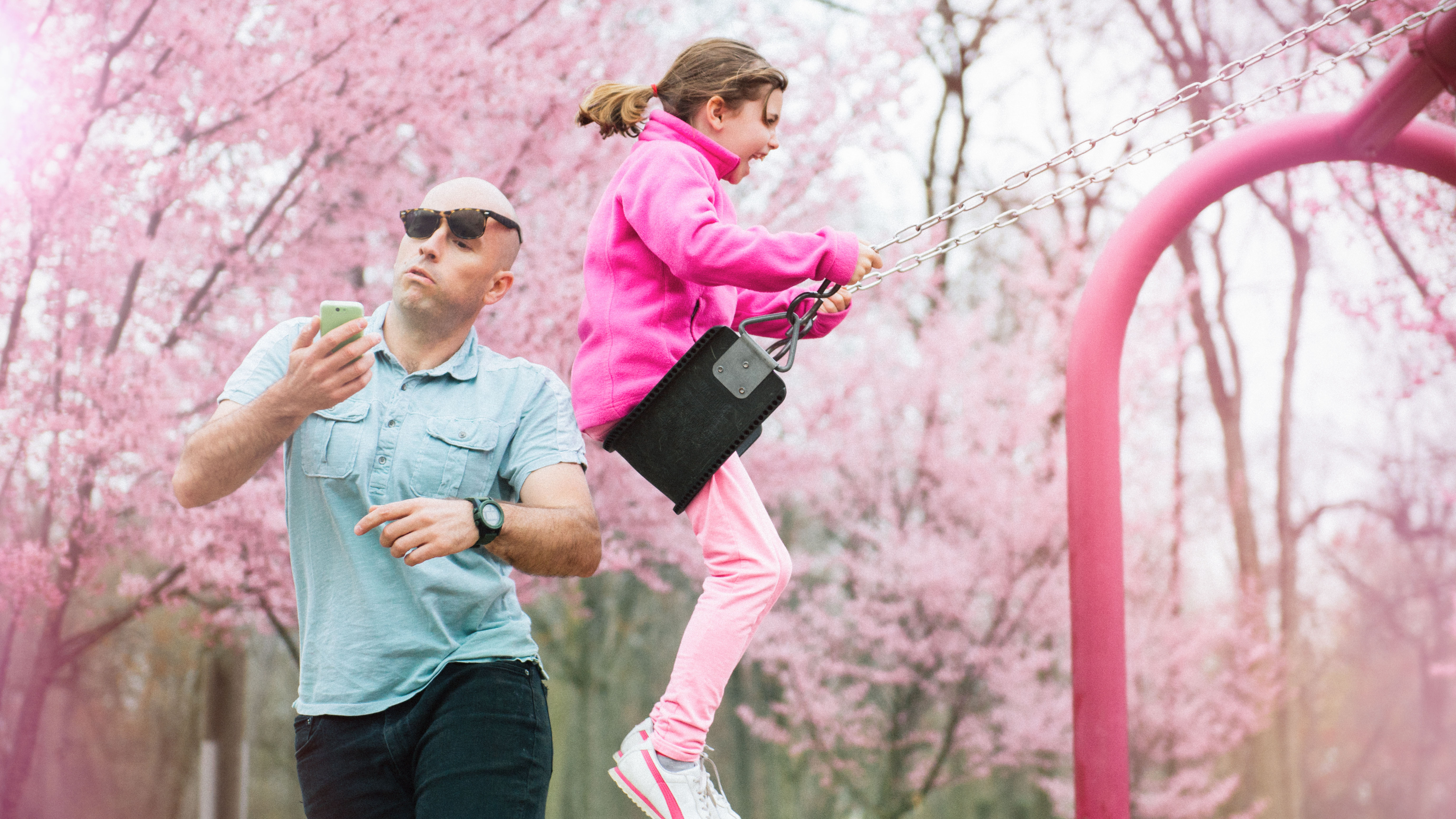 Did you know that dads are ridiculously incompetent buffoons? Obviously, we don't feel that way at The Dad, but if research dads based only on the stock photos used to represent them, this is the only conclusion you will reach. Let's take a closer look at some of these idiots.
From the moment a man finds out he is going to be a father, the ridiculousness begins.
His wife is a smiling blissful angel ready to embrace the selfless journey of motherhood. He, on the other hand, is wondering how that baby was made ("Was this because I did a sex?") and how this will affect his time playing Halo on Xbox Live.
Right from birth, dads are already blowing it big time.
This guy has been a dad for literally 7 seconds and he's already being annoying as heck. Welcome to the world, tiny infant, get used to your dad being a goofy doofus.
Okay so a dad maybe a goofball, but when it comes to the care of his family on a day-to-day basis, he is a responsible contributor around the house, maybe? Turns out no, not at all.
In fact, some men are SO opposed to housework, they can't even be in the same room with clothes that are unfolded.
"Halt, take these inferior garments from my presence. Return them from whence they came!"
If stock photos teach us anything it is that men must ignore their hardworking women, whatever the cost.
This guy has found a way to take actively ignoring his wife to the next level. To the ridiculous, "that-looks-really-uncomfortable-for everyone" level. Because no way is that not affecting his game performance right now.
And while I respect his approach, do you know what the best way to avoid contributing anything is? Just pass out.
Drop your whole, untouched chocolate bar in your chip bowl, wipe your hands on your sleeveless undershirt and go to unconscious-land. She'll never find you there.
JUST in case it wasn't clear who the slacker is and who the hero is in this situation, there is a little hint in this photo.
It's subtle, I know. But it's there.
If a dad ever DOES take the leap to try to help with household chores, its sure to end in utter disaster.
DAD, NO! DAD, DON'T! Dad, you obviously put too much soap in the washer! (also don't put a kid in there head first blah blah blah…)
So now we have established that men are clearly no help around the house, but at least they can help with parenting, right?
Wrong-o. Check out this dummy, who apparently doesn't know how "swings" work and can't look away from his fantasy football (he's in last place).
Or there's this dad, who is excited to watch his kid smash this piggy bank open with a…tiny…sledgehammer?
Because boy does he want to use that 3.25 to get some ice cream without asking mom! Those rascals!
Really any time a dad has to spend with family it is excruciatingly difficult for his puny dad-mind to process.
"GAHHH my family has needs! They keep talking words at me! They expect me to contribute!" It's really tragic that this dad is expected to participate on the preparation for a family outing, surely his melodramatic mental breakdown is justified.
But, after all these discouraging failures, there is something we can always count on dads to do right: man the grill.
Uhh… wait. This seems less-than-successful. You know, in his defense, maybe his wife didn't say "Don't forget NOT to let little Timmy grill your head again." She should have reminded him.
Maybe we can still count on dads for the classic man-job of outdoor maintenance and pool care?
Oh yikes. Dad, wake up from your lazy slime-water nap to save your daughter from jumping into that shallow toxic waste.
Well, okay, they aren't helpful with housework, parenting, grilling, or yard maintenance but come ON. There has to be something a dad can do right. What about…say, walking?
Nope. Not that either.
You got us, stock photos. You really roasted us good.