NFL Player Gives Young Fan His Gloves, and Accidentally Also His Wedding Ring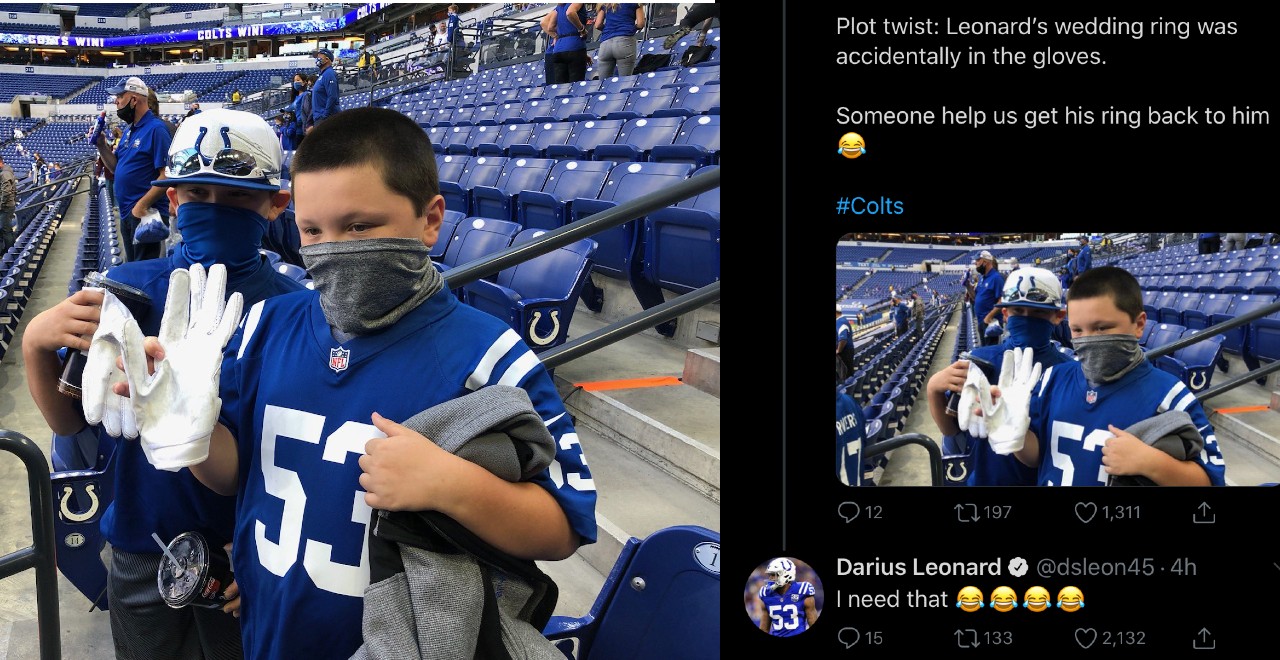 You have to be an incredibly lucky fan to even attend an NFL game these days, but one young Colts fan got even more than he bargained for. As Colts linebacker Darius Leonard was running off the field, he took off his game-worn gloves and tossed them to the fan. The only problem, the fan later discovered Leonard's wedding ring was in the gloves too.
The return of the NFL has been a resounding success so far, although many of the games have been played to empty stadiums and the only fans have been virtual. A handful of stadiums, though, have had a small number of fans (typically a couple thousand). And as Leonard was running back to the locker room, he realized he may have given the fan more than he wanted to.
Fortunately, the kid had no interest in keeping the ring. After a post on social media went viral, Leonard responded with some laugh emojis and said "I need that."
Colts LB Darius Leonard threw this fan his gloves on Sunday, but his wedding ring was in them 😅

They got in touch over Twitter and the ring is heading back to Leonard

(via B/R's @TylerDBrooke) pic.twitter.com/pJ6maJjHyL

— B/R Gridiron (@brgridiron) September 21, 2020
I need that 😂😂😂😂

— Darius Leonard (@dsleon45) September 21, 2020
"Once I put my gloves on, my ring is on," Leonard said on SportsCenter. "Once I knew I took the gloves off and that's the only thing that could have possibly happened, that's when in my mind when I threw my glove, the ring went with it. Thought I might not see that ring again."
The fan reached out to Leonard's wife on social media to get the process started of returning the ring. Leonard was incredibly thankful to get it back, as any married guy knows the river of crap he'd face if he lost his wedding ring and couldn't come up with it.
Leonard told ESPN it shows the kid was raised well.
"I always say that it's a showcase of his parents. The honesty of saying they found it. Some people wouldn't have said anything. They would have said it's a souvenir. I thank them for blessing me to give my ring back, thanking them for being honest. It couldn't have happened to a better family."
The Colts linebacker said he'd be sending a jersey or another souvenir to the kid as a way of saying thanks for helping his ring get back to his hand. He also said he'll continue to wear it when he plays, although I'm sure he'll check twice the next time he tries to give away his gloves.