Daughter Steals Show at Rock Concert by Signing for Deaf Dad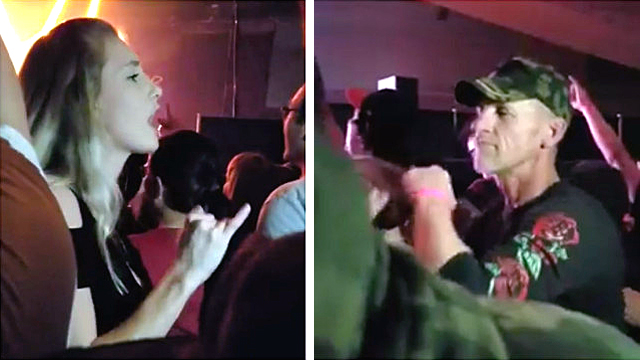 When Jules Maria spotted a couple taking up a bunch of space at the packed Three Days Grace concert seemingly just to dance, she was understandably agitated. Upon further examination, however, she realized that the woman wasn't dancing at all, but rather helping someone she loved actually take part in it.
"At last night's concert, we witnessed something absolutely beautiful," Maria wrote on Facebook.
What first appeared to be dancing was actually 19-year-old Karri Carberry signing song lyrics to her deaf father, Darrin, while they enjoyed their first concert together.
"We saw this girl and a man who seemed to require a lot of dancing room, irritating at first until we realized what was happening," Maria continued in her post. "She was signing the lyrics to him. We couldn't care less about what was happening on stage, watching them was absolutely mesmerizing."
Tell me that isn't just the sweetest damn thing you've ever seen.
Jules's video, which has already reached over 27 million views, shows Karri and Darrin clearly enjoying the music just as much as everyone, if not more due to their interactive communication.
"It was crowded and we were doing our thing and then there was a huge circle around us and people were high-fiving us and hugging us, people we didn't even know, just really great vibes all around," Karri told CTV Edmonton.
According to Karri, 53-year-old Darrin has been deaf since birth. He wears one hearing aid and enjoys music predominantly via sound vibrations.
Darrin introduced Karri to Three Days Grace years ago and when she found out they were going to be playing a concert nearby, she was quick to grab two tickets.
"It was absolutely beautiful to see my daughter signing in front of me," Darrin said. "I was blown away."
Darrin was impressed by how much attention the video has garnered and is excited to see assumptions regarding deaf people and music begin to change.
"To see something like this has probably made a lot of people think differently, think better about sign language, and what deaf people go through," he said.