Deputy Heartbroken by Balloon With Special Note That Floated Into His Car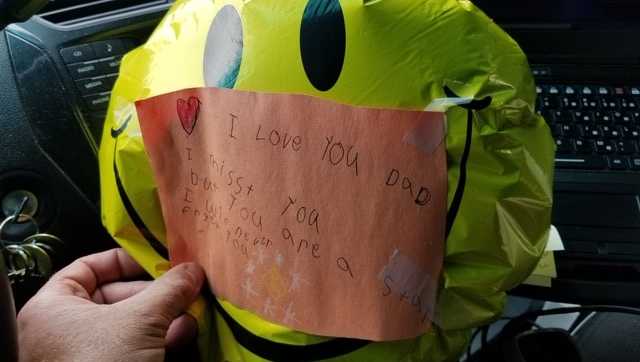 Bristol County Civil Deputy Nelson Brum says he was "heartbroken" after discovering a mylar balloon during his shift this week.
Brum, who was parked and eating his lunch on Wednesday at around 1:30 p.m., says he spotted a yellow smiley face floating towards his vehicle. As the deputy opened his door to investigate, he says the brightly colored, helium-filled balloon, flew right into his cruiser. It was then he saw the balloon had a very special note attached.
It read: "I love you, dad. I miss you, but you are a star. I will never forget you."
"It appeared to be a child's handwriting," said Brum, who was immediately moved by the message. The Bristol County Sheriff's Office posted a photo of the balloon and the note on Facebook in hopes of finding the family who wrote it. Whether it was just a lucky gust of wind or a twist of fate, Brum said he'd like to return the note and meet the child who sent it.
Residents and followers have posted hopeful messages of support, including several indicating that the officer finding the balloon wasn't an accident at all. One saying: "I believe nothing happens by mistake…I do believe the dad wanted this man to find the balloon for a reason …Prayers."
Brum said he also posted the photo in several local Taunton area Facebook groups, all in the hopes of simply learning more about the original sender.
Less than 24-hours later, Deputy Brum recieved a call from the mother of an 8-year-old.
"They had released that balloon last year — sometime last summer," he told Boston 25 News.
"Maybe dad wants him to know he loves him," Deputy Brum said. "He misses him. And someday he'll be together. And he's still around."