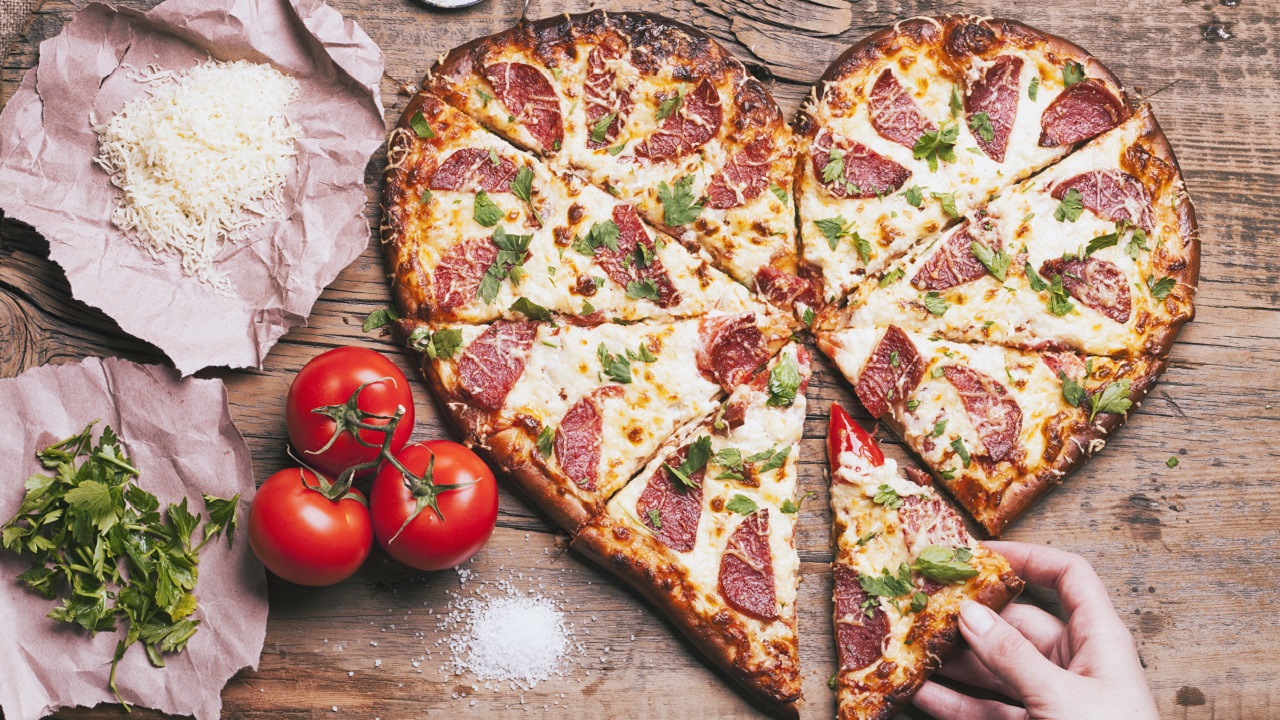 Credit: Getty Images/Denis Tevekov
Pizza in the morning, pizza in the evening, pizza at wedding time!
Wedding registries are fun. What's not fun about signing up to receive a whole bunch of gifts?
Unfortunately, they always seem to lack something that I could never put my finger on. And then Domino's pizza came along.
You heard me.
Finally, a hero has emerged. Sorry, did I say "hero?" I meant pizza. (But let's be honest, Subway probably isn't far behind.)
That's right! For some inexplicable but also obvious and also decades-too-late reason, Dominos pizza is entering the wedding registry game. Because why bother making sure your pizza is good before creating a strange new product offering that had literally crossed no one's mind (I'm looking at you, Pizza Hut!)
My wedding registry had table settings and cutlery and cheese plates and a bunch of stuff that, aside from the coffee machine, was aspirational. Stuff it seemed I would someday need if I ever became an adult. I'm still waiting.
But you know what I'm not waiting for? My Domino's pizza. Partially because I didn't order any (because I live in New York City and also I live in general, and what would anyone who lives in NYC or on earth ever want with a Domino's pizza?). But also because I can get it anytime I want, even at a friend's wedding.
Domino's digital marketing director explained the impetus behind the Domino's Wedding Registry.
"Our customers constantly tell and show us on social media how pizza plays a role in their wedding, whether it's for the bridal party, a late-night treat for the reception and other day-of experiences," Trumbull told The Knot.
Like the morning-after hangover? Because that's what I'd need.
And they seem to have moments like that in mind (well, maybe not exactly like that.) But when you consider the ability for people to gift you with pizza for specific occasions, like "2 a.m. Bachelor Party Feast" or "Low-Key Date Night" and "An Excuse Not to Cook," the idea starts to sound pretty good. Especially if you keep the Domino's as far from your actual wedding as possible. Ain't no mother of the bride I've ever met interested in celebrating her daughter's wedding along side The Noid!
To create your registry, just go to the site and, like any other registry site, choose the stuff you want people to give you, and spread the word. The prices start at $15, so there's no excuse for that one deadbeat to not get you something.
"We wanted to make it easier for people to request something fun they'll get excited about. Who doesn't love pizza?" Kate Turnbull continued. "From our perspective, you can give and receive a wide range of really fun, unique packages that tailor to the couple, like the 'Thank You Card-a-thon' package for when you're cranking through those thank-you notes after the honeymoon."
Because nothing says, "We loved the gravy boat!" like a thank you card smeared with grease.
https://twitter.com/jetpack/status/916356514851332096