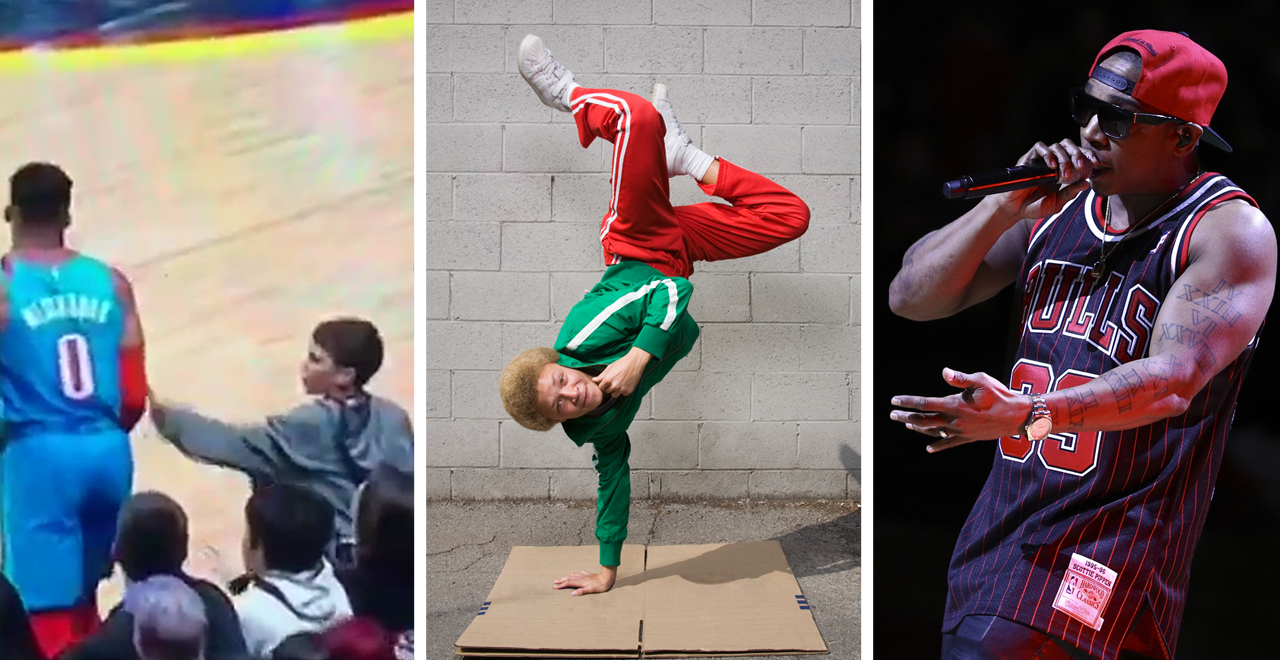 Credit: Twitter/WorldWideRob Getty/verity jane smith/Anadolu Agency
Russell Westbrook was on the sideline in a recent game when a young Denver fan sitting courtside took a miniature swipe at him. That's when the grown man stared daggers into the child until he sat down. And then the OKC All-Star had something to say to his dad.
kid sat RIGHT back down pic.twitter.com/k8lkUwAyq6

— Rob Perez (@WorldWideWob) February 27, 2019
"He hit me," said Westbrook after the game. "So I told his dad, you know, just, "Be careful man, you can't just have your son hitting random people." I don't know him, he don't know me, so."
They smoothed things over before play resumed but that must have been a terrifying three seconds for that dad when the explosive professional athlete made him responsible for his child's actions. Kids can get you into all kinds of trouble, but hopefully they don't get you into the kind of trouble where you have to spend 1.5 seconds wondering if you're gonna have to fistfight a superhuman.
It reminded me of the schoolyard "my dad can beat up your dad" taunts, if only the kid was talking that smack directly to other dads.
(I do wonder if that has ever in history been the cause of a fight. Like, maybe there's one dad out there who was like "Woooof, well, I have to defend the honor of my trash-talking third-grader, so now I'm gonna wrestle a stranger.").
Nevermind the fact that "he don't know me" is sort of a bizarre response to any interaction WITH A CHILD, Westbrook is in the right here. And I'd like to think that dad will properly discipline his child for humiliating him as a parent on national TV, but any child sitting in courtside seats at an NBA game is probably pretty spoiled already. His dad will probably threaten him with a weeklong iPad ban before letting him off with time served (the screenless drive home from the game).
It looks like breakdancing could be an official sport at the 2024 Olympics. I'm all for it, since some Olympic events seem like a glorified middle school field day anyway. But let's go all the way, and add even more sports. Tops on my list would be water balloon toss. Could it be a disaster? Sure. Could it become just as fun to watch as curling? I mean, yeah, probably. Water Balloon toss in 2024, followed by beer pong in 2028.
The NFL may cut down on TD celebrations, which is the type of buzzkill thing the NFL is known for. It's the NFL way, to make a needlessly boring rules change to try and take a criminal out of the news cycle.
College basketball's scandal that wasn't. While some coaches are facing possible jail sentences from the FBI investigation, it seemed like this was all going to be much, much worse than it seems so far. It's possible that some programs will face major consequences once the court battles are all sorted out, but one of the biggest stories in college basketball last year is little more than an afterthought now. I thought Sean Miller would never be coaching again, and he's still on the sidelines for the Wildcats somehow. Truly bizarre, although I think most rational fans would not be shocked at some of the shadiness that exists with recruiting 5-star players. All the more reason to pay the players.
The Curse of Ja Rule Ja Rule stole someone else's gimmick when he tried to curse several NBA teams on social media after a bizarre half-time performance in Milwaukee. Regardless, you would have to feel pretty good being cursed by him, as recent history has taught us you do not want to be on the same side as Ja Rule in anything.
Hoop knowledge worse than Fyre Fest logistics. pic.twitter.com/BpQ9XOqgiu

— Sacramento Kings (@SacramentoKings) February 26, 2019