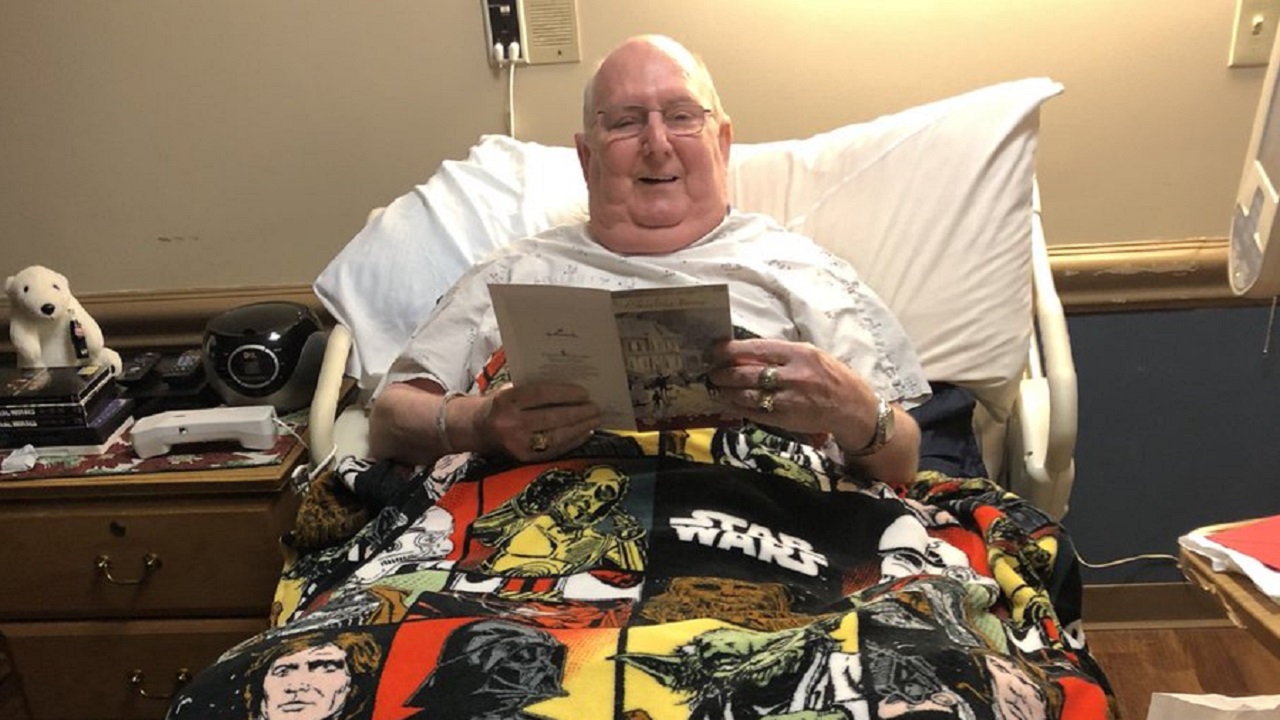 Credit: Twitter/Elizabeth Ngo
A new Star Wars movie is always cause for excitement. Even more so if it's your last Star Wars movie.
That was the case for 69-year-old Vietnam veteran Ron Villemaire whose dying wish was to see "The Last Jedi," and whose daughter was desperate to make it happen. She bought tickets for the movie when it seemed like he was going to make it long enough, but his condition deteriorated to the point that he was moved to a local hospice in Bedford, New Hampshire. It's difficult for him to sit up, so going to a regular screening was not in the cards.
That was when his daughter, Elizabeth Ngo, took to Twitter for help.
Anyone know how I can help my dad? He's dying of cancer. He's a veteran of the vietnam war. I want him to see the @starwars the last Jedi before he dies and there is no #makeawish stuff for adults. Anyone know what I can do? We don't know how long he has

— Elizabeth Ngo, LICSW (@RedHead_Reality) November 21, 2017
She continued to tweet, tagging various people to try to get attention for her dad.
Trying to keep upbeat but things are tough still trying to help my dad get his last wish of seeing #StarWarsTheLastJedi before he dies. He's a veteran and cannot leave hospice even though I bought tickets. @starwars @TheEllenShow @Disney please retweet and help 🙏🏻🙏🏻❤️ pic.twitter.com/cALzz2UIiP

— Elizabeth Ngo, LICSW (@RedHead_Reality) December 9, 2017
Eventually, the local news caught wind of her plea and came to interview her dad. That's when the local community decided to step up and help. The Bedford and New Boston fire departments came to Ron and Elizabeth's rescue. They escorted Ron to a theater via ambulance and transported him to a hospital bed there.
When he arrived at the theater, the dying veteran got the star treatment. The manager and staff were decked out in Star Wars costumes, and he was joined by friends and family for the screening.
Even Darth Vader showed up to help!
#NH's biggest @starwars fan gets quite the visitor. More on this special day tonight on @WMUR9. pic.twitter.com/GgdUgfbnLj

— Tim Callery (@TimCalWMUR) December 16, 2017
Not only did Elizabeth's gambit pay off, in the aftermath of the screening, the heartwarming story has been picked up by The Today Show and CNN.
Dying Veteran gets final wish to see Last Jedi pic.twitter.com/hsD5Wxi7VE

— Darth Vader (@DepressedDarth) December 21, 2017
After the movie, his daughter shared a video in which Ron thanked her and gave his spoiler-free thoughts on the movie at Frame of Mind Photo.
It must be bittersweet for Ron's family and friends to hear him talk about "the future" of the Star Wars franchise, but they can rest easy knowing he not only got his dying wish, he even gave it gave it five stars!
Wow people are just so sweet! I just got here and a woman in the community made my father this gorgeous Star Wars blanket and brought him a Christmas card. #RonsLastJedi pic.twitter.com/WDyG5ojfbx

— Elizabeth Ngo, LICSW (@RedHead_Reality) December 21, 2017