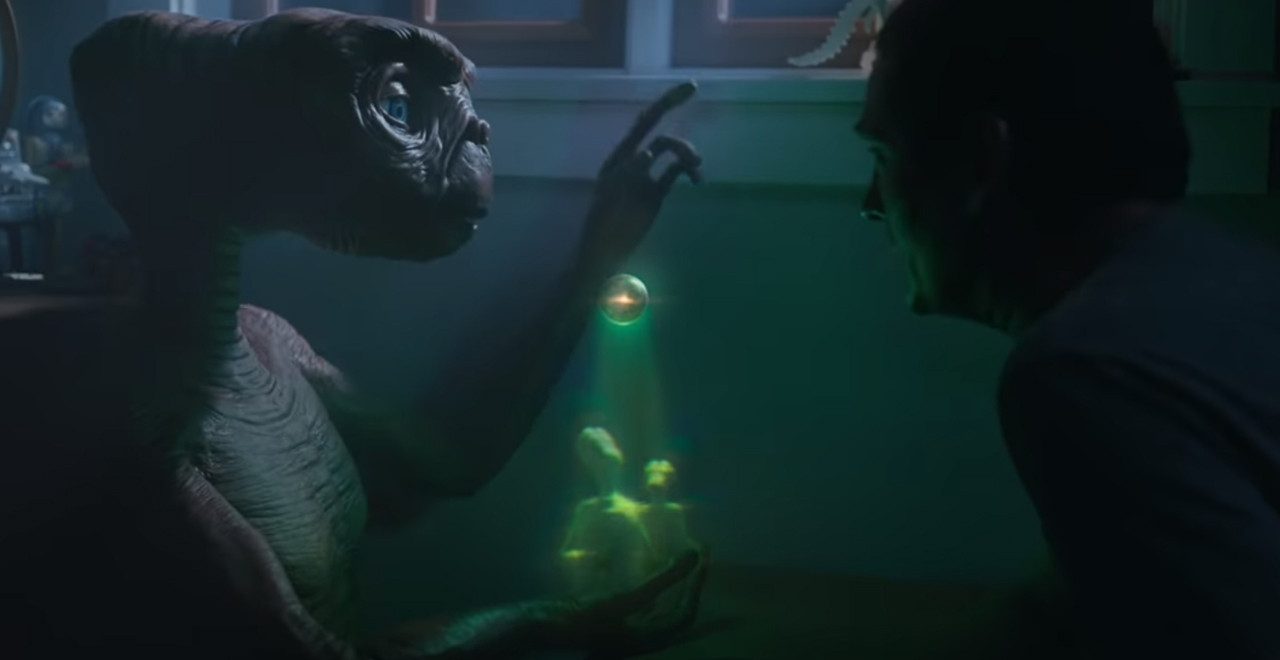 Credit: YouTube/Xfinity
I'm just glad it wasn't a full-fledged remake. Though that may yet be coming, especially after the positive reaction to this.
On Thanksgiving day, people watching the Macy's Thanksgiving Day parade were treated to a fun new ad from Comcast Xfinity, in which everyone's favorite friendly alien returned to Earth to visit his old friend Elliot.
In the commercial, two young kids – looking, and dressed, suspiciously similar to the two young kids from Steven Spielberg's 1981 blockbuster – stumble upon the kind-hearted extraterrestrial in their backyard. Which is also Elliot's backyard.
That's right, E.T. returned to visit the boy he befriended when he was stranded on Earth 40 years ago, only to be discovered by Elliot's kids, and discover that Elliot himself is now a full-grown man with a family of his own.
"E.T. is back on earth for a surprise visit with Elliott, who now has his own family. Although technology has changed our world since they've last seen each other 37 years ago, their connection and friendship remains strong and is a touching reminder of how important reconnecting is during the holiday season," reads Xfinity's statement on the ad.
Hi-jinks ensue as E.T. is reintegrated into Elliot's life (no stealing any beers from the fridge this time, though) and quickly bonds with his old friend's kids. Eventually, the four-minute ad shows E.T. revealing he has a family of his own to whom he wants to return, to which end he takes the young kids on another flying-bike ride before his bittersweet departure.
You may recognize Henry Thomas as Elliot, reprising his role decades later. Steven Spielberg had nothing to do with this brief remake/sequel to his beloved movie, although he did give Xfinity his blessing, and the company clearly made the ad with care.
"The audience is going to get everything they want out of a sequel without the messy bits that could destroy the beauty of the original and the special place it has in people's minds and hearts," said Thomas, in a statement provided by Comcast.
The messy bits, like: Did E.T. get accidentally stranded again? How did he even find Elliot's new house? The VR unit fits on his enormous face?
Of course, those are but minor quibbles with a fun, heartwarming ad. Certainly better than the so-called "evil E.T." sequel that was rumored when I was a kid!