Grandfather Breaks Hip Mowing Lawn, EMTs Return to Finish His Yard Work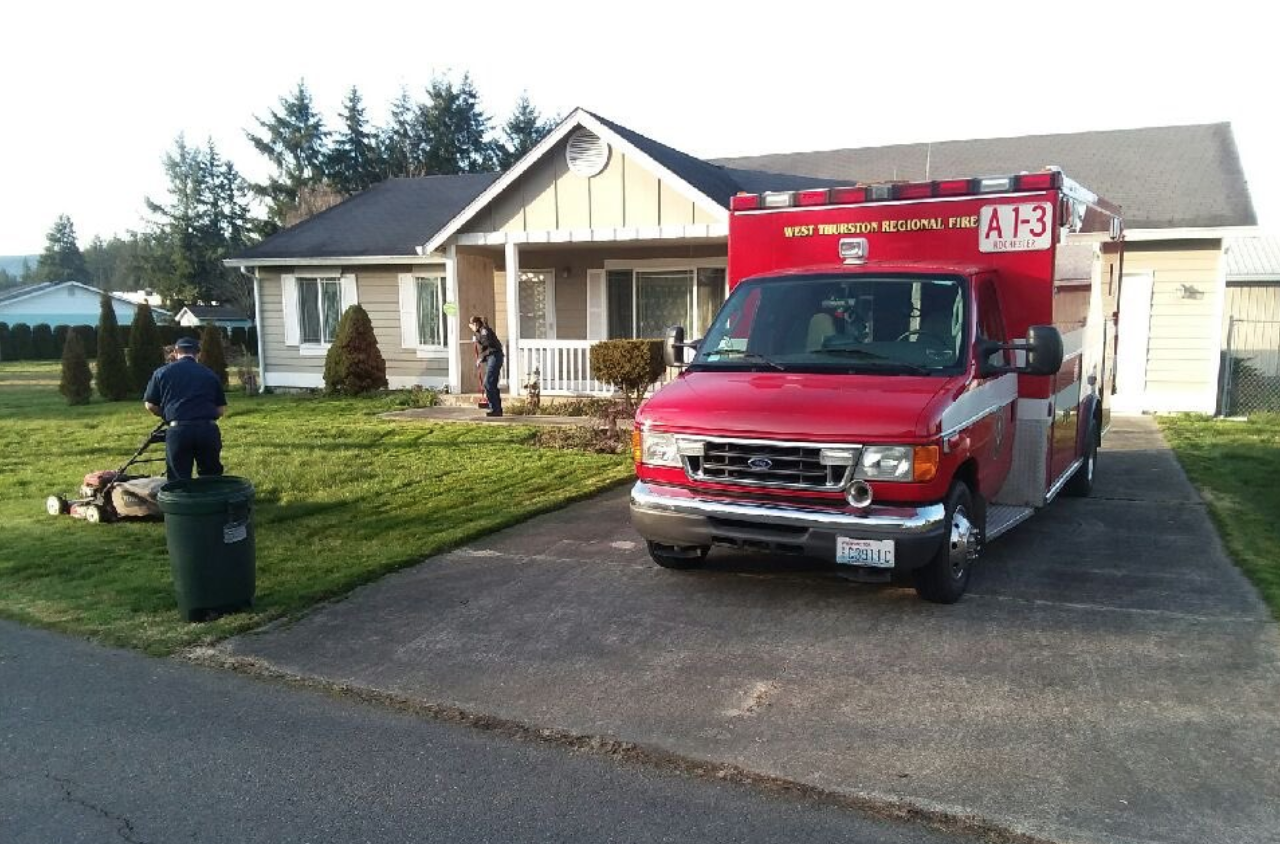 Emergency medical technicians are a diligent bunch. They're more than just strong stomachs and a lift to a hospital. They're couriers of comfort. They're effective communicators with the newly traumatized. They're quick thinkers. They bear the responsibility of split-second, life-and-death decisions. And truth be told, they look damn good while doing it.
But some EMTs surpass expectations. Case in point: the West Thurston Regional Fire Authority in Rochester, Washington.
Harold Storelee, 88, fell down recently while mowing his lawn one morning. He lied in the grass for four agonizing hours before three middle school boys walking by heard his cries for help. They waved down a motorist who promptly dialed 911.
Three firefighter EMTs rushed Mr. Storelee to the hospital, where it was determined he'd broken his hip.
Around 5 p.m., as the EMTs' workday wound down, Alexander Trautman pitched an idea to his two coworkers. Hey, wouldn't it be wild if we went back and finished mowing that guy's lawn?
He and fellow firefighters Miranda Panuska and Garrett Bromley then proceeded to do just that.
"There was no hesitation from anybody," Trautman said in an interview with The Washington Post. "We talked to our lieutenant and captain, and they were 100% behind it."
Assuming Ol' Man Storelee would be out of commission for some time, the trio returned to his house and spent a full hour wrapping up his unfinished yard work. They mowed. They swept. They conquered.
Firefighter Trautman said his team is always on the lookout for ways to help their neighbors beyond urgent medical assistance, be it through buying someone groceries or mending their broken porch boards.
"We look at it like a family community," Trautman said.
Aiden Martin, grandson of Mr. Storelee, said that the lawn has been his granddad's "pride and joy of the house" since the passing of his grandmother five years ago. Storelee was delighted to learn that his lawn had been cared for.
My granddad fell this morning while mowing the lawn and broke his hip. The EMT's that took him to the hospital came back and finished his job for him😢 pic.twitter.com/RFzE27m2ja

— your bf (@AidenMartin15) February 22, 2020
Martin added that his grandfather was recommended hip surgery following the accident, and is regaining his ability to walk through physical therapy.
We'd like to wish Mr. Storelee a speedy recovery and commend this rad trio of EMTs for going above and beyond for their community.