Explaining the Plot of Game of Thrones in a Single Tweet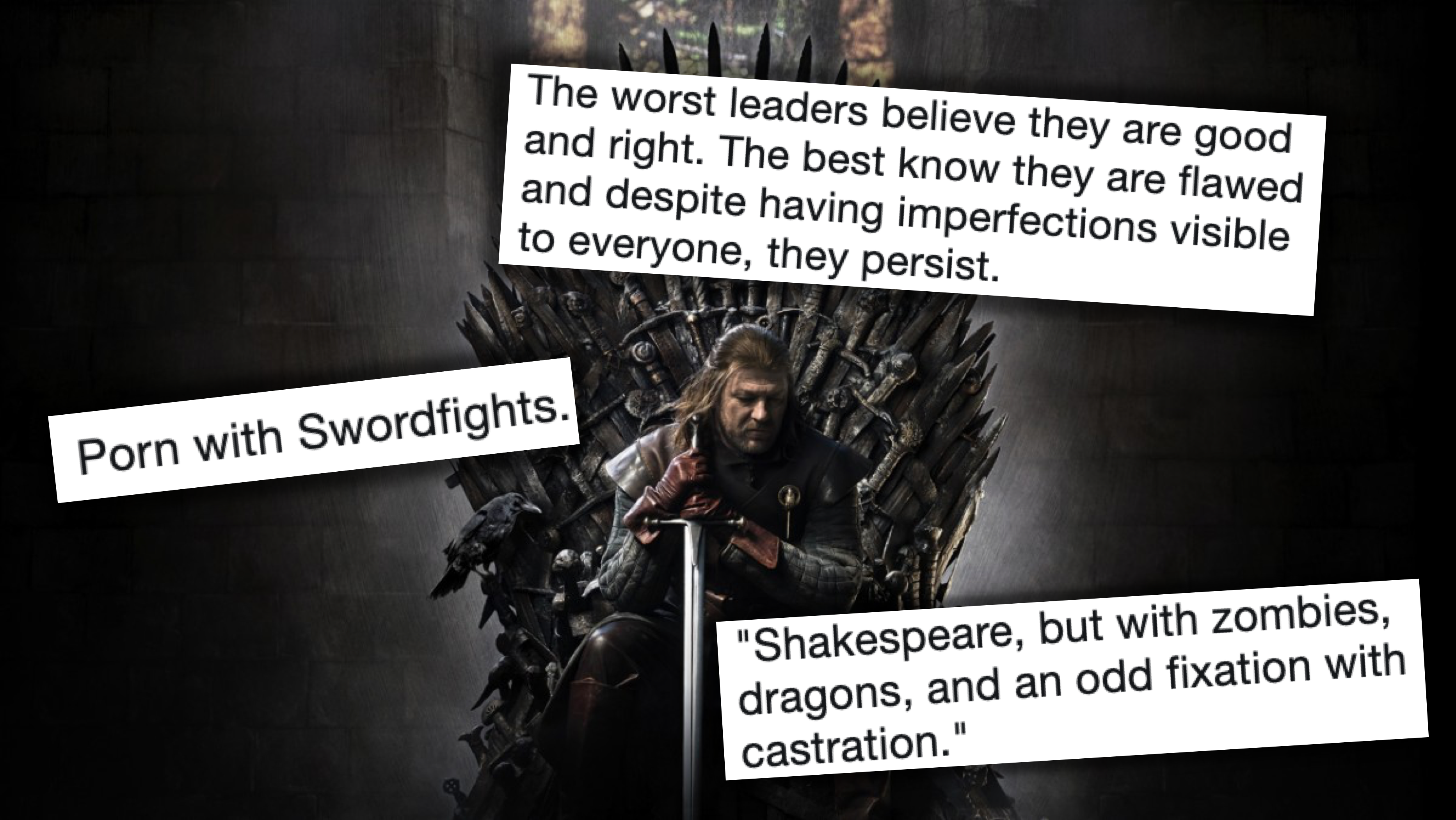 Despite how you may feel about the final season of HBO's Game of Thrones, you have to admit that the series as a whole is a marvel of storytelling. Creating dozens of characters with rich backstories that intertwine almost effortlessly over the course of eight seasons isn't exactly easy.
Even more difficult, though, is condensing the series into a single 280-character tweet (which, coincidentally, is about the same number of characters in Game of Thrones overall).
Can someone please explain the plot/story of the entire #GOT series in a single tweet?

— Amy Cuddy (@amyjccuddy) May 20, 2019

Thanks to a prompt by Amy Cuddy, folks attempted to use just a single Tweet to explain the plot of the entire series, and some of them were surprisingly spot-on.
People with powerful ambition and poor impulse control explore the intersection of lust, greed, and fear. Lives and reputations were lost, painful wisdom was gained, and if you were really lucky, your favs just might end up back where they started. @bullypulpit_hq https://t.co/W3soxoFW7j

— Ryan Lowy (@AJustConspiracy) May 20, 2019
Craycray incestuous family rules 7 kingdoms. Baddies from the north invade so most put away their differences to fight together. After winning they go after the craycray Queen who didn't help them fight and everything ends up in a hot mess and a big disappointment. The end.???? https://t.co/IA9qHeJCLE

— William Shatner (@WilliamShatner) May 20, 2019
The worst leaders believe they are good and right. The best know they are flawed and despite having imperfections visible to everyone, they persist. https://t.co/kFbhnrjHUj

— Cameron Sadler ???? (@RulesByCam) May 20, 2019
Doomed love and incest leads to multi generation conflict for power across seven kingdoms, starts/ends with mad rulers burning down people, and finally, the least interested guy becomes king in a pseudo show of democracy where only whites vote. Oh, and zombies. https://t.co/q3bTO8MSLY

— Amit Das (@not_ghalib) May 20, 2019
Honor, ambition, and love clash as 3 great houses battle for control of their own destinies and a seat on the Iron Throne. In the end, the battles are for nothing as the throne itself is nothing but a symbol of pettiness and the pride. Also, snow zombies. https://t.co/ErOp0R5qJX

— Brad Wells (@BradWellsNFL) May 20, 2019
Pursuit of a murder mystery unravels a massive conspiracy about the true heir to the throne of 7 kingdoms.
Civil war ensues as an apocalyptic threat from the North and an exile from the East seeking to claim the throne for herself all clash leaving a new order when Spring begins. https://t.co/N7IhM9whrt

— Stephen Limbaugh (@StephenLimbaugh) May 20, 2019
Others went a bit off-the-rails with their explanations, but they still hold up surprisingly well.
"Shakespeare, but with zombies, dragons, and an odd fixation with castration." https://t.co/BrKkf43ppD

— Peter Wang (@pwang) May 20, 2019
Written by a computer programmed with the scripts of Dynasty, Lord Of The Rings and Jurassic Park https://t.co/LQBss7LEhI

— ???????????? ???????????????????????????????? #???????????????? ???????? (@DoomlordVek) May 20, 2019
Fantasy take on the history of British Monarchy.

— alenareva (@reva_alena) May 20, 2019
Porn with Swordfights.

— Half Eaten Chicken Sandwich (@ChickenHalf) May 20, 2019
HBO invites you to play Dungeons and Dragons with an especially horny and sadistic 13 year old Dungeon Master. And if you think it's not a kid running the game just remember there's a reason all the parents die.

— Mr. Cappadocia (@MrCappadocia) May 20, 2019
Can you give a better Thrones synopsis in under 240 characters?