Father Figures: First Love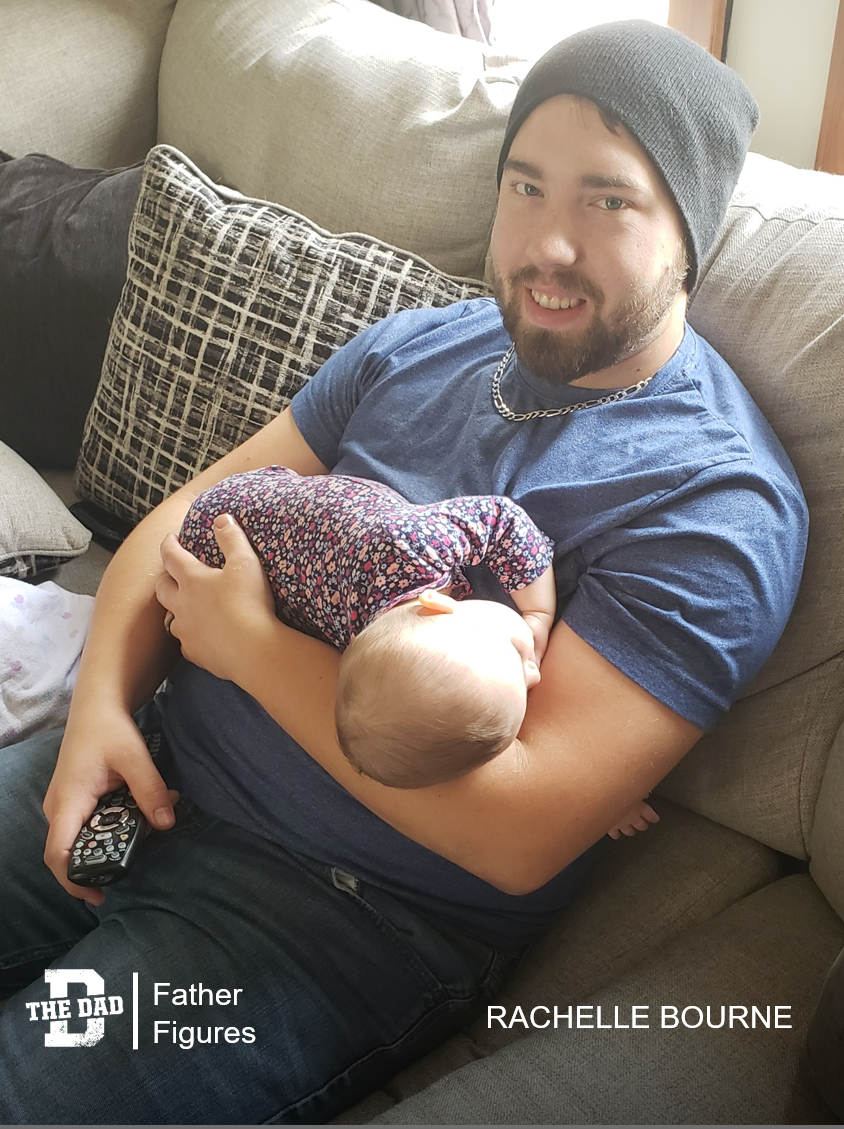 "My husband Alex and I started dating a couple months into our last year of high school. We were friends for at least a year before that and on our first official date we were talking about the future… life goals, marriage, kids, the whole nine yards. I knew in that moment he was someone special and someone worth investing time into for a relationship.
Years later, after moving hours away from all of our family, we got engaged. We love each other so much. I told him I would marry him any day at town hall, I don't need a big wedding, and that's exactly what we did even though he said he wanted more for me. We got married 9 months later on our dating anniversary. Well, he decided we would have another ceremony 8 months after that so I could have the big day he said I deserved. He's always so thoughtful and reminds me that I do deserve more out of life than what I expect for myself.
He has always been so loving so I knew when the day came he would be a great father. He actually brought up the fact that he was ready before I was. I thought it over for a whole year and then agreed to start trying. We didn't know it would be so hard.
I found out I have PCOS and it would be difficult to conceive. I was told we would need to do IVF or I would need to go on some other medication or adopt. He was so supportive throughout the whole process and never once made me feel like less of a woman because I might not be able to give him a biological child. He was more than happy to discuss the different options we had to choose from, especially fostering/adoption.
Then we were blessed with our miracle. I was pregnant without any intervention. He was over the moon and went into dad mode right away! He already works 10-hour swing shifts during the week and decided to take on additional work on the weekends to make sure we would have extra to get our baby everything. He didn't have to, by any means, but he wanted to whatever he could.
Many months later we welcomed our daughter (we didn't know what we were having either) and we both cried the happiest tears. This is a man who I have very rarely seen tear up, let alone cry, in the 9 years we have been together. I can tell that she is his whole world and he would do anything for her. She has brought him out of his shell more than I ever could and she's only 6 months old right now. I can't wait to see how much more these two will love each other as she grows.
He is truly amazing! He is everything I could have ever asked for in a partner and a father for our child and more. He is the love of my life, my high school sweetheart, and our daughter's first love. I know he would move all of the mountains for her. She just lights up every time she sees him or hears his voice."
– Rachelle Bourne
Want to share a story about fatherhood? Email [email protected]
Check out the previous editions of Father Figures here.