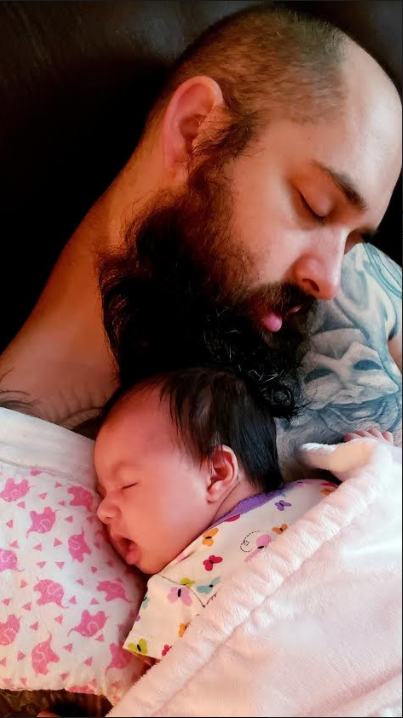 "I met Josh a year after he got divorced. He was frustrated with life. As a vet trying to make ends meet, paying child support, other bills whilst trying to still live; life was tough then.
After a while, he warmed up to the possibility of us actually being together but he wasn't ready to have any more kids. With two boys and one more from me, in total we already had three, which is more than enough. But one day, he surprised me by getting a vasectomy reversal.
Fast-forward to today, he is the best stay-at-home dad to our baby girl. Every time she wakes up at night, he gets up with no complaints whatsoever. He's an expert in making sure she burps after feeding, and they do a lot of Dad and baby nap-time. Plays with her, reads her books, and he's the best at nappy change. He's very hands-on and I can see the happiness in his eyes every time he looks at her.
I take care of her when I come home from work since I know kids can be exhausting, but more often than not, he prefers taking care of her himself. Apparently, a baby's smile is more than enough to keep his energy going.
Bless his heart. One in a million."
– Venus Parolan-Laney
Want to share a story about fatherhood? Email [email protected]
Check out the previous editions of Father Figures here.