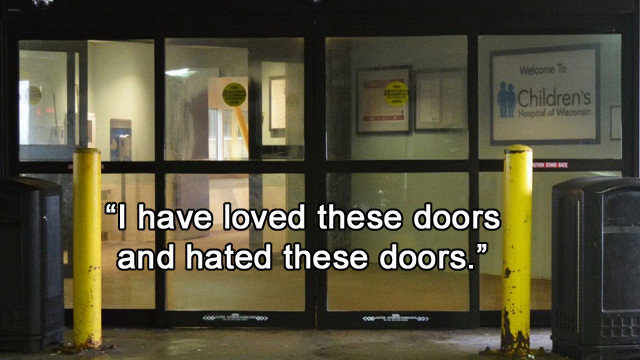 Credit: Facebook/Children's Hospital of Wisconsin
Worrying over a sick child is no one's idea of a good time, but it's something many parents have to deal with.
Often, the everyday anxieties and stresses of caring for your children can force you into a sort of tunnel vision. Sometimes such narrow focus is necessary to survive the emotional grind, but sometimes it can cause you to lose track of the bigger picture.
One dad whose child has been visiting a children's hospital for eight years took a step back from the challenges of caring for his sick son to consider people who have helped him and his family for nearly a decade.
The note of apology he wrote to the staff and fellow patients at the Children's Hospital of Wisconsin has gone viral.
The hospital shared the father's note on its Facebook page and it has garnered over 16,000 likes and 4300 shares.
The hospital prefaced the post with a little background on the father: "We just had to share this beautiful note we received from the father of a boy who has been coming to Children's Hospital of Wisconsin for the last eight years."
In the note, the dad speaks a bit of his situation, before explaining his guilt over thinking overwhelmingly of himself and his family.
Referencing his love-hate relationship with the doors of the hospital spends the rest of the post apologizing to every person who interacts with those doors.
"I have loved these doors and hated these doors. I loved these doors when my wife and I walked through them for the first time to meet our son. I hated these doors when I walked through them for his 20 surgeries. I loved them when walking back out after the surgeries. I hated them for the 180-plus-mile trip for a single 10-minute checkup. I loved these doors when walking out after learning that surgery or admittance is not required."
He goes on to reach out to every person who has a role at the hospital, including patients and their family, the vast collection of caregivers, from the doctors and nurses to the security staff; to all the people who can't come and go the way he and his son have thankfully been able to.