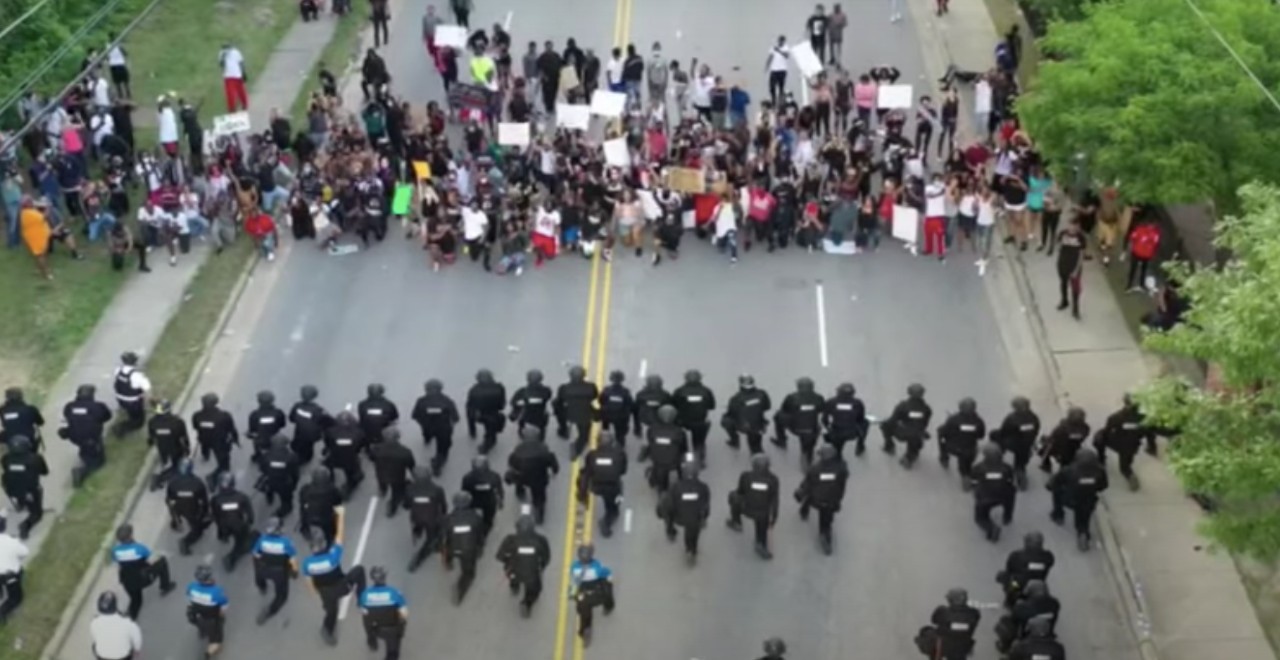 Credit: Youtube/ABC11
To say this is a high-stress time would be a gross understatement. Not only were we months into a pandemic-induced quarantine, but the unjust killing of George Floyd caused the simmering pot of racial injustice to boil over. Over the past week, protests have broken out across the country, demanding both justice for Floyd and long-overdue change to a dysfunctional justice system.
Many of the videos circulating online are painful to watch. While there are some incredibly powerful peaceful protests, the vast majority of videos from the past week are of opportunistic rioters destroying cities, or videos of police brutality – the very thing that sparked the protests in the first place.
On Monday night, a beautiful moment between police and protesters in Fayetteville, North Carolina allowed us to breathe a much-needed sigh of relief. At first, the two groups faced each other uneasily.
"Tactical vehicles, armed officers in riot gear, crowd uneasy. Of course, there's yelling and screaming," Joshua Wiley told ABC News.
Wiley originally attended the protest to support his fraternity brother. But Wiley, a corrections officer, had another friend in the crowd – a police officer, who stood on the other side of the divide.
Remember seeing that powerful image of @FayettevillePD kneeling in solidarity with protestors Monday night? These are the men behind that symbol of unity. Meet Joshua Wiley and Officer Benjamin Zacharias. I'll have the full story at 5. #abc11 pic.twitter.com/Uks69Y0Ckx

— Akilah Davis (@DavisABC11) June 3, 2020
"His name is Benny Zacharias", Eric Sanchez, a friend of Zacharias told The Dad. "He was responsible for bringing protestors and Fayetteville NC PD together for a beautiful moment seen here, in part because of his close ties to the community."
Zacharias made a call to Wiley, and the two came up with a plan. They would talk to their respective sides, urging them to come together. The two men went from person to person, Zacharias talking to the officers, Wiley talking to the protesters. In one astonishing moment, they had done it. Officers and protesters knelt in solidarity.
As a show of understanding the pain that is in our community and our nation regarding equality, the #FayPD took a knee to show that we also stand for justice for everyone. We are committed to listening and treating everyone with dignity and respect.#LoveONE pic.twitter.com/X5KAQohN6g

— Fayetteville Police (@FayettevillePD) June 2, 2020
In response to a video his wife posted on Facebook, Zacharias remarked, "Tonight I cried like a little girl… my two worlds came together for 10 seconds. Faith would have it my man Josh Wiley was on the other side. We talked and agreed everyone would kneel in a moment of silence in unity as ONE community. I'm grateful my command staff agreed and that Josh and Bishop McNeill were able to uniform the crowd… When we ALL kneeled together, police and citizens, it was amazing. I heard the relief in their voices and cries of happiness that they were able to see their department cared and agreed with them."
"He (Zacharias) is an amazing person, cop, and friend, and most importantly he is an amazing father to 3 girls," Sanchez told The Dad. "These two men have become a beacon for the community showcasing that Racism has no place in our communities."